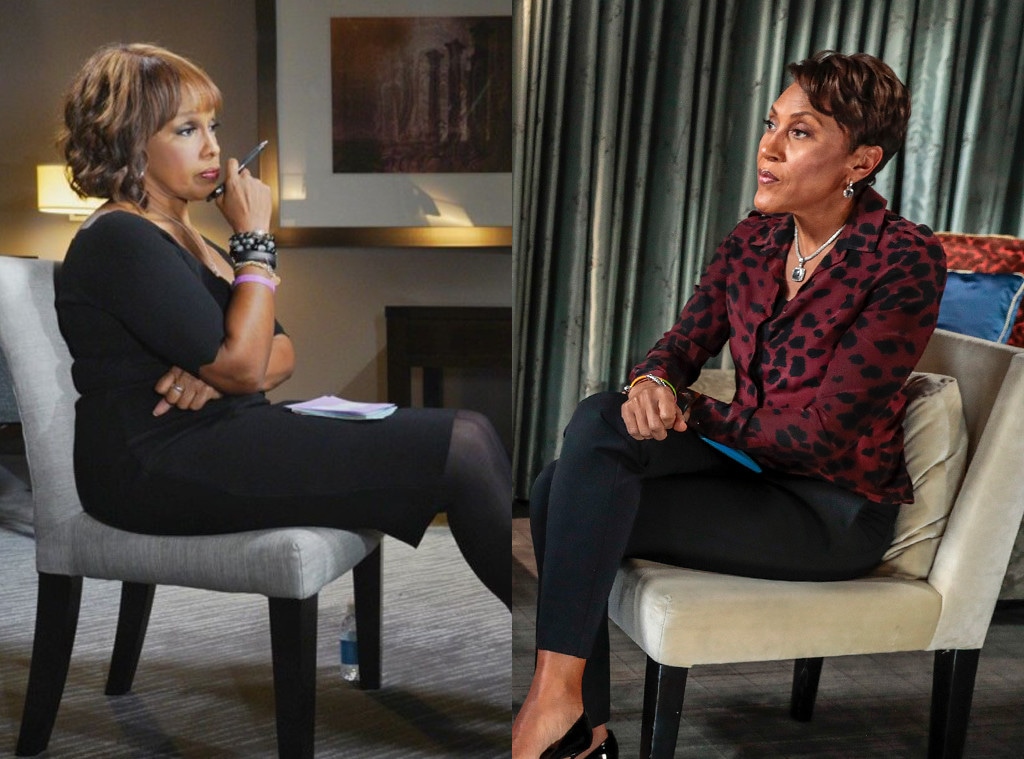 CBS/Lazarus Jean-Baptiste/Stephen Green/ABC via Getty Images
A popular reaction these days to announcements of upcoming guests on talk shows or news programs is "why are you having that person on?"
Different people have different reasons for asking that question, some valid, some not. But at the end of the day, the makers of news programs want eyeballs and they're going to do everything they can to book the men and women who are making news.
And then those who complained watch anyway. They're going to need something else to complain about, after all.
As two particular celebrity interviews conducted over the past month have demonstrated, even those who do all the comprehensive research and planning beforehand can never be sure of what they're going to get from the discussion—or what's going to happen a few weeks, days, or even a few hours, after the cameras are turned off.
But now that the news itself makes so much news, journalists are under more pressure than ever to make all the right moves, all the time. Which, of course, is impossible.
"They said, 'He wants to say things that he has not said,' and I'm like, 'As a journalist, as a newsperson, this is newsworthy, he's going to go on record for the first time, yes I'll do the interview,'" Good Morning America co-anchor Robin Roberts told a panel at The Cut's "How I Get It Done" event on Monday, talking about her Feb. 12 sit-down (which aired Feb. 14) with Jussie Smollett, who emotionally described being attacked in the early morning hours of Jan. 29.  
Only, to put it mildly, Smollett's story was in the process of being picked apart at the time. A Chicago station reported hours after the interview aired that police were investigating the possibility that Smollett and two persons of interest had staged the attack. The Empire star was then charged six days later with disorderly conduct for allegedly filing a false police report, a felony charge.
His interview with Roberts for GMA has been repeatedly referenced—either in detail or via photos of the two sitting across from each other—to reiterate the details Smollett claimed to be a factual account of what happened to him, which simultaneously stresses just how far his ruse extended, if it was indeed a ruse. Smollett is currently free on a $100,000 bond; his attorneys said they intended to "conduct a thorough investigation and to mount an aggressive defense."
But you can bet the actor hasn't done any interviews since.
Stephen Green/ABC via Getty Images
Meanwhile, Roberts promptly came under fire for a combination of interviewing Smollett at all and not coming across as skeptical enough to suit those already skeptical of the story.
"All I wanted was to get to the truth," she told the panel audience. "All I wanted was to give the truth."
Roberts is an award-winning, popular TV personality who's considered an excellent interviewer in her role as a GMA anchor and longtime member of the ABC News team. Per The Hollywood Reporter and Page Six, she said that she had major reservations about sitting down with Smollett, an idea proposed to her by the GMA booking department. She also didn't want to do it if he was going to "lawyer up" or be anything less than candid, but Smollett was said to be "outraged by people making assumptions about whether it happened or not" and he consented to her questioning him about various, in her words, "red flags" she saw in his story. 
And if she had known in the moment what was going to emerge hours after the interview aired, then of course she would have asked about all of it, she continued. Instead, she was later decried as being part of the problem, which—according to many critics—was that the media were too eager to believe Smollett and it showed in their initial coverage. (Not to mention the flip side, the faction of people who thought any difficult questioning was inappropriate considering what had supposedly happened to him.)
"People are looking at the interview through the eyes of 'How did you not know?'" Roberts recalled. "I did the interview 48 hours before then. Had I had that information or what the brothers were alleging, heck yeah, I would have asked him about that." (She previously explained on GMA that, as of when she conducted the interview on Feb. 12, "police officers were saying that his account was consistent, it was credible, and that he was being cooperative.")
Craig Barritt/Getty Images for New York Magazine
"It was hurtful, some of the things that were said [afterward]. I'll be honest," she said. "Because I pride myself on being fair. I know how much work went into being balanced about what to ask, to challenge him on certain things." After the charges were filed, Roberts interviewed Chicago Police Superintendent Eddie T. Johnson about the investigation that led to authorities becoming convinced the whole thing was a hoax.
"Let me tell, you, Robin," Johnson said, "there's a lot more evidence that hasn't been presented yet, and does not support the version he gave. There's still a lot of physical evidence, video evidence and testimony that just simply does not support his version of what happened."
And it all could have gone another way if the story had unfolded with Smollett being the clear victim of a crime and charges being brought against anyone other than him. Then it would have been said that Roberts had conducted a patient, nonjudgmental and satisfactorily probative interview (except by the people still determined not to believe Smollett, and there would have been some).
Roberts herself said on GMA, reacting to Smollett's arrest, "This touches all the buttons. It's a setback for race relations, homophobia, MAGA supporters. I cannot think of another case where there is this anger on so many sides, and you can understand why there would be."
On the other side of that fickle coin, Gayle King has been praised for how she maintained her composure in the face of an erratic R. Kelly over the course of an intense, sometimes uncomfortable and entirely bizarre 80-minute interview for CBS News, portions of which aired on CBS This Morning and CBS Evening News this week.
Naturally, there were pre-interview complaints about why the singer was getting such a prominent stage in the first place in the wake of the damning allegations laid out in Lifetime's Surviving R. Kelly—and after being charged with 10 counts of aggravated criminal sexual abuse (which couldn't be discussed because it's an ongoing case; he has pleaded not guilty). But the show was certainly going to go on, and—after the clips in which Kelly cries, swears and at one point stands and emphatically insists that he's the victim went viral—is now going to be a prime-time special, The Gayle King Interview With R. Kelly, airing Friday. 
King also interviewed two women living with Kelly who insist their parents were out to extort money from the artist, and the hour-long show will include other CBS News findings regarding years' worth of abuse and misconduct allegations against the singer.
CBS/Lazarus Jean-Baptiste
"There's a lot going on in these R. Kelly clips," Ava DuVernay  tweeted in response. "But one thing that jumps out is how direct, super clear and no frills these questions are by @GayleKing. She's asking exactly what most of us would ask if we were in her seat. Crazy how refreshing it is. Speaks to how rare it is."
Added King's longtime BFF Oprah Winfrey, "Bravo @GayleKing for calm and and steady focus during #RKelly interview. Outstanding job! Tell @CBSThisMorning we want to see the whole thing." (So that also helps explain tonight's special.)
All of which is exactly what happened. King's unfazed expression as Kelly rants, at her and in general, is the priceless stuff that memes are made of. 
The gist of the outcome, however—aside from Kelly entirely failing to convince anyone who already thinks he's guilty otherwise—is that Kelly denied the accusations against him and didn't waver from his own version of events.
"Quit playing! I didn't do this stuff! This is not me! I'm fighting for my f--king life!" he exclaimed.
OK, so obviously King had a mountain of evidence and past legal allegations with which to confront Kelly, which made her assignment wildly different from what Robin Roberts was facing when she agreed, at first reluctantly, to interview Jussie Smollett. She tried to coax as many details out of him as possible, and short of asking him point-blank if he was lying, she broached the subject of there being perceived holes in his story.
Kamil Krzaczynski/AP/REX/Shutterstock
"The vast majority of people have been supportive and loving and understanding," Roberts said to him, "and then as time has gone on, and that there's no—you know, it's 2 o'clock in the morning, you're going to Subway, sub-zero [weather]..."
"Subway is open 24 hours," Smollett replied indignantly, adding, "people kill me when they say things like that." A few minutes later hes aid, "I will never be the man that this did not happen to." And toward the end, he declared, "You do such a disservice when you lie about things like this."
What was Roberts supposed to say, going on the information she had at hand, in that moment? King, too, could only press Kelly so much after he had gone all in on his story.
"I was not scared. I never thought he was going to hit me," King told O magazine (where she is also an editor at large) about the experience. "After, Oprah and my kids Kirby and Will called me to ask if I was okay because it looked scary. But I was never worried he was going to hurt me. I was more worried that he was going to get up and leave.
"So what I was really thinking to myself was: I'm not done with this interview, so I'm going to let him have his moment. If I stood up even to comfort him, that could have been his invitation to say 'This is over.' So I didn't interrupt his anger and let him have that."
King's a consummate professional, so it's hard to fathom a universe in which she handled Kelly's belligerence any other way.
So, both interacted with their respective interviewees appropriately, but because Smollett's case then devolved into a situation where countless supporters were appalled by the possibility that he lied and those people who didn't want to believe him in the first place were grotesquely overjoyed to have their suspicions purportedly confirmed by the police and prosecutors' conclusions, Roberts was somehow left holding the bag. As if she—or anyone else—was going to be able to pull a Perry Mason and command a dramatic confession—contrary to everything he'd said before—right then and there.
And Roberts was surely feeling the natural frustrations that came with being reminded, within hours, that timing is half the battle when it comes to the news.
"I'm a black gay woman, he's a black gay man. He's saying that it was a hate crime," she recalled. "So if I'm too hard on him, then people in my LGBTQ community are going, 'Oh, you don't believe him.' If I'm too light on him, then it's like, 'Oh, because you are in the community, you're giving him a pass.' So it was, like, it was a no-win situation for me."
She concluded, "It was one of the most challenging interviews I've ever had to do."
King was able to approach the Kelly interview with less of a 360-degree awareness of how many people were personally invested in how she treated Smollett, but King was weighted with similar journalistic responsibility, as well as the urgency that comes with wanting to hold an alleged sexual predator accountable and, as Roberts stated in her case, get to and give the truth.
"His team reached out and said he was interested in talking, and he was interested in talking to me," King told O. "I had some reservations because I was thinking 'What are we gonna get? He's just going to deny it!' But I did it because I at least thought there would be some...if not contrition, then at least acknowledgement that 'This is a bad situation, and I have made some mistakes.' But instead, he seems to believe everyone is out to get him...that everyone is after money or book deals or TV deals, and that even the parents of these women are lying. As you saw, he says he's only guilty of one thing: Having a big heart."
It's easy to forget in the Twitter era that neither Smollett nor Kelly has been convicted of what they're currently accused of in a court of law. But while each man still has a camp of stalwart supporters, just as anyone whom at least one person doesn't want to believe the worst about does, the general consensus from the court of public opinion is that both men went on TV and lied. Kelly happened to make for the more ostentatious theatrics, creating a more obvious role for King to play, while Roberts had the thankless task of sitting down with someone whose word was the only one driving the narrative at that point.
At the end of the day, the truth is what the real-deal people asking the questions are after, or at least should be after, but they're not magicians. They can't turn water into wine or draw blood from a turnip. Or get the truth from a person determined not to tell it.
Most people agree to grant interviews knowing ahead of time what they'll be willing to talk about. It's up to the interviewer to prepare, go as deep as possible and mine what she can, and ideally know the value of each nugget, to be further tapped or tossed aside accordingly.
Sometimes, sitting and listening while a person digs his own hole is all there is to be done.