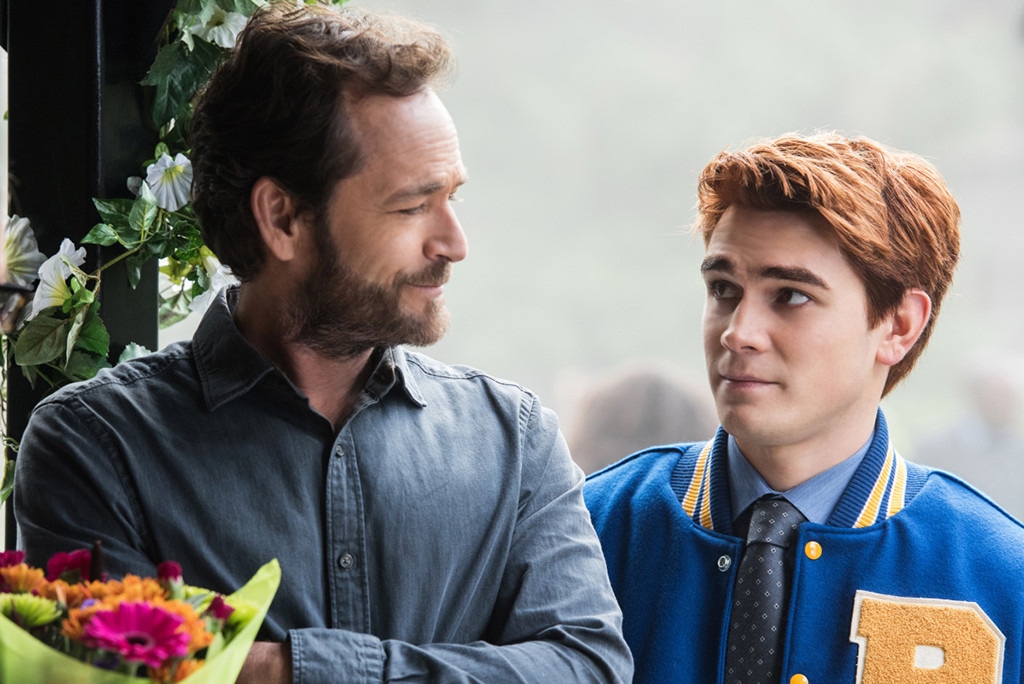 The CW
It's not easy to be a parent on Riverdale. It's also not easy to be a good parent on Riverdale, or a good person if you're an adult who grew up in that messed up town.
But somehow, Fred Andrews managed to be a genuinely good guy and a great parent against all odds, and the loss of Luke Perry, who died on Monday at age 52, means we're also losing one of the best dads not just on Riverdale, but on TV in general.
Fred's first scenes with Archie (KJ Apa) in the Riverdale pilot, back when Archie's concern was music vs. football vs. business school, showed just what kind of a beautiful father-son relationship we were in for.
First, Fred asked if Archie would be stopping by the construction site later so he could get started working in the office, and Archie told him he had football tryouts. Fred was OK with that, if a little disappointed, but wished him luck.
Later, Fred, with a beer in hand, found Archie on the porch playing the guitar. He'd just gotten a call from Archie's football coach, who claimed Archie had told him he couldn't play football because his dad was making him work for him, which was weird because Fred had heard the opposite earlier that day.
"My first question is who are you lying to, me or your coach?" he said calmly.
Archie admitted he wanted to write music and that, no disrespect, but it wasn't his dream to come back to Riverdale and work for his dad's company. Archie couldn't explain what had changed, and Fred was visibly hurt—not by the fact that his son didn't want to work construction, but by the fact that he couldn't tell him why.
"That's it? We don't talk anymore? I would never force you to play football. I don't care if you play football, and you don't have to work with me or for me ever again, but some advice, man to man. These decisions that you're making now, son, they have consequences. They go on to form who you are and who you'll become. Whatever you decide, be confident enough in it that you don't have to lie."
That little speech was an immediate sign that Fred Andrews wasn't a dad we were going to have to worry about, and no matter what Archie got up to—which turned out to be a lot more than just lying about football or construction work—his dad would likely always be there.
And Fred has been there, even through a very brief affair with Hermione (Marisol Nichols), and his run for mayor and his grappling with his own involvement in Gryphons and Gargoyles as a teen, and it was Fred getting shot by the Black Hood back at the end of season one that first propelled Archie into darkness as he fought to protect his family.
While Fred was in and out of consciousness in the season two premiere, he had some beautiful dreams where he watched his son and his friends graduate, and Archie taking over his company, and Archie getting married to Veronica in a beautiful outdoor ceremony that suddenly got interrupted by the Black Hood, aiming right for Archie. It was his attempt to save Archie and the realization that his kid needed protecting that woke Fred up.
Fred stood by Archie even when he was seduced by a predatory music teacher and manipulated by mobster Hiram Lodge, and even when Archie wavered on who to support in the run for mayor—his dad, or his girlfriend's mom. He always believed whatever Archie told him, and was ready to show up for any fight he needed to show up to.
When he realized the fight against Hiram Lodge had become too impossible for Archie to keep fighting, Fred helped him get out of town, imagining a life of living off the land together but knowing that won't work, so he sent his son to Canada with all the help he could give him.  
Sure, helping Archie run away from a mobster is a far cry from being supportive of his son's dreams and the more we describe the various things that have happened to Fred and Archie the more ridiculous this tribute gets, so we'll just say this: a kid who gets into as much trouble as Archie does could not have dreamed of a better support system.
In a town full of  rich mob boss fathers and high strung type-A mothers and reformed but questionable gang leader dads, Fred could very easily have been written as a small-town jerk who didn't ever understand what his kid was going through, but if he had, he probably would not have been played by Luke Perry, and we wouldn't love him nearly as much as we do.
Riverdale airs Wednesdays at 8 p.m. on The CW.