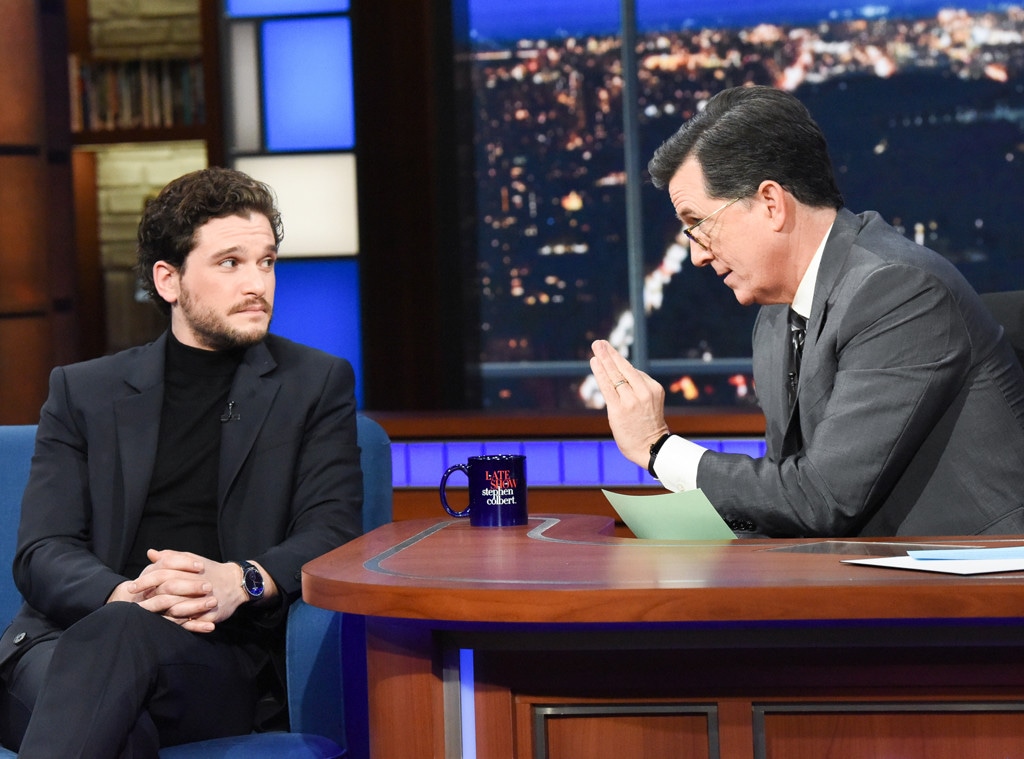 CBS
Kit Harington (and his short hair) stopped by The Late Show with Stephen Colbert hours after the first trailer for the final season of Game of Thrones dropped.
Harington, who plays Jon Snow on the HBO fantasy series, lamented his contractual inability to say anything about the new season. "I can't even say lies," Harington told host Stephen Colbert. "I can't even make something up."
Why is that?
"Because then that gets picked up and then they pick that apart and anything that might be true they've narrowed they out of it. So, it's a minefield," Harington said.
While Harington couldn't really give anything away about the new season, he did say the furs he wears on the show weigh a ton and smell awful. There's that?
Harington also mused on spending the last 10 years in Westeros as Jon Snow. "All I knew was I booked a pilot on an HBO TV show, and that was just winning the lottery anyway. Whether it was good or even got picked up was by the by for me. So, no, I obviously had no idea," he said. He never expected to be on talk shows, at the Emmys and meeting "some of the people I have."
"It's extraordinary," he said. "It's sort of, after 10 years of it, I'm still pinching myself and I still can't quite grasp it. I think about 10 years ago…and what the world was 10 years ago…they're just worlds apart."
Can we blame Game of Thrones for the state of the world? Maybe so. "I've got this theory we kind of screwed the political landscape," Harington said. "I just felt that certain political figures tried to emulate Joffrey and things went a little bit wrong."
"Got the hair," Colbert joked about Donald Trump.
As for the big ending, Harington said all of his many theories were wrong. He waited until the table read to read the final scripts, and his reactions were filmed.
"I was very shocked and surprised at certain events unfolding," Harington said about the ending. "And then I blubbed my eyes out."
Harington also defended telling his wife Rose Leslie, who stars on The Good Fight, how season seven ended—and then proceeded to tell the audience all about that ending again. Leslie has guessed endings, but Harington said she hasn't nailed it on the head just yet.
Colbert that tasked Harington with reacting to his ending guesses, and honestly, Harington's reactions were adorable.
Click play on the video above for more.