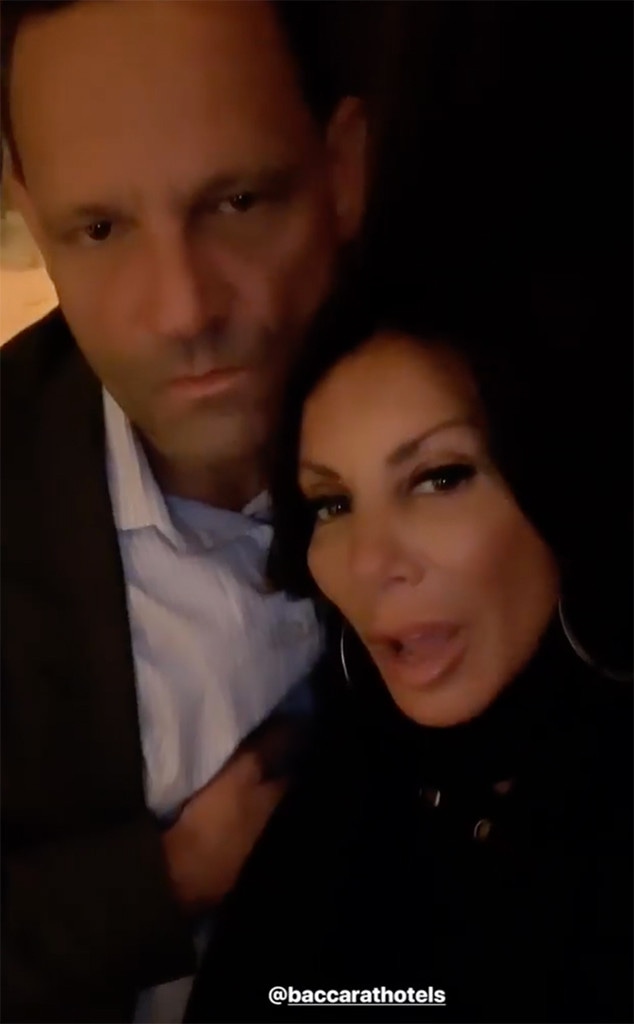 Danielle Staub via Instagram
Forget about what you heard on the streets, Danielle Staub is still very much engaged.
The Real Housewives of New Jersey star took to Instagram Stories to confirm her relationship status with Oliver Maier.
"Per the rumors that he and I are not together, here I am with my love," the reality TV personality says in her short video clip. After giving him a big smooch, she cheekily adds, "Here you go!"
In the quick Insta Story, Maier also shows his affection by saying "I love you" to Danielle.
Earlier this week, reports surfaced that she and Maier broke up days after announcing their engagement. But the 56-year-old star is clearing up those rumors STAT.
Apparently, the two were planning on getting married on Monday, March 4. However, many news outlets alleged their big day was postponed due to their split. A source tells E! News there's a different reason for their wedding delay.
"Danielle and Oliver are temporarily postponing their wedding but are still very much engaged," a source told E! News on Saturday. "Danielle is going to spend a few days with her daughters recognizing this all happened very fast. Her children have always been her number one priority and that will never change."
For those thinking this relationship moved at a speedy pace, you're certainly not wrong. On Thursday, the couple announced their engagement. And over the weekend, the pair were spotted ring shopping at the high-end jewelry store Van Cleef & Arpels.
Instead of getting married, however, Danielle was spotted at Arsen Gurgov Salon where she got her hair colored by Erika Szabo.
For those who have been following Danielle as part of Bravo's Real Housewives franchise, they know she has been engaged 21 times.
And while this recent season saw Danielle getting married to Marty Caffrey at a beachside wedding ceremony in front of her co-stars, they would ultimately get a divorce three months into marriage.
"The last several months have been extremely difficult for Danielle and she is very glad to be able to focus on her future and the next chapter of her life," Danielle's rep shared in a statement at the time.
(E! and Bravo are part of the NBCUniversal family)