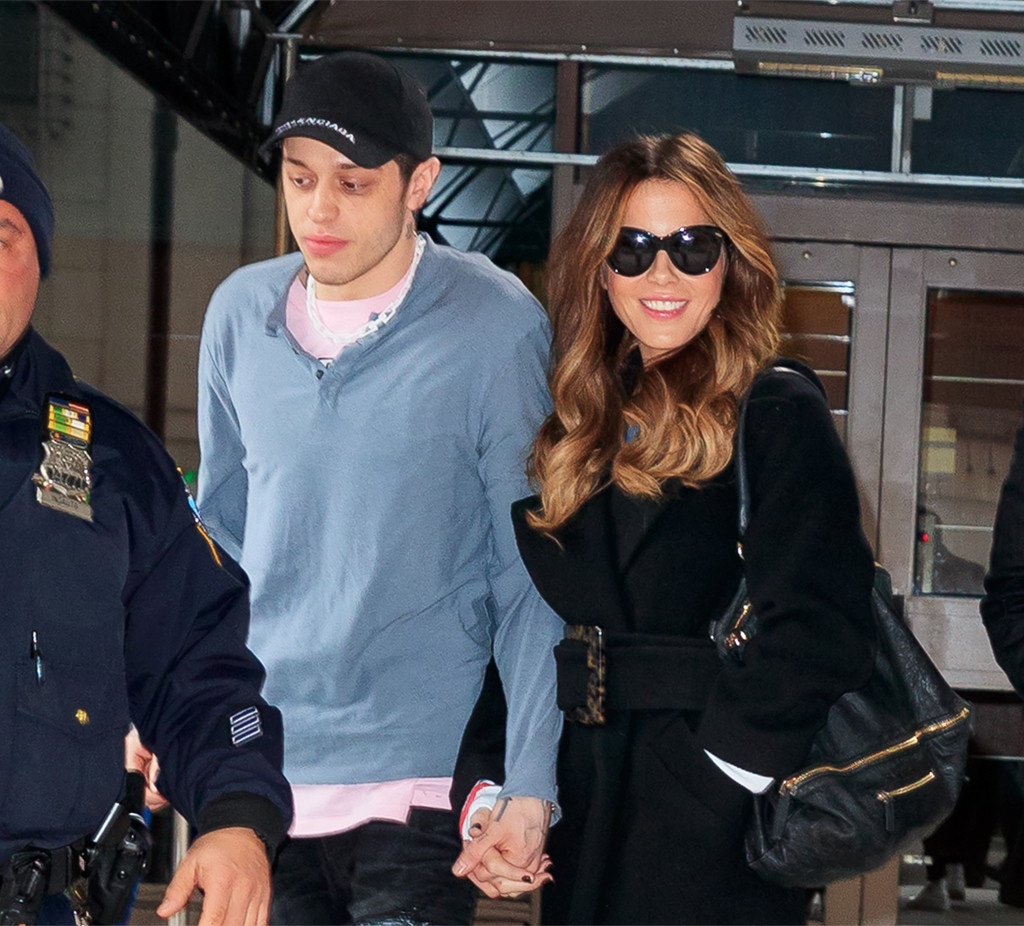 Jackson Lee / SplashNews.com
"Funny...I like funny." 
Kate Beckinsale wasn't exactly going for subtly when asked by Extra what she seeks out in an ideal man. She may as well have answered that she was looking for a 6-foot-1 comedian with an East Coast upbringing and a penchant for brunettes. But on the off chance she hadn't made clear exactly how she feels about Pete Davidson, their weekend of romance in New York City ought to have sealed the deal. 
A month after the pair exited his West Hollywood stand-up show hand-in-hand, The Widow actress found herself on his side of the country last week celebrating her recent DuJour cover, providing the perfect opportunity for her and Davidson to resume their hand-holding activities. The couple were entwined when they arrived at the Saturday Night Live afterparty at Dos Caminos close to 10:30 p.m. this past weekend and were still holding tight when they exited the Mexican eatery some five hours later in Sunday's early hours. And later that day when they turned up at Madison Square Garden to watch the New York Rangers take on the Washington Capitals their fingers were, again, interlaced. 
And if three's a trend, we're officially calling it that these two are the real deal. Besides, nothing says established couple like a rinkside makeout session. 
Sure, they seemed like a bit of an odd pairing when they were first spotted deep in conversation at Netflix's Golden Globes bash in January. Davidson, 25, the son of a school nurse and a Staten Island firefighter killed in the Sept. 11 terrorist attacks, wasn't even alive when the 45-year-old British actress, the offspring of two thespians, appeared in her first TV miniseries in 1991. And while she went on to study French and Russian literature at Oxford's New College before turning her focus to her blossoming acting career, he enjoyed just a brief stint at St. Francis College in Brooklyn before dropping out in favor of the comedy club circuit and stints on the MTV2 series' Guy Code and Nick Cannon Presents: Wild 'N Out en route to earning his career-making gig on SNL in 2014 just months before his 21st birthday. 
But after back-to-back relationships that covered the whole of her twenties and thirties Beckinsale, mom to 20-year-old Lily Sheen with ex Michael Sheen, 50, isn't necessarily on the hunt for some deeply established bond. Speaking to Tatler last November about the end of her 12-year marriage to director Len Wiseman, she shared, "When you get divorced, everybody waits to see where you land. But I might not land anywhere for a bit. I'm really quite happy: it's quite nice to have a bit of Virginia Woolf time."
And for that, Davidson has proven the perfect companion. Along with the aforementioned requisite humor, Beckinsale having her own sharp wit, as evidenced by her Instagram feed, Davidson is sweet and nice, a source told E! News. "Kate has spent some time with him and thinks he's very funny and charming." And she appreciates that he doesn't take himself too seriously while still showing he's quite intent on treating her well. 
The twosome do share some profound connections. Like Davidson, Beckinsale was just a child when she lost her father to a heart attack. "I never had a typical environment. My father dropped dead very suddenly when he was 31 and I was five," she explained to Elle in 2017. "It did feel like everybody else had a normal family and I had this really odd situation. I'd never really had that kind of traditional thing." 
So she set about trying to create her own, moving in with fellow actor Sheen shortly after they were both cast in a touring production of The Seagull in early 1995. By 1998, they had welcomed daughter Lily, but, to Beckinsale's eternal confoundment they hadn't legally solidified their romance. Whilst making the press round with 2001's Pearl Harbor, she recalled to Scottish Daily, "Everybody kept asking the same thing. And I was too embarrassed to admit I really didn't know why Michael hasn't got round to proposing to me yet. So I would make up stories like 'when Lily's old enough to be our flower girl, we'll get married.' But the truth is that Michael hasn't asked me to be his wife yet." 
She had asked him outright what the hold up was, she continued, "I couldn't believe it when he said, 'Because every time I was going to ask you, you did something annoying.' So maybe if I can hold off being annoying for a while, then he'll finally ask me. But I should add that Michael is brilliant and wonderful."
It's an opinion she still holds onto, though the pair haven't been romantically involved in a decade and a half. Impressive coparents long before conscious uncoupling was ever part of the generally accepted lexicon, Beckinsale also formed a close bond with his girlfriend of four years, Sarah Silverman, insisting on The Talk in 2016, "I'd love her if she didn't have anything to do with Michael." Practicing what she preaches, the two have remained tight since the pair's split last year. 
"Somebody asked me, 'How'd you make that all work with Michael?'" she told Elle. "I'd love to say we're just terribly evolved, amazing, marvelous people, but actually we've just been really lucky. We really like each other. He would be a friend of mine, whatever the situation. We just really love each other." 
"And I would also be a friend of his girlfriend whether I knew him or not–he just happened to be the conduit to meeting her. My daughter certainly hasn't known anything else. She was three when we split up. So this is my kind of botched job at a family." 
Her coupling with Wiseman seemed equally smooth, the pair connecting when he directed her in 2003's Underworld. Months into their romance, he proposed in June 2003, filling the presidential suite at Santa Monica's Viceroy Hotel with lilies, her favorite flower. After they wed the following May, the industry vets settled into one of entertainment's rare solidified partnerships, their unwavering bond turning them into something of a paragon for established relationships. 
The secret, Beckinsale shared when asked by Maxim in 2011 after the pair had collaborated for three Underworld followups, is that they were both "pretty un-Hollywood, you know. Neither of us has tried cocaine, and I think I've been drunk once, by accident, in my life." Beyond that, she told the mag, "I think it's entirely down to picking the right person." 
O. Duran/FAMEFLYNET PICTURES
But as she would share, following their 2015 separation, sometimes even finding your match isn't enough. Though neither side offered much by way of explanation for their split (a source told People the industry vets "They have both had complicated schedules and have grown apart,") Beckinsale would later hint to Elle that perhaps monogamy wasn't an ideal fit. 
"I don't know if I've met anyone who's single or anyone who's married, who's really truly happy, if you really think about it," she told the mag during a 2017 interview. "It's awful, but it's true. I don't know, I'm in that moment in my life where I'm like, if marriage was to work for women, there should be a state-subsidized second home for them where they can live on their own. Really we end up in the bathroom–that's why women like baths so much–because that's the only time no one is bugging them. But I think then marriage would work really well, as long as the woman has somewhere to go on her own occasionally. Not to have a fancy man, but literally to be alone." 
Matt Winkelmeyer/Getty Images; Startraksphoto.com
On the hunt for a connection that afforded her a bit more freedom, she had settled into a romance with now 23-year-old comedian Matt Rife. Mature for his age, as one insider told ET, and a great guy, he easily slid into her world: "Everyone in Kate's circle loves Matt and are so supportive of this relationship," said the insider.
And when that romance ran its course, she enjoyed a dalliance with another young comic, 30-year-old Brit Jack Whitehall. After the duo were seen kissing in November, a source told E! News they had connected after moving in the same social circle for some time. "She has always thought he was gorgeous and funny," said the source. "They have several mutual friends that have brought them together before." 
Like Rife before him, the BRIT Awards host had exactly what Beckinsale was looking for. "Kate likes dating younger guys and having fun with it," noted the source. "She's very youthful and young at heart so it works for her. It's easy and less pressure dating someone young who isn't looking for a serious commitment."
Though her romance with Davidson started out in the same vein, the nearly 3,000 miles between her home in L.A. and his in New York making it impossible for them to get too serious too quickly as he healed from his whirlwind engagement to Ariana Grande, the couple seem to have some staying power. 
An insider tells E! News Beckinsale is really taken with Davidson's unflinching brand of humor and gravitates to his quirkiness. "He always has her laughing and that's a good feeling to have," notes the insider. Even when they're on separate coasts, adds the insider, "They talk a lot and never run out of things to say." 
Add in a dose of healthy chemistry (as evidenced by the photos captured of them mid-kiss) and you have a relationship that's humming along quite nicely. "Kate's very into Pete," says the insider. "You wouldn't necessarily put them together, but it's working for now. She's excited about getting to know him and hoping to spend more time with him."