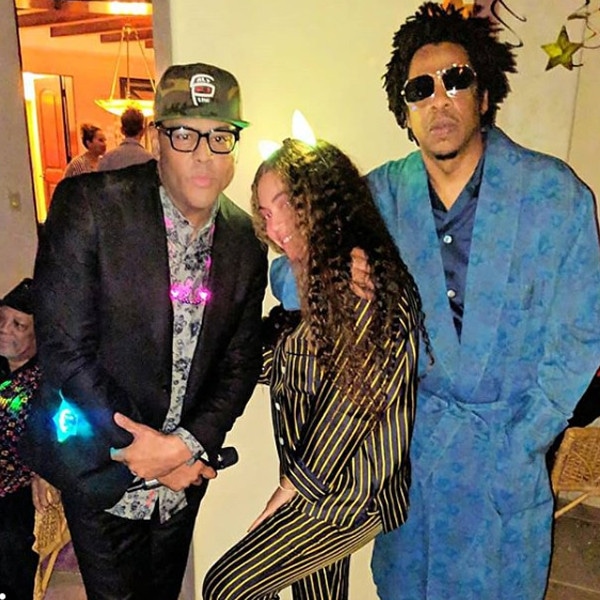 Instagram
Day or night, Beyoncé and Jay-Z always get it right.
Over the weekend, the A-list Hollywood couple stepped out for a pajama party that required a fabulous dress code.
On Al B. Sure's Instagram, the singer and iHeartRadio host shared a shot of the famous pair who were happy to dress the part.
Beyoncé spotted a navy blue and gold stripped pajama set from Sleepy Jones while her husband worked a baby blue robe and his signature shades. He completed his look with a matching button-down shirt.
As for why Al didn't follow the dress code, he told one follower that he "wanted to avoid a wardrobe malfunction."
While details of the party remain top-secret, social media posts also show Quincy Jones and Diddy's son Quincy in attendance.
This weekend's party comes one week after Beyoncé and Jay-Z hosted a 2019 Oscars after party at Chateau Marmont.
Guests including Jennifer Lopez, Ciara, Rihanna, Jamie Foxx and Drake celebrated the best movies of the year by coming together for a bash that lasted until past 5 a.m.
"The music was mainly hip-hop songs mixed with classics like Beyoncé's top hits, Justin Bieber and Ariana Grande," our source shared. "Everyone was on the dance floor dancing having a great time."
And while wearing pajamas on their most recent outing may make this power couple a bit more like us, there are plenty of ways Beyoncé and Jay-Z have shown they are just like us.
The "Crazy in Love" singer has been spotted at Los Angeles Target stores in recent months proving she loves running errands in her free time.
As for Jay-Z, he joined his leading lady in following a plant-based diet that has a "profound impact on our health and the environment."