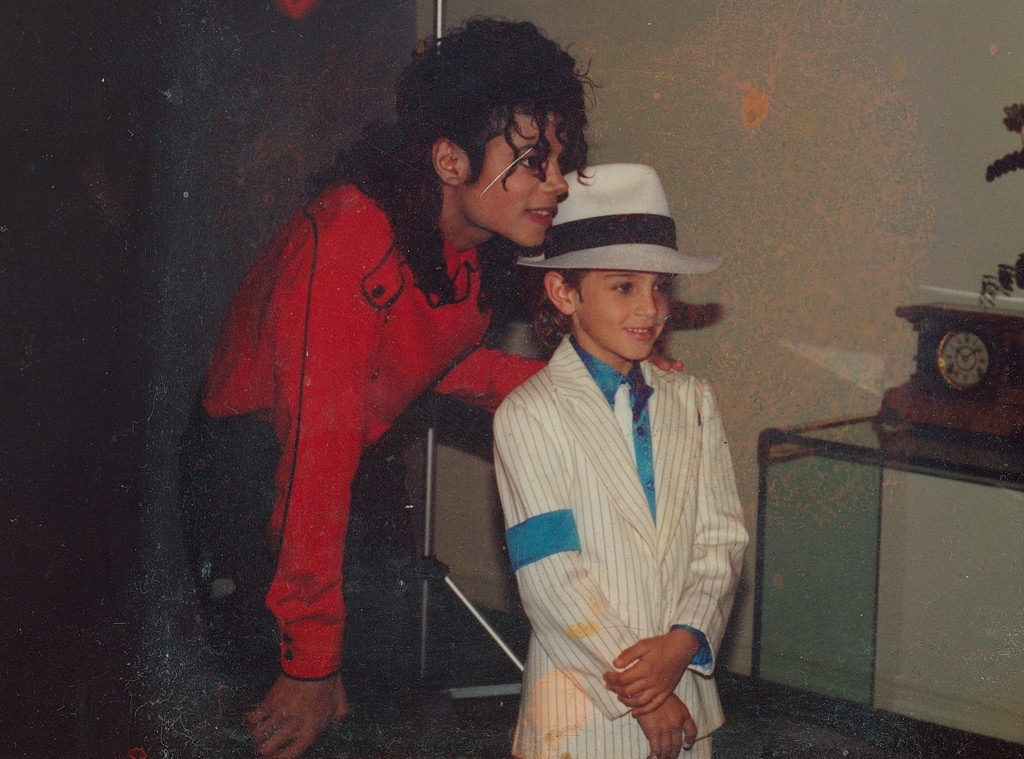 HBO
HBO just premiered the first part of the controversial documentary Leaving Neverland, and it was not an easy two-hour watch. 
The documentary, which the Michael Jackson estate sued HBO over, features interviews with Wade Robson, James "Jimmy" Safechuck, and their families as they document their entire relationships with Michael Jackson when the two boys were children, starting with how they met and going into graphic detail about how the alleged sexual abuse occurred. 
When the four hour documentary premiered at Sundance Film Festival, healthcare professionals were made available in the lobby of the theater to help any audience members upset by the content of the film, and that makes perfect sense given what we've seen in the first half of it. It's a tough watch and a complicated, controversial, and upsetting topic, and the allegations that have been denounced by the Jackson estate.
"This is yet another lurid production in an outrageous and pathetic attempt to exploit and cash in on Michael Jackson," the estate said in a statement to E! News around the time of the premiere. "Wade Robson and James Safechuck have both testified under oath that Michael never did anything inappropriate toward them. Safechuck and Robson, the latter a self-proclaimed 'master of deception', filed lawsuits against Michael's Estate, asking for millions of dollars. Both lawsuits were dismissed." 
The first part of the documentary does not address those testimonies (it ends right before the first allegations were made in 1993), but it does explore how the boys met Jackson and how their relationships played out. Whether you watched it or whether you'd understandably rather not, here are the basics of what the Robsons and the Safechucks said during part one. 
James Safechuck 
Safechuck met Jackson on the set of a Pepsi commercial when he was nine. He was invited to Jackson's trailer, along with the makeup artist. Safechuck's mother was fine with it, because the makeup artist claimed Michael was just like a nine year old child. Jackson had a film crew sent to Safechuck's house, and then James was invited to the Jackson family home in Encino, where they watched a movie. The Safechucks then opened up their home to Jackson, and he would hang out there when he needed an escape. Safechuck compared it to hanging out with a friend his own age, and Safechuck's mother thought of Jackson as a son. Jackson took the family to Hawaii for vacation, and while Jimmy's mother didn't let him sleep in Jackson's room at that point, that changed later on. 
Jackson invited Jimmy on tour with him, and Jimmy danced on stage. The family got to fly first class and stay in fancy hotel rooms and visit movie sets and meet all kinds of celebrities. 
"In Paris, he introduced me to masturbation, and that's how it started," Safechuck said, adding that he had no unpleasant memories other than trouble urinating afterwards. "It felt like we were bonding, in a way." 
Jimmy was with Michael 24/7, his mother said, and Safechuck, who was 10 at the time of the tour, went into detail about just what Jackson liked when it came to their sexual relationship, like when Jimmy would bend over in front of him. 
Safechuck's mother said that her hotel room kept getting further and further away from Michael's on each leg of the tour, and Safechuck said Michael would "run drills" with him on how to avoid the two of them getting caught. 
"It was very much a secret, and he would tell me that if anybody found out, his life would be over, and my life would be over," Safechuck said. "That's something he tells you over and over again." 
"It evolved from French kissing to kissing different parts of the body, and then finally kissing the genitals," he explained, describing a time when he woke up and Jackson told him that he had performed oral sex on him while he was sleeping, and it got more graphic than that. 
Meanwhile, Jimmy's mother was sneaking around, listening through the door to find out what was happening. 
"Playing, reading...Just kid things. They were just doing kid things," she said of what she heard. 
Jackson apparently told Jimmy that he was his first ever sexual experience. 
The Safechucks were the first guests at Neverland Ranch, and while Michael and Jimmy would stay in "the big house," the rest of the family would stay in one of the many guest rooms. Safechuck described the hallway leading to Michael's room, which was full of bells and other warnings if anyone was approaching the door, and he also described all of the places in and around the house where they would have sex. 
Jimmy's mother was finding locked doors, all while her marriage was struggling, and Safechuck said he and Michael would eavesdrop on the fighting, and Michael would tell him that women are evil. 
Michael would hang out at the Safechucks' little house all the time, and Safechuck said they were "fully in love" during that time. 
"We were like this married couple, and I say married because we had this mock wedding ceremony in his bedroom," he said. "We filled out these vows, it's like we were bonded forever. It felt good." 
Safechuck even had the ring, which was shown on screen. 
"It's still hard for me to not blame myself," Safechuck said, looking at the ring, and others Jackson had given him in exchange for sexual acts. "We would go buy them at jewelry stores and we would pretend they were for somebody else." 
Later, Safechuck says he wasn't really hanging around Michael much. 
"It was more like he would call ever few months," he said, though he said the Safechucks could still use Neverland as a sort of vacation home, and when they did hang out, Michael would get Jimmy drunk on wine. 
"It got more dirty sexual," Safechuck said, describing a time when Jackson put a finger in his anus, but backed off when Jimmy didn't like it. 
Jackson then started preparing Jimmy for other boys to be seen around with him, which then began to happen. He found himself spending the night with Michael but on the couch, while a new boy slept in Michael's room. 
"It was like being cast out, and it was like a realization that like, OK, I'm not number one, and I just wanted to go home. So I cried and cried, and I cried out for my mom, and I just cried myself to sleep. That was like the first night it really hit. Michael is my, like, partner, and then he's gone, and you're not close to anyone else, so it's like then you're just alone, and you can't talk to anybody about anything, so you just continue to be alone." 
Taylor Jewell/Invision/AP/REX/Shutterstock
Wade Robson
Robson, who's now a choreographer, became obsessed with Michael Jackson as a child, and took part in a dance contest when he was five. He wasn't even old enough to compete, but they let him perform, and he won anyway, which meant he got to meet Jackson. Jackson then invited Robson to perform on stage with him, and later they hung out in Michael's hotel suite together. Three years later, his family traveled to the US, and they were invited to the Neverland Ranch. Wade and his sister slept in Michael's bed the first night. 
The next night, Wade said he woke to find Michael crying about how the family was going to leave the next day. The rest of the family ended up going to the Grand Canyon for five days while seven year-old Wade stayed behind at Neverland, which his mother said she had no hesitation about and Wade was ecstatic about. 
Robson said Michael was making physical contact on the first day at Neverland, starting with hugs or a hand on a leg. 
"The first thing I remember is Michael sort of moving his hands across my legs...and then his hands got to my crotch area," Robson recalled. "And then his hands went underneath my pants and started touching my penis underneath my pants...and then him guiding me to do the same thing to him." 
Robson said Michael told him they were "brought together by God" and this touching was "how we show our love." They started taking showers together and kissing, and then Robson said Michael pulled down Wade's pants and started to perform oral sex on him, eventually having Wade do the same for him. He described Jackson asking for the same things that Safechuck described—bending over so Jackson could see his anus, touching his nipples. During the day, they would have "adventures" around the ranch. 
Robson and his mother and sister went to LA with Michael while Wade's dad and grandparents went to San Francisco, and Michael allowed the family to buy anything they wanted. 
The Robsons went back to Australia and Michael called every day for two years, and sometimes he and Wade would talk for six or seven hours at a time, with Michael telling Wade what a big successful director he would be one day. Wade got the nickname "Little One," and Jackson had a lullaby he sang to Wade. Robson said that at some point, Michael bought him a fax machine so they send "constant" faxes back and forth. The faxes could be seen on screen. 
On another trip to LA, the fondling and masturbation continued, and also introduced Wade to porn, he said, which clearly Michael really liked. 
"He just came across as a loving, kind soul, so it was easy to believe he was just that," Wade's mother said. 
Michael tried to get Wade's mother to let him stay in LA for a year, but she wouldn't allow it, which caused an argument. 
"He looked at me and he said, 'I always get what I want,'" Wade's mother said, and while she still didn't let up, Michael asked for them to stay longer. 
Robson remembered things changing with his dad Dennis at that point, and Dennis was diagnosed with bipolar disorder after a few emotional episodes, and at the same time, Wade's mother was thinking they needed to move to America to further Wade's dance career. Michael made arrangements for where the family would stay when they got to America, and Wade's sister went along with Wade and their mother while Dennis stayed behind, begging his daughter to stay with him. 
"Beyond what was going on with him mentally, his whole family was about to leave him. I'm sure for my father, it was like there's no way they're ever coming back," Robson said. 
When they got to Los Angeles, they were staying in a temporary housing situation that Michael hadn't even paid for, as they thought he would, and they didn't see Michael for a week or two after they moved. Michael also had them rent a car to get to the studio for the "Black and White" music video, as opposed to sending them a car, and it made sense when they got to the set: Michael Jackson had a new friend named Macaulay Culkin. (The broadcast ended with this disclaimer: Macaulay Culkin and Brett Barnes categorically deny any sexual contact with Michael Jackson.) 
When Wade saw Jackson, they would continue the sexual relationship, but they saw each other much frequently, and Jackson started telling Wade he couldn't bring children with him on tour, only to bring Brett Barnes. Wade's mother said there was a new boy with Michael "every 12 months," which was where part one ended. 
Leaving Neverland continues with part two on Monday at 8 p.m. on HBO.