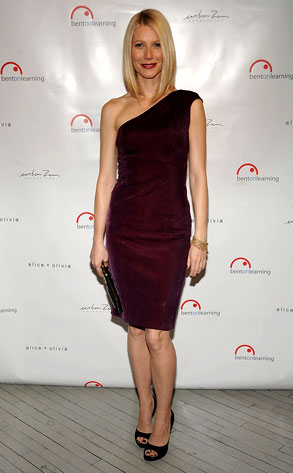 Jamie McCarthy/Getty Images
• Gwynnie has some new words for the GOOP haters, including the newest member to join the club: the New York Times. First, she felt sorry for everyone, then she told us to ef off, and now it's that no one gets that Gwyneth just wants to share her "amazing, super, fortunate life." Like duh, guys, now go eat some French food.
• Slumdog Millionaire cover roundup time! Dev Patel and Freida Pinto are adorbz on EW, then we got Freida being fashiony on Vogue India, posey on Cosmo, straddley on Maxim and squinty in Nylon.
• Wolverine is having a tough time dealing with his emotions—there are just too many.
• Seriously, Megan Fox? This is what you wear when you visit a 6-year-old at his elementary school. Like, really, espadrilles?! Kids aren't ready for those at that age.
• Here's the cover art for Brit's new single. And despite Us' attempt to rename the song "If U Seek Amy (Say the Title Fast! OMG!)," they're sticking with the original.
Well, it's about time Owen Wilson showed up in our Big Pic gallery to help Jen promote Marley & Me.