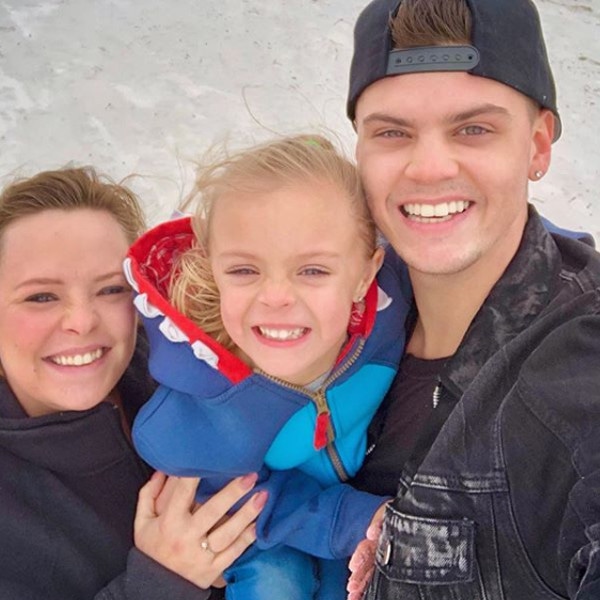 Instagram
And the award for best big sister goes to...
Less than a week after Catelynn Lowell and Tyler Baltierra welcomed a baby girl, fans are getting a glimpse into this Teen Mom family's new reality.
In an Instagram posted Wednesday morning, Tyler shared a sweet video of their daughter singing a lullaby to her little sister.
"Nova is trying to sing 'London Bells Are Ringing' to Vaeda & my heart legit just exploded & melted into a doting father puddle!" he captioned the video. "#DaddysGirls."
When one fan commented saying Nova sounds like she's singing "watermelons eating," Tyler agreed. "That's exactly what I said," he wrote.
Teen Mom co-stars Brittany DeJesus and Cheyenne Floyd would also "like" the video.
For those wondering how Catelynn is feeling after giving birth, the MTV reality star and Conquering Chaos author revealed that she is nursing in a recent Instagram post.
"It's such an amazing bonding experience," she wrote. "Love our little munchker butt."
Tyler would later comment and praise his wife for her mothering skills on and off screen.
"You're just amazing Babe…watching you carry, nurture, feed & love Vaeda the way you do brings more than tears of joy for this doting father," he wrote. "It brings such an immense deep profound peace that I can't really describe with words…but I know how it feels & it feels like euphoric love in the most purest way. I love you so much and you're such an amazing mother."
Cue the awwws.
"Awe babe so amazing," Amber Portwood would also share in the comments section. "I love you mommma."