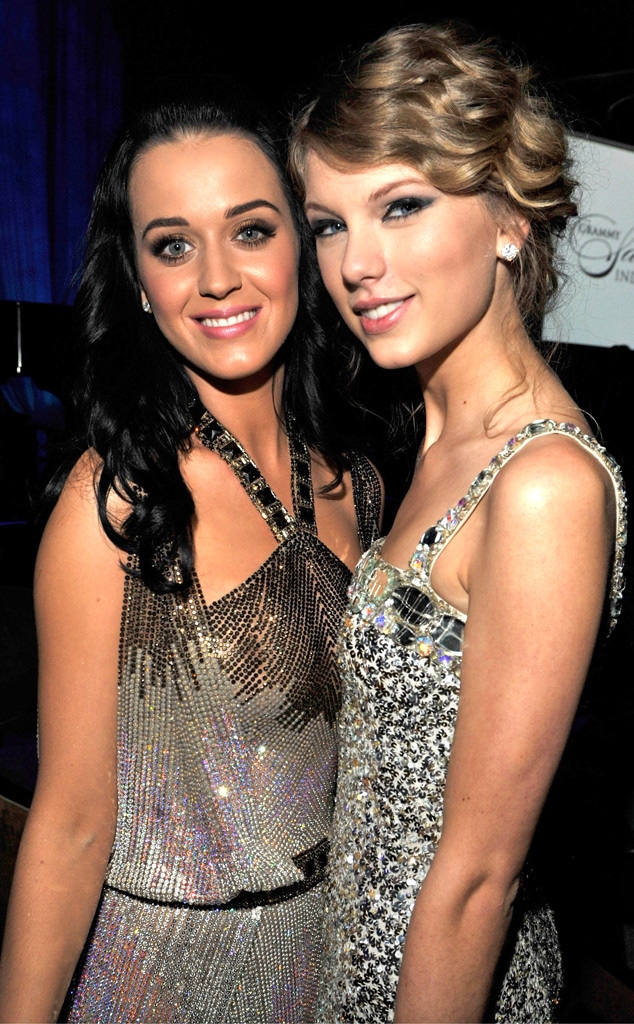 Kevin Mazur/WireImage
Are Taylor Swift and Katy Perry teaming up for a new song?!
Ever since T.Swift first hinted at her "next chapter," fans of the 29-year-old singer have been sharing theories about a possible seventh album. In recent days, Swift has increased her social media activity, with many Swifties believing her posts are clues about her new music.
On Sunday afternoon, Swift shared a filtered photo of the Los Angeles skyline, captioning the post with seven palm tree emojis. Seven palm trees for her seventh album, perhaps? Many fans believe that Swift has previously hinted at the palm trees theme, once at Coachella in 2016 and again in her reputation magazine cover, on which she dons a jacket with palm trees on it.
Swift posted another social media photo on Sunday night, showing her dressed up to attend the after-parties for the 2019 Oscars. In the social media snap, Swift appeared to be sitting on the sixth step of a staircase.
Then on Monday, Swift returned to social media to share a photo of herself looking through a gate...a gate with five holes.
This led Swifties to believe that their favorite singer had started a countdown...but to what exactly? And what does this all have to do with Katy Perry?
Swift and Perry have a long history together, one that started as a friendship and eventually led to a feud over a stadium tour and a song about "Bad Blood."
But, as T.Swift was starting her reputation tour, Perry sent her an olive branch and a card, addressed to an "old friend." The peace offering seemingly marked an end to the duo's feud, with fans hoping that the singers would one day collaborate.
Well, it just so happens that Perry recently shared a photo of herself alongside palm trees, fueling collab speculation.
Many social media users have commented #TS7 on the post, adding palm tree emojis.
"Not trying to be loud.....but olive branches and palm trees are both symbols for peace," social media user @swiftspam tweeted. "Are we getting a taylor swift and katy perry collab I NEED TO KNOW."
Swifities have also noticed that Ryan Tedder, who co-wrote songs with Swift on her 1989 alum, has a photo of palm trees as his Twitter header.
Frazer Harrison/Getty Images
It was shortly after receiving the olive branch from Perry that Swift attended the 2018 Billboard Music Awards, where she walked the red carpet in a stunning Atelier Versace dress. After seeing pics of Swift's dress, many fans noticed that the word "eternal" seemed to be written in the embroidery, a possible theme for her album.
Also, remember that reputation jacket we were talking about earlier? In addition to palm trees, flamingos also appeared on the jacket.
Photos of the magazine covers were released in Aug. 2017. One month later, Perry posted a photo to Instagram...with a flamingo.
But, while there very well could be a collab coming, Swift has yet to confirm anything. We'll all just have to continue to check her social media for more possible #TS7 hints!