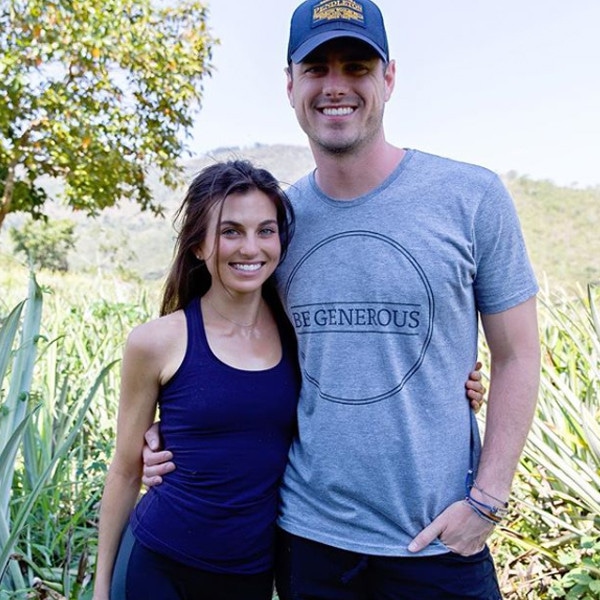 Instagram
Everything is coming up roses in Ben Higgins' romantic life.
Less than a week after The Bachelor fan-favorite made his relationship with Jessica Clarke Instagram official, fans are learning more about this special romance.
In this week's all-new episode of iHeartRadio's Almost Famous podcast, Ben and co-host Ashley Iaconetti had the pleasure of chatting with Jessica on the phone.
What came next were more than a few sweet details that has Bachelor fans so happy for the pair. For starters, Ben first spotted Jessica on Instagram when he was visiting Nashville. But after screengrabbing her profile, The Bachelor star waited close to six months before sliding into her DMs.
"I saw this picture and I said, 'Holy cow. This girl is gorgeous,'" Ben shared in the episode. "I said something along the lines of, 'Don't ask too much about how I saw your profile. I can explain later but if you're single, please message back.'"
Spoiler alert: She responded—with the help of her brother—and the rest is history.
"One of my favorite qualities about Ben is he's humble and I don't think he realizes how great he is," Jessica shared. "His whole approach to it was hilarious and really cute."
While she hasn't watched Ben's season as The Bachelor, some of her cousins listen to her boyfriend's podcast.
And for those wondering why Wells Adams was following her on Instagram, they simply went to the same school. In other words, there's no crossover with other members of Bachelor Nation.
"Jess went to Ole Miss with Wells Adams and so when I first started talking to Jess, I texted Wells because I saw that we both followed her and I asked what do you know about this Jessica Clarke girl?" Ben shared. "And he goes I know she's beautiful and if you're talking to her, you're a lucky guy."
During the podcast episode, Ben revealed that he has met Jessica's family and shares the same faith as his girlfriend.
The longest they have gone without seeing each other is a month. Fortunately, FaceTime has helped with distance and busy schedules.
As for their first kiss together, it happened the first time they saw each other in person.
"I think I walked outside and just laid it, yeah," Ben confessed. Jessica added, "Yeah, I mean, I thought it was romantic."
Ben first appeared as a contestant on The Bachelorette during Kaitlyn Bristowe's season. After he was the second runner-up, the businessman was chosen to become The Bachelor where he got engaged to Lauren Bushnell.
After appearing on Ben & Lauren: Happily Ever After?, the couple decided to part ways.
"Life's been a little crazy for me, and it took me a while to get my mind and heart back in the place to start dating again," Ben previously explained to E! News. "But I'm starting to, and I think that's the best step. I didn't know how to start, and I'm starting. But that's about as far as it goes. There's some great people in my life. Hopefully soon I will be able to show somebody off."
Safe to say many are happy to see Ben so happy.