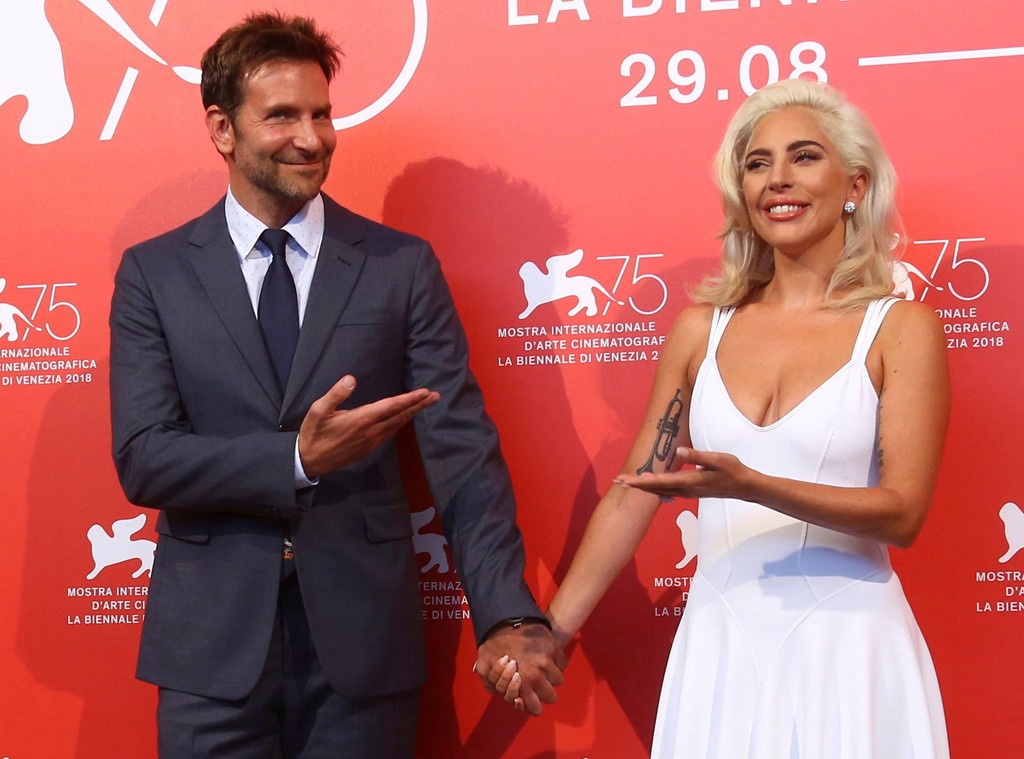 Joel C Ryan/Invision/AP/REX/Shutterstock
In another situation, it could have been the start of a beautiful love story. 
Bradley Cooper was with his mother, Gloria Campano, at the L.A. home of tech billionaire Sean Parker in April 2016 to celebrate the opening of the Parker Institute for Cancer Immunotherapy when an emcee announced that Lady Gaga would be giving a surprise performance. 
Cooper was intrigued, but admittedly not all that familiar with her canon of work or over-the-top stage persona, which worked out well for this particular scenario. Gaga, or as the Oscar-nominated actor prefers to think of her, Stefani Joanne Angelina Germanotta, "came out with her hair slicked back," the 44-year-old recalled to W magazine, "and she sang 'La Vie en Rose.' I was blown away, like in that old Maxell cassette commercial where the guy's hair is blown back." 
Eager to cast an onscreen partner for his version of A Star Is Born, the fourth iteration of the film about a scarcely known, yet immensely talented singer catching her big break, he phoned up her agent the next morning to set up a meeting at her Malibu compound. 
"She came down the stairs and we went out to her patio and I saw her eyes, and honestly, it clicked and I went, Wow,'" he shared with Vogue of their October 2018 cover star. 
Gaga felt it too: "The second that I saw him," she told the mag, "I was like, 'Have I known you my whole life? It was an instant connection, instant understanding of one another."
That chemistry was on full display some three years later when the pair took to the Oscars stage last night, hand-in-hand, to perform their Best Song-winning number, "Shallow". Staring deep into each other's eyes, Cooper even got up at one point to share the piano bench with his costar so they could literally sing cheek-to-cheek, melting the hearts of all those who have already begun to ship the pair as a potential couple.
While the likes of Tyra Banks and Alyssa Milano praised their chill-inducing performance, Mel B went so far as to wonder if perhaps Cooper's partner Irina Shayk, 33, might just have something to worry about. "I felt so uncomfortable for Bradley's girlfriend," she said during an appearance on Good Morning Britain, per the Daily Mail. "But I would like to think it was part of the whole performance." And David Spade was even more blunt, writing on Instagram, "Is there any chance these 2 aren't f--king?" 
Todd Wawrychuk / A.M.P.A.S.
Of course, any physical romance between the two is relegated to the pages of the fan fiction doubtlessly being crafted by the more devoted legions of Ally and Jackson Maine supporters. Though Gaga did just unexpectedly call off her engagement to agent Christian Carino, with a source explaining the couple "just didn't work out," Cooper is still very attached to model Shayk. His partner of four years and mother to their nearly 2-year-old daughter Lea, was among the first of those gathered at the Dolby Theatre to leap to her feet post-performance and was quick offer a hug to the nine-time Grammy winner, 32, before she walked onstage to accept her trophy for "Shallow". 
So it's unlikely anything is going on there. But by their own accounts Cooper and Gaga are quite close. 
With an instant pull toward one another, that initial professional meeting at Gaga's home back in 2016 quickly turned personal. "She said, 'Are you hungry?' and I said, 'I'm starving,' and we went into her kitchen for spaghetti and meatballs," Cooper recalled. 
To the Philadelphia native, the homemade fare represented so much more than just a kind gesture. "I love to eat—and that was actually a huge bond that we both came from East Coast Italian-American families," he explained of his connection with New York-born Gaga at the 2018 Venice Film Festival Conference. "So we had a real synchronicity on that level from our upbringing."
W Blanco / Premiere / BACKGRID
All that was left was to see if they were in harmony. 
"I was making him lunch and we were talking," she recalled to Vogue, "And then he said, 'I want to see if we can sing this song together.'" 
Gaga initially laughed at his suggestion, but the first-time director knew that no matter how much they liked each other, if they didn't mesh musically, they'd never be able to convincingly portray two artists falling passionately, recklessly in love. 
"I asked her if she knew the song 'The Midnight Special,' because I had memorized it," he told W, "and she said no." But ever the professional, she downloaded the sheet music for the Credence Clearwater Revival number and it was instant magic. 
"I sat down at the piano and started to play, and then Bradley started to sing and I stopped: 'Oh, my God, Bradley, you have a tremendous voice,'" she remembered to Vogue. "He sings from his gut, from the nectar! I knew instantly: This guy could play a rock star. And I don't think there are a lot of people in Hollywood who can. That was the moment I knew this film could be something truly special."
For Cooper, it was the instant he realized he'd found his star. 
"It's all instinctual," he told E! News' Giuliana Rancic at the film's Hollywood premiere. "I knew it when I met her. Clearly I knew that she had one of the best voices of our time, and then when I met her I felt like she was so soulful and deep and open, and warm and caring, and I thought, 'God, if I could just capture what I'm seeing right now talking to her, we're going to be OK.'
The duo drew up a pact that they would have each other's backs through what would be a daunting process, first to convince Warner Bros. that Gaga, with just a handful of acting credits to her name, including her Golden Globe-winning turn on American Horror Story: Hotel, was the right person for a role once held by Beyoncé, and then to capture movie magic in just 42 days. 
Neal Preston/Warner Bros.
"We made a kind of deal: I believed in her as an actress, and she believed in me as a musician. I wanted there to be a meta aspect to the film, and Stefani gave me that," he said of tapping into her vulnerabilities as a still inexperienced thespian. "Also, no actress can do musically what I needed Stefani to do in 42 days of shooting: I needed plutonium. And the plutonium in A Star Is Born is Stefani's voice."
His words meant a lot to Gaga who admittedly felt vulnerable about stripping away the layers of makeup and costuming that made up her public persona to transform into Ally, a thirtysomething singer-songwriter just hoping for a chance to prove her worth. 
"For someone who doesn't feel safe all the time, he made me feel so free," she would later share at the Venice Film Festival. "At the same time, he's so laser-focused while he's working. I got to live my dream. There could be 100 people in the room and 99 don't believe in you, just one—and it was him."
However, it was Cooper who would be forced to dive into the deep end first, with Gaga insisting that all the film's concerts be taped live. 
Speaking with Robert De Niro at the Tribeca Film Festival he shared Gaga's words to him: "'I'm gonna rely on you to get a performance that's honest out of me,' because she'd never done a film before, 'and I'm gonna make sure you that turn into a musician, because we're going to sing everything live.' And I thought, wait, what? She said, 'No, the only way this is going to work—I can't stand when I watch movies when they have music and you can tell when it's pre-recorded and people are lip-syncing. And she's right. So that was terrifying, but I really relied on her."
Those first scenes would take place at 2017's Coachella with Gaga as the headliner brought in to replace an expectant Beyoncé. Producers wisely posted an online invite to any "Little Monsters" wishing to fill the audience, asking them to dress in the type of Western gear one might anticipate seeing at a Jackson Maine concert. They repeated the process a week later at Stagecoach, which takes place at the same Indio, Calif. venue, then headed to Glastonbury in England that June where Kris Kristofferson let them cannibalize the first four-minutes of his set. 
"I sang, played the guitar solo, and then I said, 'Ladies and gentlemen, Kris Kristofferson,'" Cooper recalled to EW. 
Taking the stage for that initial Coachella performance, "At first, I was terrified," Cooper admitted to W. "You forget everything when you're onstage in front of 30,000 people. I almost couldn't breathe. But then I looked at Stefani and relaxed: Her belief in me as a musician gave me courage."
When it was over, he marveled to EW, "I couldn't believe how easy it was." 
Gaga, too, was left amazed by how effortless it felt for her to take on a role unlike any she'd ever played. "The most challenging part of this process for me was being as vulnerable as the character needed," she told E! News. "Taking off all my makeup, taking off wigs, being naked in a way that I've never felt before. But he made me feel so comfortable, and my performance in this film is because of him. He is just tremendous in this film. His acting, his directing, his songwriting—everything across the board. I've never witnessed anything like it in my life. I'm just overwhelmed with joy and gratitude."
Paul Drinkwater/NBCUniversal via Getty Images
As it came time for the two to promote their project, which premiered at the Venice Film Festival in late August, it was clear this was more than just another job for them, their appearances on the press tour becoming a chance to out gush each other. 
"The truth is, I made this film with Bradley because I believe in him as a filmmaker, an actor, as a screenwriter, as a musician," Gaga told reporters at the Toronto International Film Festival in September. "He has it all in spades, and I just feel very privileged to be here onstage with you tonight."
Echoed Cooper, "I wanted to tell a story about people needing each other and how hard that is no matter your background. The whole thing is that these two people found each other and it is a pure love. And it is easier when you have somebody with you going down the road. And I had that with Stefani going down this road. I can't imagine having the courage to do it without her."
David M. Benett/Dave Benett/WireImage
That shared appreciation has only grown as the pair took their victory lap, the film racking up eight Oscar nods, a Golden Globe and four nominations a piece at the Grammys and Screen Actors Guild awards, along with box office returns that climbed close to $400 million.
"I'm so grateful to you, not just for making me a better actress, but I've been able to call on you as a friend, and cry and be myself and have you never ever judge me and still respect me as a professional," Gaga said, fighting back tears as she honored Cooper at the American Cinematheque Award Presentation in November. "I've never had an artistic experience like this before."
The twosome have sat side-by-side at each show, and made the rounds at all the bashes, Cooper even serving as a buffer when Gaga found herself at the same pre-Oscars bash as her former fiancé.
FREDERIC J. BROWN/AFP/Getty Images
And when a packed award season schedule sent Cooper to the BAFTAs in London while Gaga was at the Grammys, they lamented having to represent their work some 5,000 miles apart. "I wish Bradley was here with me right now," she told the crowd while accepting their trophy for Best Pop Duo/Group Performance. "He's at the BAFTAs over in the UK. I know he wants to be here. Bradley, I loved singing this song with you."
So much so that when Cooper found himself in the crowd at her Enigma residency concert in Las Vegas last month, they engaged in a bit of role reversal, Gaga pulling him on stage at the end of their set so he could join her in a rendition of that magical earworm, "Shallow". 
"That was terrifying," he later told E! News' Tamara Dhia at the 2019 Directors Guild Awards in Hollywood. "I just had to like, Zen out and just pray that I wouldn't ruin her show. Because, think about it, she just crushed it or two hours...and I thought, 'Please let me just be on pitch.'"
Watch:
Bradley Cooper "Terrified" About Oscars Performance with Lady Gaga
But that willingness to venture into the depths together gets to the crux of why they remain so close years after wrapping their professional duties. "I love her so deeply," Cooper told Time. "It's because we were at our most vulnerable together."
And while that might not necessarily translate to a lasting romantic connection, a continued professional relationship is not out of the question.
"My chemistry with Bradley is real, you know? It was instant when we met, and it only continued to grow," Gaga told E! News in January at the National Board of Review Awards, where she was honored as the Best Actress of the Year and her cohort was dubbed Best Director. "And would I work with him in the future? Absolutely." 
Cooper is on board. "I'd love to," he told E! News, adding just one caveat: "I would have to write something worthy of her."