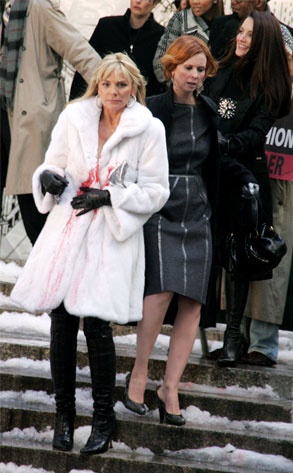 Nancy Kaszerman/ZUMA Press
Animal rights activists tracked down Kim Cattrall in NYC last week and kindly asked that the fab onscreen foursome restrain from wearing fur (of any kind, fake or otherwise) in the upcoming Sex and the City sequel. Some groups feel the antifur ladies who threw paint on Samantha in the first flick were portrayed in a "negative" light. So did Kim blow off the request so nicely made?
Not at all. We're told Cattrall was "very sympathetic and understanding" to the group and she would see what she could do. Glad to know K.C. is no Mary-Kate Olsen, but who knows if executive producer Sarah Jessica Parker will be as keen on the totally antifashionista idea. What do you all think? Will no fuzzy stuff take away from the ferocious getups in the second flick?