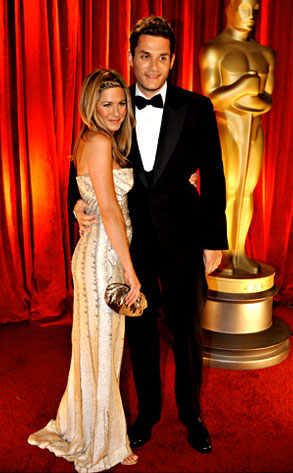 AP Photo/Chris Carlson
Dear Ted:
Is it just me, or was something off about Jennifer Aniston at the Oscars? Her eyes looked very small and kinda red and puffy. Either a) she was stoned; b) she had been crying a lot beforehand; or c) she was wearing too much eyeliner. I hope it was c) too much eyeliner. I really feel for Jen, and I think it was gutsy for her to be a presenter when both Brad and Angelina were nominees. And, yes, I think she can act—remember The Good Girl? I hope she gets some more good roles like that where she can show her stuff.
—Gretchen, Chicago
Dear Neurotic or Nervous:
Let's just say I'm assured it was no coincidence Brangelina was seated in eyeline view. They wanted ratings, remember? And people think it was all Hugh…
Dear Ted:
Do you think Gillian's visit to L.A. has something to do with the continuity of the story of "Mulder and Scully"?
— The truth is out there
Dear Gillovney Addict:
I thought Mulder was being a good boy now? You mean he isn't?
Dear Ted:
There's never an excuse to abuse a woman! It doesn't matter that she was annoying him or being controlling…it was painful to watch you act as though he had a good reason to beat her. It actually makes you look bad. I'm sure you're a nice guy, but you might want to think a little before you speak about sensitive subjects like these.
— Superelana
Dear Mistread:
So sorry, hon, if that's how it came across on Truth, Lies & Ted. I assure you, in no way was I justifying what happened to sweet RiRi. Just tellin' ya they had a bad relaysh before it all went down.
Dear Ted:
This is the first time I'm writing to you, and it's because I think I have guessed who Judas Jack-Off is. All clues point to the Canadian actor Ryan Reynolds, and he is one hunk who makes my gaydar go haywire, in spite of his marriage to ScarJo in 2008, hint hint. I know you won't tell me or anybody else who it actually is, but I so wish there was a way to find out whether I'm right or not.
— Your biggest Sri Lankan fan, Ness