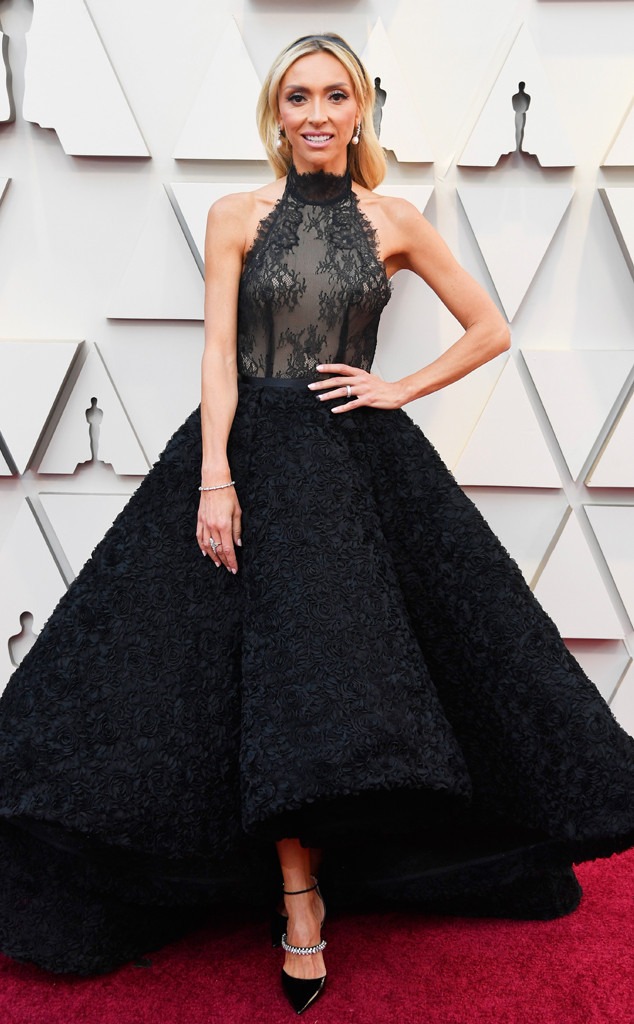 Frazer Harrison/Getty Images
The 2019 Oscars closes out award season for this year!
Thus, it only makes sense that Giuliana Rancic has selected a show-stopping number for her appearance on the red carpet. While the E! News co-host is at the 91st Academy Awards to work the network's signature E! Live From The Red Carpet: Oscars 2019, the entertainment journalist is shining bright among Hollywood's biggest names.
For the biggest night in film, Giuliana has chosen a lacy, black gown by designer Kelly NG. While the gown's halter neckline allows G to flaunt her fit frame, the billowing bottom half makes it so the red carpet maven can make quite the statement in front of the cameras.
Black has been Giuliana's color this award season as she also wore dark numbers to the 2019 Grammys and the 2019 SAG Awards.
"We looked at a few, but I really loved this one!" Giuliana said to Ryan Seacrest exclusively on the red carpet. "It just felt like an Oscar gown to me, you know?"
The A+ ensemble is completed thanks to a pair of black Jimmy Choo heels. The stunning stilettos fit right in at the glamorous event as they feature a bejeweled strap.
To round out the elegant Oscars outfit, G wore earrings, rings and a bracelet by Dena Kemp.
As for her hair? Rancic has chosen a simple blow-out held together by a classic black headband. Giuliana has kept things simple for her make-up as well. With a subtle pink lip and neutral eye make-up, it's safe to say that Bill Rancic's wife is an understated beauty!
Per our understanding, Giuliana coordinated this A+ Oscars look alongside notable stylist Jenny Rodriguez.
The E! personality hasn't missed a fashion beat this award season…and we couldn't be more grateful. Bravo to Giuliana!