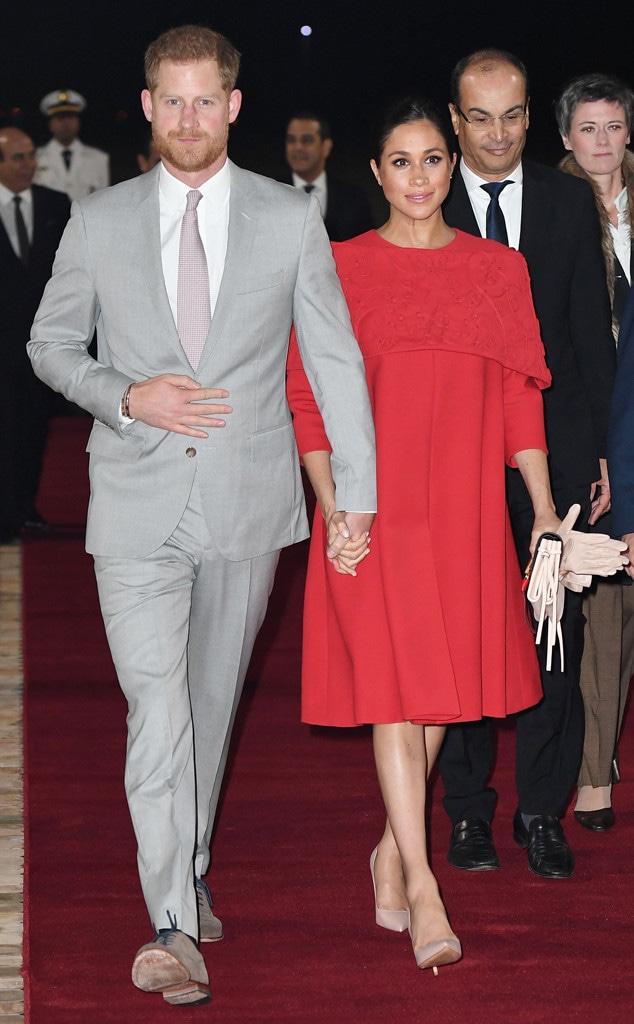 Tim Rooke/Shutterstock
They have arrived!
Prince Harry and Meghan Markle touched down in Casablanca, Morocco on Saturday night. The couple traveled to North Africa as part of a royal tour and will spend three days there. The royals' short itinerary includes meetings at local educational organizations as well as visits to the Atlas Mountains and Morocco's capital, Rabat.
Just like many other public outings, the royals held hands as they got off the plane and made their way to their limos. The Duchess of Sussex wore a gorgeous red Valentino dress and tan heels, while her husband went for a gray suit and pink tie. She also carried with her a pink Valentino purse. The two of them almost had matching shoe colors, too.
Meghan and Prince Harry will meet with Morocco's Crown Prince Moulay Hassan and are staying at one of King Mohammed VI's private residences.
A Kensington Palace spokesperson said, "Their royal highnesses are very much looking forward to the visit and are grateful to their hosts and the British Embassy for arranging such an interesting programme."
Prince Harry and Meghan were offered milk and dates upon their arrival, which is a traditional welcome in Morocco.
Thomas Reilly, Britain's ambassador to Morocco, said, "It's hugely exciting to have their royal highnesses the Duke and Duchess of Sussex here for the next few days and I'm really excited to showcase the vital roles that girls' education and youth employment are playing in shaping modern Morocco."
Reilly added, "This official visit by the Duke and Duchess of Sussex will highlight Morocco's focus on women's empowerment, girls' education, inclusivity and the encouragement of social entrepreneurship."
The Duke and Duchess' trip to Morocco comes just days after Meghan made a surprise trip to New York City for her elaborate baby shower. 
Many of Meghan's famous friends organized and attended the $80,000 get-together, including Serena Williams, Abigail Spencer, Gayle King, Amal Clooney, Jessica Mulroney and more.
The baby shower was held at the penthouse of Mark Hotel on the Upper East Side which costs $75,000 per night. The room was reportedly decorated with peonies and roses. They also got to enjoy a throwback to childhood because a cotton candy machine was seen being hauled into the hotel, as well as a bunch of Away suitcases. The harpist Erin Hill reportedly provided the musical selections.
While out in the Big Apple, the former Suits star dined with her close friends and, as always, looked super fashionable doing so.
Sister-in-law Kate Middleton was noticeably absent from the baby shower, but her New York fête was reportedly the first of two showers for the Duchess. She will apparently have a second shower in London, so the Duchess of Cambridge will presumably be attending that one.
"She's very kind, she's very generous and a really sweet person. I think her friends just wanted to celebrate her," King said on an episode of CBS This Morning.
The 37-year-old is currently in her third trimester. She reminded us in January during a walkabout that she was due in Spring 2019, which is getting close!