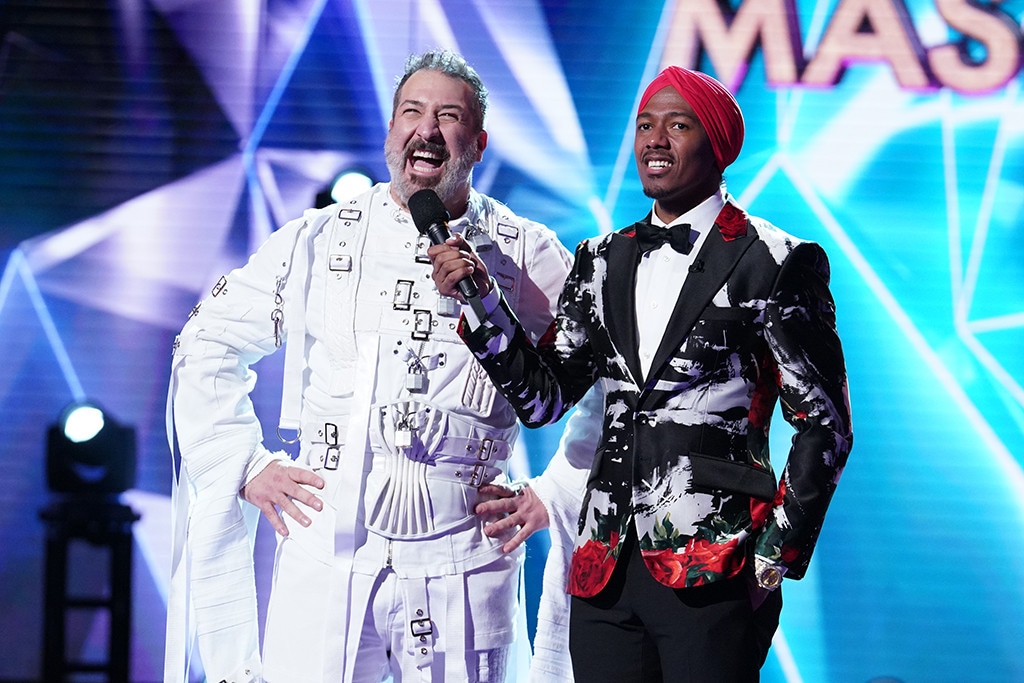 Fox
Joey Fatone was one of the very first guesses for the Rabbit on The Masked Singer, but he still had some people fooled. 
From the beginning, it was clear that the tall white rabbit in the straitjacket was a member of a boyband, and there were NSYNC clues everywhere you looked. He's used to synchronized singing, the last mask standing is "gonna be me," he "pops" up all over the place, which could refer to not just pop music, but the NSYNC song "Pop." And they kept going throughout the competition, with marionette references (the imagery for "Bye Bye Bye") and even last night's episode, when they referenced "Trashin' the Camp," the song NSYNC recorded for the Tarzan soundtrack. 
For the diehard NSYNC fan, or just for anyone who was growing up at the pinnacle of the boyband war between NSYNC and Backstreet Boys, it felt delightfully obvious that this was Joey Fatone in a rabbit costume. And yet even some of those millennials were questioning their NSYNC instincts (their NSTYNCTS, if you will), because everything about The Masked Singer is designed to make sure you're never really sure. 
"Out of the gate, Ken Jeong was like, I think it's a guy from NSYNC, maybe Joey Fatone, and that's when Robin was like, yeah, it might be Joey Fatone. So I'm standing there in the first episode like, oh s--t, I'm kicked out. I'm done. I'm off. Bye everybody, it's a wrap, it's over," Fatone told E! News over the phone after his unmasking aired. "Honestly, the whole play of it was even if they did try to guess you, it's more the performance that you get to do. That's why you stay has nothing to do with even if they guess you right." 
The panel did guess Fatone right off the bat, but soon the clues were sending them on a wild boybander goose chase. JC Chasez! Donnie Wahlberg! Nick Lachey! Kevin Richardson! 
Even so, Fatone says he thought the clues were "so easy." 
"I'll be honest, some of the clues...I think again, for somebody who was an NSYNC fan or someone that watched My Big Fat Greek Wedding and stuff like that, people were gonna catch on." 
Fatone credits NSYNC's age with the fact that more people didn't immediately know it was him. 
"Now it's a new generation of young people that have never even heard me sing before because they don't even know what NSYNC was. Think about that!" he says. "That's almost 25 years ago, or even more. For the younger generation that don't have a clue or an inkling about it, that's what's amazing and that's what's really cool, that it brings a whole new group of people that have never heard my voice as a soloist or a singing individual, now they get a chance to." 
As the unmasking finally aired last night, Fatone says he was "nervous," partly because he hadn't seen any part of the show aside from his own performances. 
"It's so funny, I was nervous and I even know what the hell was going on. I got invested watching what was going on, because I was on it."
His former bandmate Lance Bass definitely recognized Fatone under the Rabbit mask, and texted him after the reveal aired. 
"Lance texted me last night and said, 'I can finally open up my mouth...and tell people about the show and that I was on it. He kind of had an inkling. He came up to me like after the first episode and was like, dude, I know it's you, don't even lie. He said, listen, we hear you, we know your voice, so you're not fooling on me." 
Fatone did his best to really get into the character of the rabbit in a straitjacket, adding a twitch and a general sense of unease to the already terrifying costume. 
"Why not?" he said. "You gotta embrace it. Maybe at first I went a little too far, because they kept saying 'You're the rabbit, be in the character,' and I'm like, 'What the f--k does that mean? You want me to hop around?'" 
Eventually he just decided to really lean into the straitjacket aspect, and take advantage of the fact that there were so many little locks on the costume to play with. 
"I'm like, OK, the guy's dressed in a straitjacket, he's probably got some weird tick, and that's kind of what I went with." 
The Rabbit's first performance was to "Livin' La Vida Loca," and Fatone says that was the performance that really set the tone for what he was going for with the character. 
All the singers only really got to play their characters on stage during and after the actual performances. Any other footage—like the clue packages—were filmed with someone else in the costume, Fatone says. 
"When you see the clues, the clues are more or less a voiceover that we did, believe it or not," he explains. "There was so much stuff going on that they actually had somebody else in the costumes when we did the vignettes. When you see the clues, that wasn't me in the costume. The voice was me, but the costume was not." 
That allowed for all of the singers to make a minimal time commitment, so they only had to focus on learning songs and choreography as opposed to having to pretend to levitate in front of green screens. Fatone still has no idea who wore the Rabbit costume during those scenes. 
The whole show was filmed in about a month, and he says he was convinced it was going to be awesome as soon as he stepped on set, even if he couldn't have predicted how big it actually got. 
"It's one of those things were you just don't know where the show's going to go. Either people are going to absolutely love it, or they're going to think it's crap," he says. "The minute I actually got the costume on, I put on the LED lights to make it a little more sinister...and I get to the set and I see how they have the LED on the floor, and I look around and I'm like, this is going to be awesome. This is actually going to be a really good idea and a really good show, if it's done right, and lo and behold, of course it was." 
Fatone is talking all about his experiences on his podcast Two Cups of Joe, which he launched today with his cohost and manager Joe Mulvihill. The first episode features an interview with Donnie Wahlberg (who was not the Rabbit) and Masked Singer panelist Robin Thicke. 
The Masked Singer's two-hour finale airs Wednesday at 8 p.m. on Fox.
Stay tuned next week for more from Fatone on his ideas for season two and his manager's tale of getting picked up at a 7-Eleven, all in the name of keeping secrets for The Masked Singer.