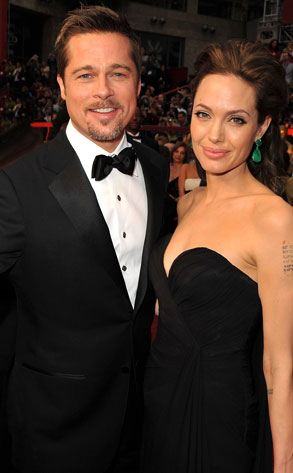 Steve Granitz/Getty Images
ASIAN PERSUASION: Brad Pitt and Angelina Jolie, dining at Katsuya in Brentwood, CA, just days before their ultraglamorous Oscar appearance. Pitt sipped on beer, and the couple munched on crispy rice with spicy tuna.
HEALTH KICK: Reese Witherspoon and Jake Gyllenhaal, eating lunch at West Hollywood eatery, Comme Ça, where the affectionate duo had soup-and-salad combos.
HOLLYWOOD HANGIN': Slumdog Millionaire's Dev Patel, hanging at the Dakota at the Hollywood Roosevelt Hotel with some pals before heading next door to appear on Jimmy Kimmel's show.
TWILIGHT TASTING: Ashley Green, Kellan Lutz and their manager Adam Seid, stopping into Koi Las Vegas for some happy hour drinks and appetizers.
Which A-list muscle hunk was overheard gushing to his entourage about his upcoming wedding to his longtime love?