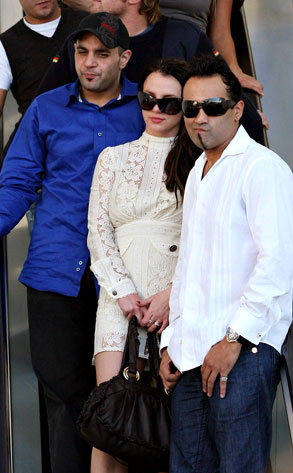 Fame Pictures, Inc
It's Adnan against the music.
Britney's Spears' ex-beau Adnan Ghalib voluntarily turned himself at the Van Nuys, Calif., courthouse this morning to face felony charges for allegedly ramming his car into a process server who was trying to serve the paparazzo with a restraining order on behalf of the pop princess' family.
Ghalib, 36, pleaded not guilty to one count each of assault with a deadly weapon, battery and hit-and-run for the alleged Feb. 11 incident, according to district attorney spokeswoman Jane Robison. He was booked into the Van Nuys Valley Jail and released around 11:45 a.m. PT without having to post bail.
No word yet on a court date. If convicted, he could face up to seven years in jail.
Meanwhile, a few miles away in downtown Los Angeles, another judge agreed to extend the temproary restraining order against Ghalib, Spears' former manager Osama "Sam" Lutfi and attorney John Eardley until April 1.