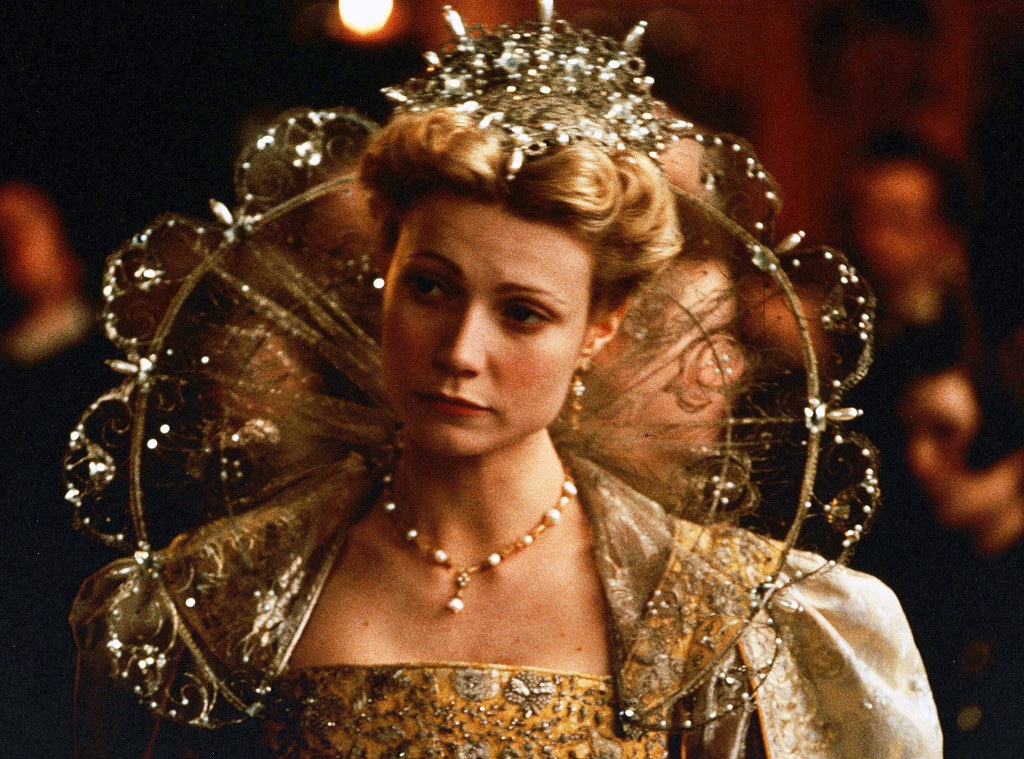 Laurie Sparham/Miramax/Universal/Kobal/Shutterstock
Gwyneth Paltrow originally turned down her Oscar-winning role in Shakespeare in Love.
When the actress was first offered the lead in the movie, she was not at the best place in her personal life. Paltrow was actually in the middle of a breakup with Brad Pitt when the script first came her way.
"The movie had many iterations," Paltrow tells Variety in her cover story, reflecting back on the hit 1998 film. "Julia Roberts was going to do it for a long time, and then that version fell apart. It ended up in Miramax, and I was the first person they offered it to."
She goes on to explain, "I was in the middle of a terrible breakup...and the idea of going to England and being far from home just seemed…I didn't even read it. I was just like, 'I can't read anything right now. I'm having a really hard time.'"
A few months later, however, Paltrow read the script...and loved it.
"I just couldn't put it down," she tells the outlet. "It was perfect."
But, one of her agents actually tried to talk her out of playing the role of Viola. Paltrow recalls, "This person said, 'I think it's more of a guy's part.' I was like, 'Well, I want to do it.'"
The role took her to the 1999 Oscars, where she was presented the the Academy Award for Best Actress by Jack Nicholson.
"Jack Nicholson gave it to me," Paltrow says to Variety. "There's a funny story where he'd been trying to ask me out before, and I was like, 'I have a boyfriend!'"
Paltrow forgot to take the award envelope with her, so Nicholson later sent it to her along with a note, telling Variety, "I have it framed."
The film even played a role in Paltrow's recent wedding to Brad Falchuk.
"I hope this isn't too personal," Paltrow says. "But in my husband's wedding vows, he actually said it's no coincidence that I played this muse, because that's who I am to him, and his perception is that's who I am in real life. It was really sweet."
In the cover story, Paltrow also talks about her experience working with Harvey Weinstein, whose company Miramax produced Shakespeare in Love as well as other Paltrow-starring movies. Weinstein, who has been accused of nearly 30 years of sexual misconduct, was kicked out of the Academy in Oct. 2017 following a New York Times exposé that shared allegations against the producer. Weinstein has denied all allegations of non-consensual sex.
"He was a bully," Paltrow tells Variety. "I never had a problem standing up to him. I wasn't scared of him. I also felt for a period of time, I was the consumer face of Miramax, and I felt it was my duty to push back against him. We had a lot of fights."
In regards to Weinstein's involvement in Shakespeare in Love and if it tarnishes the movie, Paltrow says, "It's a beautiful film. A movie is not going to be successful if it's not a good movie, not like that."
In the days following the NYT exposé, Paltrow claimed in an interview with the publication that she was sexually harassed by Weinstein at the age of 22.
Paltrow refused Weinstein's advances, she told the outlet, and later confided in Brad Pitt, who she was dating at the time. Pitt later approached Weinstein at a movie premiere and told him to never touch her again; Pitt confirmed the account to the NYT through his representative.
To read more from Paltrow's interview, head on over to Variety.