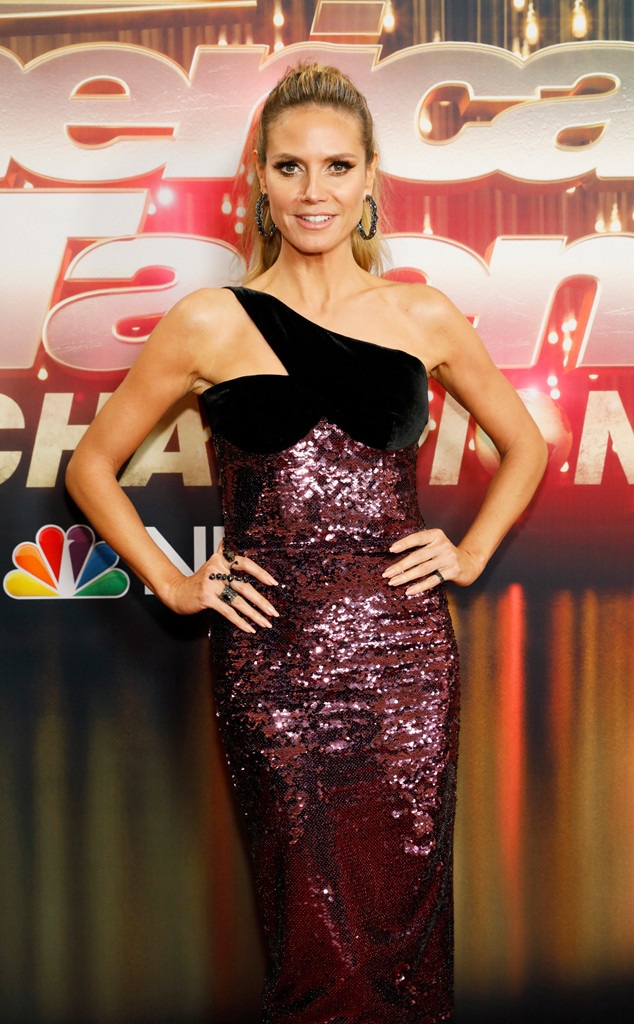 NBC
Heidi Klum marked the end of her time with America's Got Talent like a true professional. The reality TV mainstay and super model took to Twitter to pay tribute to the NBC series she called home for six seasons and one of America's Got Talent: The Champions on the finale night of The Champions.
"I wanted to say THANK YOU and how amazing the past 6 years have been while working on @AGT… I love my fellow judges, our hosts & AMAZING CREW… It's been such an incredible experience and I will miss ALL OF YOU very much! I will be watching and voting from home!" Klum tweeted.
NBC announced Klum and Spice Girls singer Mel B would not return for the upcoming season 14 of the reality competition series. In their places are Julianne Hough and Gabrielle Union. Howie Mandel and Simon Cowell are staying on the panel.
Terry Crews, the host of AGT: The Champions, will take over hosting the regular show after Tyra Banks' exit. Banks hosted the series for two seasons. Other hosts over the years include Nick Cannon, Jerry Springer and Regis Philbin.
"One of the many secrets to the success and longevity of America's Got Talent is its fearless drive to reinvent itself," Meredith Ahr, president of Alternative and Reality Group, NBC Entertainment, said in a statement. "The next evolution of the format brings in fresh expert eyes to join Simon and Howie on the panel. Gabrielle and Julianne are two of the most aspirational women in the business, on top of being electric entertainers with talent across disciplines. I am excited to see how their knowledge, compassion and sheer joy enhance the experience for acts and viewers alike."
"As their partner in crime, host Terry Crews will continue to light up the stage with his quick wit and unending charm," Ahr added.
AGT: The Champions featured contestants from Got Talent shows around the world, including viral sensation Susan Boyle. Magician Shin Lim took home the top prize. He previously won season 13 of AGT proper.
America's Got Talent will return for season 14 in the summer of 2019 on NBC.
(E! and NBC are both part of the NBCUniversal family.)