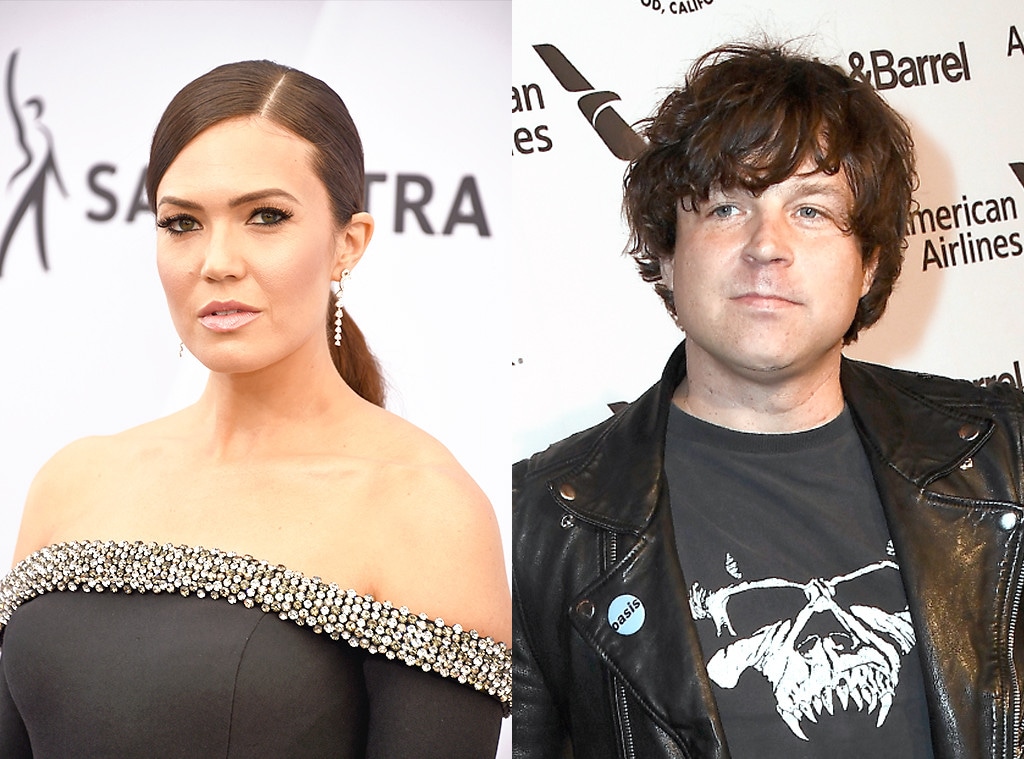 Getty Images
Mandy Moore is speaking up once again about her marriage to Ryan Adams just days after the The New York Times published an explosive exposé about him.
The This Is Us star appeared on Marc Maron's podcast WTF where she talked about her career, relationships and more. According to Pitchfork, Moore and Maron recorded the podcast before the Times article came out, but her statements about her ex-husband mirror what she said in the most recent story as well as previous interviews.
Maron's podcasts are known for their very raw, uncensored and oftentimes emotional content. Her interview was no different.
Moore and Adams wed in 2009 and finalized their divorce in 2016. She has spoken out publicly about their relationship before, but her recent remarks on her ex go into greater detail than before.
The 34-year-old said she felt like she was "being the mother" in their marriage. 
"I was living my life for him," she explained. 
Moore said it was "an entirely unhealthy dynamic." She added, "I had no sense of self. I was imperceptible, I was so small in my own world."
The A Walk to Remember star told Maron that her mom's announcement of leaving her husband for another woman played a major role in her decision to marry the musician. Her tumultuous family life was balanced out for a time by her marriage to Adams, who made her "feel worthy" and "feel like I had value if I could be there for somebody else and serve their needs."
Moore discussed feeling "co-dependent" with Adams, which ultimately led to a "cacophony of madness." 
"I felt like I was drowning. It was so untenable and unsustainable and it was so lonely. I was so sad. I was so lonely with him," Moore revealed to Maron. "I knew that this wasn't the rest of my life. I knew that this wasn't the person I was supposed to be with, I knew that I wasn't the person I was meant to be."
In both the podcast and the Times story, Moore talked about how her career stalled during their marriage. Adams, however, continued to record music and reportedly told her they would record music together.
"His controlling behavior essentially did block my ability to make new connections in the industry during a very pivotal and potentially lucrative time—my entire mid-to-late 20s," Moore told the newspaper.
She said the art form was a "point of control for him," which other women in the Times piece seemed to echo.
The "Candy" singer told the Times, "He would always tell me, 'You're not a real musician, because you don't play an instrument.'"
She told Maron a bit about their home life and what happened when she tried working on new music. "I would do little jobs. It's not like I completely stopped working. I would do things here or there, but it would become abundantly clear while I was working, things would completely fall apart at home," she said.
Moore added, "I couldn't do my job because there was a constant stream of trying to pay attention to this person who needed me and wouldn't let me do anything else." 
She previously recalled that point in her life as one of darkness and sadness. The Rebecca Pearson actress told Bustle late last year, "When I think back to that particular time period that we're talking about...It was heavy. It was dark. It was confusing. It was lonely. There was no room for me. There was no room for me to have anything else in my life."
A number of women spoke out to the paper about Adams' "psychologically abusive" and "emotionally abusive" behavior, which Adams has denied. One account in the story allegedly involved Adams' communication with an underage girl. According to the New York Times, the FBI is investigating their communication. Adams' upcoming album release has also been cancelled. 
Adams wrote on Twitter on Wednesday, "I am not a perfect man and I have made many mistakes. To anyone I have ever hurt, however unintentionally, I apologize deeply and unreservedly."
He said in another tweet, "As someone who has always tried to spread joy through my music and my life, hearing that some people believe I caused them pain saddens me greatly. I am resolved to work to be the best man I can be. And I wish everyone compassion, understanding and healing."
Since The New York Times published their article, Moore has posted a lot on Instagram thanking fans for their support and encouraged others to tell their stories.
"Speaking your truth can be painful and triggering but it's always worth it," she captioned a photo of herself that was in the original Times piece. "My heart is with all women who have suffered any sort of trauma or abuse. You are seen and heard."
Listen to Maron and Moore's full podcast episode here.