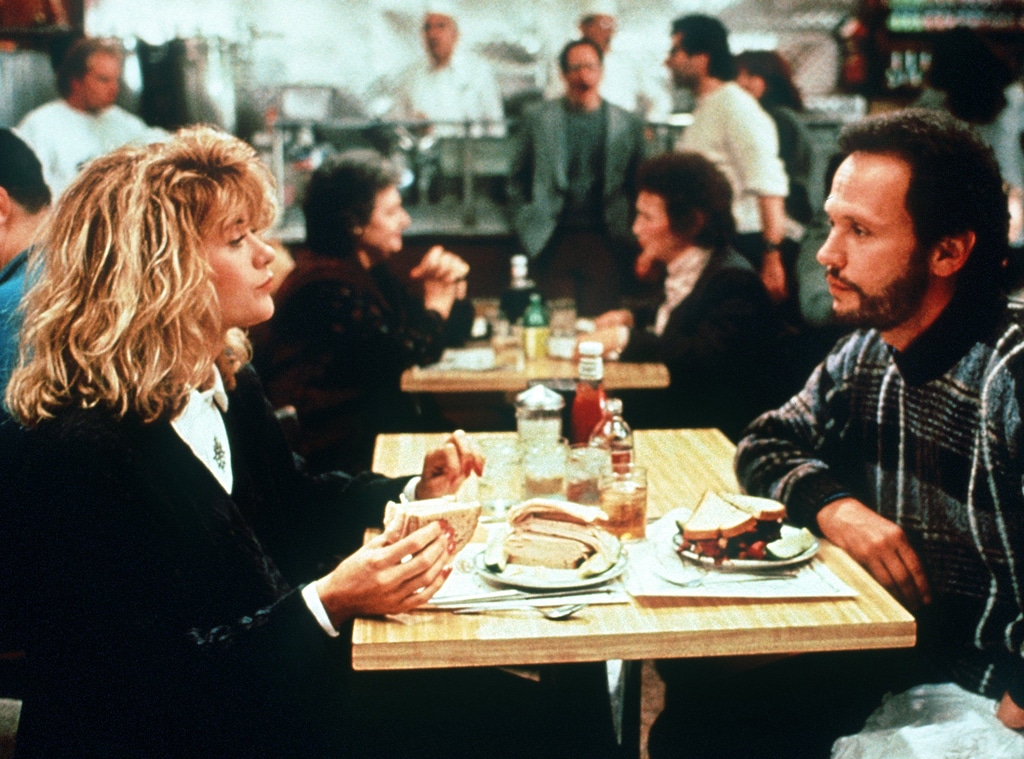 Castle Rock
She's Meg Ryan, the Queen of Rom-Coms.
The 57-year-old actress rose to fame thanks to her leading role in the 1989 cult film When Harry Met Sally..., co-starring Billy Crystal, written by the late Nora Ephron and directed by Rob Reiner. In the film, Ryan and Crystal play a pair who navigate the awkwardness of maintaining a platonic relationship despite his attraction to her. 
A year later, Ryan starred opposite Tom Hanks in the romantic comedy Joe Versus the Volcano. In 1993, the two reunited for Sleepless in Seattle, directed by Ephron, which turned out to be a bit hit. The two reunited and played romantic love interests again in the 1998 film You've Got Mail, another hit, also directed by Ephron.
Ryan is currently writing her own rom-com.
"It's at Working Title Films. I'll just leave it at that," she told the New York Times in comments posted on Friday. "My God. You feel like you're jinxing it if you're talking about it. Hopefully it's for me to direct. I'm aware now that romantic comedies are confections, but they have construction. There's architecture. It's not something I was aware of back then."
Here are five facts you never knew about the actress' best romantic comedies:
1. The Katz's Delicatessen Orgasm Scene in When Harry Met Sally... Was Her Idea: "It was in the script that Harry and Sally talk about the fact that women fake orgasms. Then, when we were rehearsing that movie, we had a lot of time to chat about the script, and I said that since Sally is such a behavioral character, she should fake an orgasm," Ryan told the New York Times. "That was my contribution.
2. But Someone Had to Guide Her Through It: "Meg was nervous," Reiner said on HuffPost Live in 2014. "Obviously, you're in front of extras and all the crew members and everything. So the first few times we did it, she did it kind of weak. It was a little tepid...I said, 'Look, let me show you what I want' after a few takes that weren't so good. I sat down opposite Billy...and I'm sitting there pounding the table, doing the whole thing."
Ryan told the New York Times that she has never been back to the Katz's since filming the movie.
3. Tom Hanks Almost Played Harry and Molly Ringwald Almost Played Sally: Reiner told the Daily Beast in 2014, "I talked to Albert Brooks about it. I talked to Tom Hanks about it. I talked to Richard Dreyfuss and Michael Keaton about it. The Meg role...We saw Molly Ringwald, but I can't remember how many people we saw there. But Meg and Billy hit it off right away."
Sony Pictures Home Entertainment
4. Julia Roberts Almost Starred in Sleepless in Seattle:  She was filming Pretty Woman, her breakout film, at the time. Roberts told InStyle magazine in 2014. "I'd been offered Sleepless in Seattle, but couldn't do it. [Meg Ryan] and Tom Hanks are just such a jewel of a fit in that. I guess what they did for that moment in time is sort of what Richard [Gere] and I were doing across town, you know?"
5. You've Got a Computer! Ryan got a special gift while making You've Got Mail.
Amy Sussman/Variety/Shutterstock
She told Vanity Fair in 2015, "I got my first computer when I did that movie. I think that the company gave us a computer."