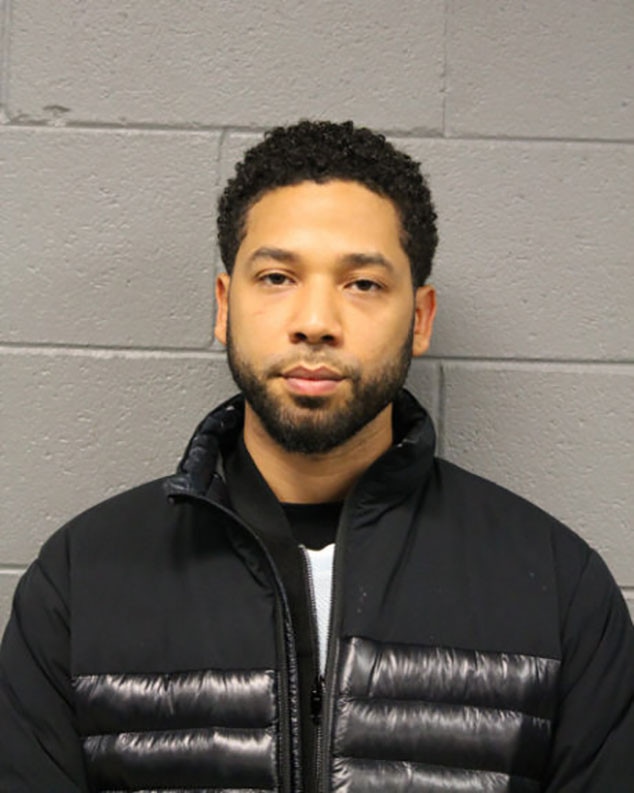 Chicago Police Department
UPDATE: Empire executive producers Lee Daniels, Danny Strong, Brett Mahoney, Brian Grazer, Sanaa Hamri, Francie Calfo and Dennis Hammer are speaking out about Jussie Smollett, one day after the actor's arrest.
"The events of the past few weeks have been incredibly emotional for all of us," the statement from the executive producers, released Friday, reads. "Jussie has been an important member of our EMPIRE family for the past five years and we care about him deeply. While these allegations are very disturbing, we are placing our trust in the legal system as the process plays out."
The statement continues, "We are also aware of the effects of this process on the cast and crew members who work on our show and to avoid further disruption on set, we have decided to remove the role of 'Jamal' from the final two episodes of the season."
______
Fox is slamming reports Jussie Smollett was going to be written off Empire.
"The idea that Jussie Smollett has been, or would be, written off of Empire is patently ridiculous," 20th Century Fox Television and Fox Entertainment stated. "He remains a core player on this very successful series and we continue to stand behind him."
The rumors started spreading on Thursday after ABC7 published a report claiming "multiple sources" had told the news outlet police were investigating whether Smollett and two men had staged his attack because he was being written off the show. However, the Chicago Police Department denied these claims.
"Media reports about the Empire incident being a hoax are unconfirmed by case detectives," Anthony Guglielmi, chief communications officer for the Chicago Police Department, tweeted. "Supt Eddie Johnson has contacted @ABC7Chicago to state on the record that we have no evidence to support their reporting and their supposed CPD sources are uninformed and inaccurate."
ABC7 also claimed a "a source familiar with the investigation" had told its team "Smollett failed to appear for an interview with detectives" that day but had "since spoken with police."
As mentioned in Guglielmi's tweet, superintendent Johnson contacted ABC7 to make it clear Smollett was still being treated as a victim and that the investigation around his attack is still ongoing.
"Police are investigating whether the two individuals committed the attack-or whether the attack happened at all," the Chicago police told the news outlet.
Smollett also issued his own statement.
"Today Jussie did answer routine follow-up questions for Chicago Police Department and continues to cooperate," the actor told ABC7.
It has been over two weeks since the Empire star was allegedly attacked on Jan. 29 and investigators are starting to make headway in the case.
On Thursday, the Chicago PD revealed there are two persons of interest who are being questioned in connection to the alleged attack. According to Smollett, the two assailants shouted racist and homophobic slurs at him, put a rope around his neck and poured an unknown chemical substance on him. 
Jussie addressed the alleged attack, his fears and more on a recent interview with Good Morning America.
"I'm pissed off. It's the attackers, but it's also the attacks. You know, at first it was a thing of, if I tell the truth, that's it, because it's the truth. Then it became a thing of like, oh, how can you doubt that? How do you not believe that? It's the truth. And then it became a thing of, oh, it's not necessarily that you don't believe that this is the truth, you don't even want to see the truth," he emotionally defended. 
No charges have been made in connection to the attack. 
This article was originally published on Fri., Feb. 15, 2019 at 8:19 a.m.