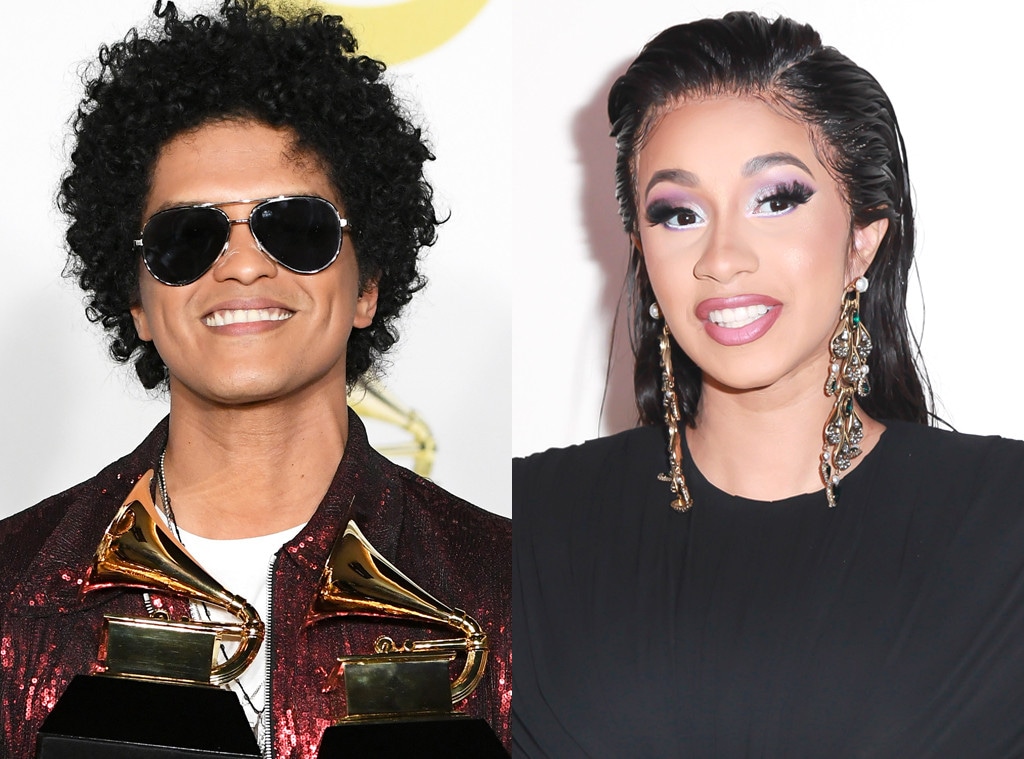 Getty Images
Cardi B and Bruno Mars are back, Okurr!
The 26-year-old rapper and 33-year-old singer dropped their new track "Please Me" on Friday. Debuting just after Valentine's Day, the song is all about sexy time.
"Please me, baby/Turn around and just tease me, baby/You know what I want and what I need, baby," Mars croons in the chorus. 
There are also quite a few NSFW lyrics in the hit.
"Lollipoppin' (poppin')/ twerkin' in some J's (ooh)/On the dance floor (uh-huh)/No panties in the way (nope)/," the recent Grammy winner raps. "I take my time with it (ow)/ Bring you close to me (ow)/Don't want no young dumb s--t/Better f--k me like we listenin' to Jodeci."
She then adds, "I was tryin' to lay low (low)/Takin' it slow (slow)/When I'm f--kin' again (ayy)/Gotta celebrate/Do your man look good?/Better put him away/ If you can't sweat the weave out, you shouldn't even be out/Dinner reservations like the p---y you goin' [to] eat out."
Cardi B teased the track on Thursday.
"Ok so I'm back from retirement to announce I have a brand new song coming out Friday at midnight with @brunomars . # twogrammywinningartist," she wrote on Instagram.
As fans will recall, the "Bodak Yellow" artist had deactivated her Instagram just days before.
This isn't the first time the two stars have teamed up together. They also collaborated for their 2016 hit "Finesse."
Watch the video to hear the new track.