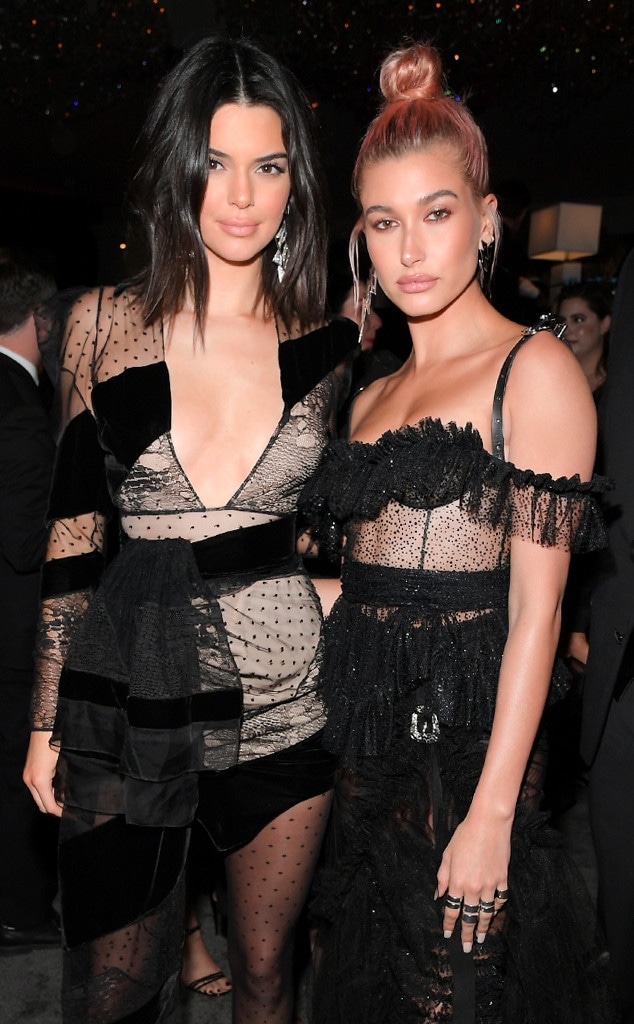 Charley Gallay/Getty Images for InStyle
Kendall Jenner and Hailey Baldwin are opening up about their personal lives.
The Keeping Up With the Kardashians star, who is currently dating Philadelphia 76ers basketball player Ben Simmons, and her BFF Hailey, who tied the knot with Justin Bieber in September, dish about their romances on Zaza World Radio's Valentine's Day Special on Apple Music.
"It's definitely scary to be this young and be married," Hailey admits during the candid conversation. "It's a scary thing, but it's also the person that I've literally been in love with for so many years. So, that's the best part about it. Like I feel like he's my best friend. And we just get to do life together forever, now. But I think the forever aspect for me is just like, you don't think about that until you get married. And then you're like, OK, this is really like, this is forever. Meaning like, there is no end."
When asked how her perspective has changed now that she's married, Hailey explains, "Well I think if you're talking about me specifically, somebody who was never really in any serious relationships. Going from there to that, to that, to married...I've always been so independent. So for me, trying to cohabitate with someone and learn how to like, do life with another person, that directly has just been interesting. It's so different."
"When you're single you literally don't have to think about anything else," the 22-year-old model continues. "You think about your family, because it's your family. And you know, you love them. You think about your parents, siblings, whatever. But you don't actually have to be responsible for...But I think that's also what it's like when you're in a serious relationship. You have to think, you would know, you would know, you guys know. You have to consider another person."
Vasquez-Max Lopes / BACKGRID
Hailey goes on to talk about her relationship with Justin before getting married.
"We weren't really together. It was this weird limbo. We were friends and then it was like more, and then we weren't," Hailey explains. "And then we didn't speak for a very long time."
"That's why I say it's scary 'cause I didn't have any of that experience before," the Drop the Mic co-host says. "So I went from being a baby, not having a lot of experience, to being married."
In another segment of the Valentine's Day special, Kendall opens up about her love life, with Hailey explaining, "When Kendall loves, she loves super hard and I think that's a great quality."
"I think that she is a great girlfriend and I would know, because we dated. Just kidding," Hailey jokes. "But I've just seen her go, you know, go through her different experiences in relationships, and I feel like people, because we've never really talked about it, people don't understand it, so like ... they may have this idea and perception in their mind that you know, you kind of maybe just like...throw people in the trash. It's not the truth."
Hailey adds, "She doesn't like to waste time, I don't think that that's a bad thing."
Watch:
Kendall Jenner Reveals Which Sister's Closet She'd Raid
"I just know I know when I'm off it, and I get...like I said earlier, I get off it really easy," Kendall explains. "But it's not just for no reason, like someone has to do something to make me off it and like, I think that especially 'cause of the lifestyle that I live, everything's so like, magnified and everyone wants to know things and especially about your love life and whatever, a lot of the relationships that I'm in, like, I'm in it and I'm in it with that one person and I'm a very loyal person once I'm fully in it. But I think being in a relationship is something that should be...I mean, it's the most private, probably part of your life. I try and bring it around my friends, but I think that letting everyone else into it when you don't know how it's gonna go, or...and I also have like, trust issues with anybody I bring into my life. A friend, a relationship, whatever."
"I need to make sure that you're here for the right reasons and like, I don't want to let the world have their opinion on something and let them fully into something if I don't even know what's gonna end up happening in the next couple months," Kendall shares. "'Cause then it's something that I have to explain. The amount of times that I see people who are together for a couple months, and they're together so hardcore and they show it and they flex it everywhere, and then a couple months later they break up, or something happens and then they have to explain themselves to everyone, like...I don't want to do all of that unless I'm completely certain in a relationship, or it's been a while, or...you know what I mean? And I'm not gonna like, go out of my way too crazy to be that private, because then it's just like, okay, we're not even doing...we're not even having fun, because we're trying so hard but like, if I can control it, even just a little bit, then I'm gonna do that."