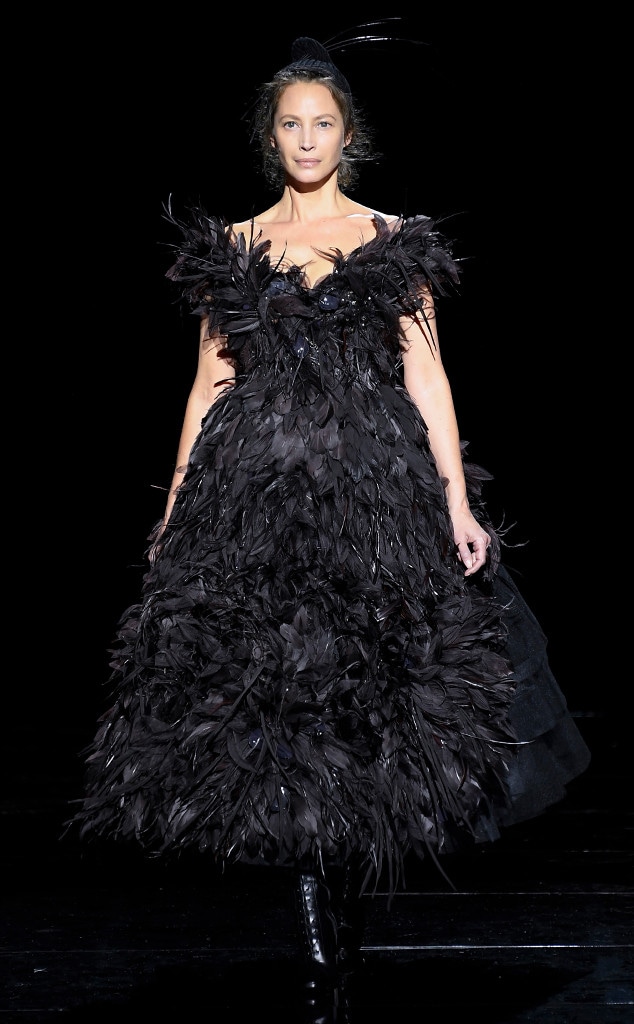 WWD/REX/Shutterstock
Christy Turlington is back and better than ever!
The legendary supermodel shut down the runway for the first time in over 20 years. She made her triumphant return on the last day of New York Fashion Week, no less. 
Turlington strutted her stuff on the catwalk at the Marc Jacobs Fall 2019 show. In fact, she closed it. Regardless if you're a fashionista or not, many know closing a runway show is no small feat.
However, fans of the fashion brand wouldn't expect anything less from Marc Jacobs, considering he's known to end fashion week with bang.
Fashion-goers were splendidly surprised to see the legendary model make her grand appearance at the show.
Her outfit was a dash of daring as she sashayed down the runway in a black feathered dress. In truth, the design is not for the faint of heart.
She wore a matching fascinator and black leather boots.
The vibe of the ensemble was Black Swan meets goth meets glam. It's most definitely a 2019 mood.
Mind you, the model turned 50-years-old a month ago. #Goals!
Ken Towner / Evening Standard/Rex/REX USA
"OMG @themarcjacobs invited me to close his beautiful show tonight and I couldn't resist," the supermodel wrote in a heartfelt Instagram post.
"A. I have known and loved this man since I met him at age 16. B. I turned 50 this year and have arrived at a place where "Why the F not" is the answer that comes up when I ask myself questions. C. I have a 15 year old daughter who I desperately want to see and hear me and this is a medium that "speaks" to her."
In her caption, she thanked Karlie Kloss, Kaia Gerber, Gigi Hadid and more, saying, "You are ALL women I would want my daughter to emulate in your grace, confidence and elegance."
She continued, "And while that muscle did not hurt as much as I would have thought to exercise again, after 20 plus years, I am not certain I could beat the experience of tonight or wish to try!"
Leon Schadeberg/REX/Shutterstock
As of late, models of the '90s era have made major comebacks. Especially "The Big Five," which consisted of Turlington, Naomi Campbell, Cindy Crawford, Linda Evangelista and Claudia Schiffer. Kate Moss was later added to the list.
Just this year, Naomi closed the Valentino runway couture show in Paris. She made her glorious return to the fashion powerhouse after 14 years.
More recently, Christie Brinkley and her daughter Sailor Cook walked the catwalk together at the Elie Tahari 45th anniversary show.