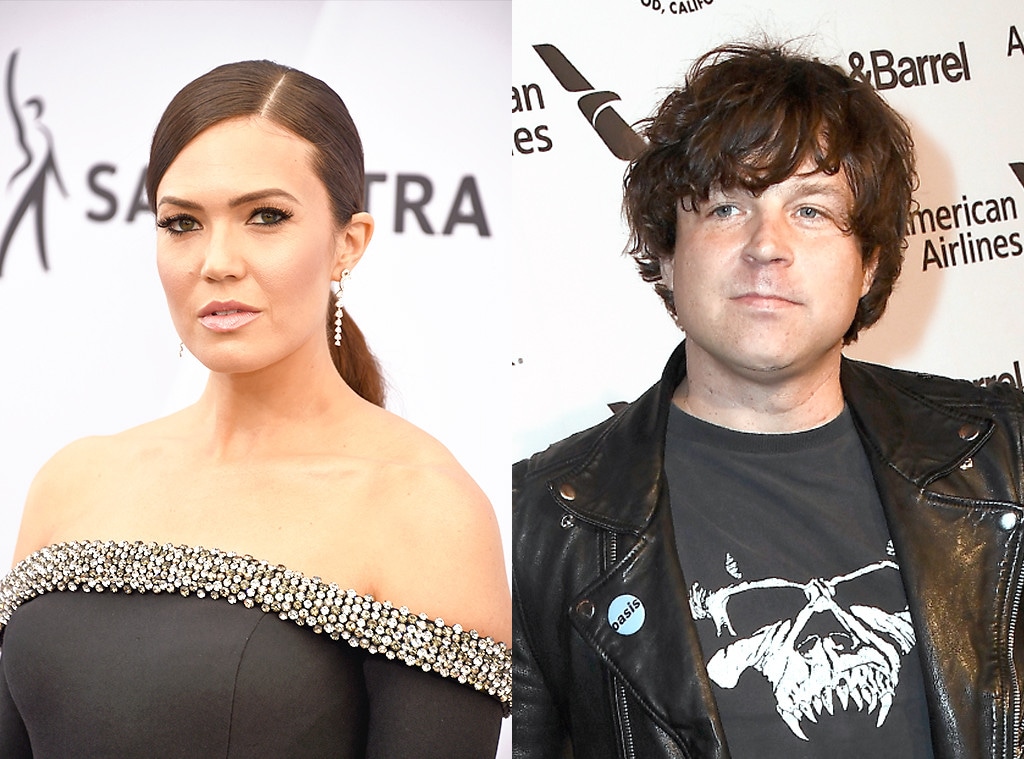 Getty Images
Musicians Mandy Moore, Courtney Jaye, Phoebe Bridgers and other women are speaking out about Ryan Adams in a new and explosive exposé about the music producer.
On Wednesday, The New York Times published a story in which seven women discuss Adams' impact on their careers and his alleged use of sexual manipulation throughout their work and personal relationships. Adams' attorney Andrew Brettler spoke on behalf of the singer and denied the "extremely serious and outlandish accusations."
The gist of the Times' investigation into Adams is that he often reached out to budding musicians on social media and communicated with them. From there, it reportedly turned sexual very fast. He also allegedly was very controlling of careers and turned against women if he did not get what we wanted. According to a number of women interviewed, the 44-year-old allegedly threatened professional retaliation, and in one instance, suicide, if he supposedly did not get what he wanted.
Adams and Moore got engaged in 2009 and divorced in 2016. While speaking to the Times, the This Is Us star reflected on her nearly six-year marriage to Adams and some comments he allegedly made that turned her off from wanting to record more music in the future.
According to the article, she and Adams first started working together in 2010. In 2012, Moore told CBS News that the two of them would be working together on a new album. Moore told E! News in 2010, "I would love to work with him on the next record. I'm sure he'll be involved in some way. We work well together."
Once Moore switched over to Adams' record label, she claims that he told her not to work with any other producers or managers except for himself. The "New York, New York" singer allegedly told Moore they would record music that they wrote together, but it never happened. "Music was a point of control for him," she said.
Moore recalled to the Times, "He would always tell me, 'You're not a real musician, because you don't play an instrument.'"
John Shearer/Getty Images for People Magazine
The New York Times wrote that Moore thought him to be "psychologically abusive." She has not released new music in about 10 years and refers to her relationship with Adams as the reason why. "His controlling behavior essentially did block my ability to make new connections in the industry during a very pivotal and potentially lucrative time—my entire mid-to-late 20s," she said.
She said later, "What you experience with him—the treatment, the destructive, manic sort of back and forth behavior—feels so exclusive. You feel like there's no way other people have been treated like this."
After The New York Times published the piece, Moore took to Instagram to share a message with her followers.
"Speaking your truth can be painful and triggering but it's always worth it," she wrote. "My heart is with all women who have suffered any sort of trauma or abuse. You are seen and heard. #sisterhoodforever."
Moore has spoken out previously about her marriage to Adams. "When I think back to that particular time period that we're talking about...It was heavy. It was dark. It was confusing," she told Bustle in November. "It was lonely. There was no room for me. There was no room for me to have anything else in my life."
Before that, she told Glamour that  she "didn't choose the right person" when it came to that relationship and it wasn't "the smartest decision." She added, "When people said, 'I'm sorry,' I was like, 'No. Sorry would have been had I stayed in a very unhealthy situation.' I didn't. I found my way out. And when I did, things opened back up again."
Brettler, who responded on behalf of Adams, said Moore's account was "completely inconsistent with his view of the relationship" and that Adams applauded her "well-deserved professional success."
Phoebe Bridgers told the Times she met Adams when she was 20. Once she showed him her songs, he allegedly offered putting them on a single on his record label. She claims he started sending her flirty texts and they began a relationship. Adams supposedly asked her to open his shows for him on the European leg of his tour, which Bridgers called "a golden pillar of success."
The "Motion Sickness" singer alleges to the newspaper that he became "emotionally abusive." The Times described it: "He began barraging her with texts, insisting that she prove her whereabouts, or leave social situations to have phone sex, and threatening suicide if she didn't reply immediately."
When Bridgers ended their relationship, she claims he reportedly took back his offer to have her open for him in concert. In 2017, he once again offered the role of opening for him in concert and she accepted.
She recalled, "Then, the first day, he asked me to bring him something in his hotel room. I came upstairs and he was completely nude." Adams via Brettler denied the incident.
Two other women—one being Courtney Jaye the other a 20-year-old only being identified as Ava—said Adams reached out to them via direct message on Twitter. In Ava's instance, however, she was allegedly underage. 
Adams and Ava allegedly first connected when she was 14, but their communication reportedly intensified when she was 15 and 16. The Times said they reviewed over 3,000 texts between the two of them. Ava reportedly lied about her age and Adams allegedly didn't believe her but the messages continued. 
"i would get in trouble if someone knew we talked like this," he supposedly wrote in a text reviewed by the Times.
Another text reportedly said, "If people knew they would say I was like R Kelley lol."
Ava told the paper, "I was really alone and he was really friendly and cool."
Christopher Polk/Getty Images
According to Ava, they Skyped one time and he was supposedly already naked by the time she signed on. Ava later stopped playing music and said that the idea of needing to sleep with people to get ahead in her career "just totally put me off to the whole idea."
Brettler told the Times, "Mr. Adams unequivocally denies that he ever engaged in inappropriate online sexual communications with someone he knew was underage." He confirmed that Adams "has communications online with various fans and aspiring musicians" but "does not recall having online communications with anyone related to anything outside of music."
Brettler said, "if, in fact, this woman was underage, Mr. Adams was unaware."
Not long after the Times article came out, Adams posted a string of messages on Twitter about the claims against him. "I am not a perfect man and I have made many mistakes. To anyone I have ever hurt, however unintentionally, I apologize deeply and unreservedly," he said in the first tweet.
Adams continued to call the article "upsettingly inaccurate." He added, "Some of its details are misrepresented; some are exaggerated; some are outright false. I would never have inappropriate interactions with someone I thought was underage. Period."
A third message read, "As someone who has always tried to spread joy through my music and my life, hearing that some people believe I caused them pain saddens me greatly. I am resolved to work to be the best man I can be. And I wish everyone compassion, understanding and healing."
When E! News reached out to Brettler for comment, he referred to Adams' three tweets.
Just before the article came out, however, he apparently tweeted then deleted a message to the paper. Before he took it down, someone took a screenshot of it. "Happy Valetines Day @NYTimes I know you got lawyers But do you have the truth on your side. No. I do. And you have run out of friends. My folks are NOT your friends. Run your smear piece But the leagal eagles see you. Rats. I'm f--king taking you down. Let's learn I bait," it said.