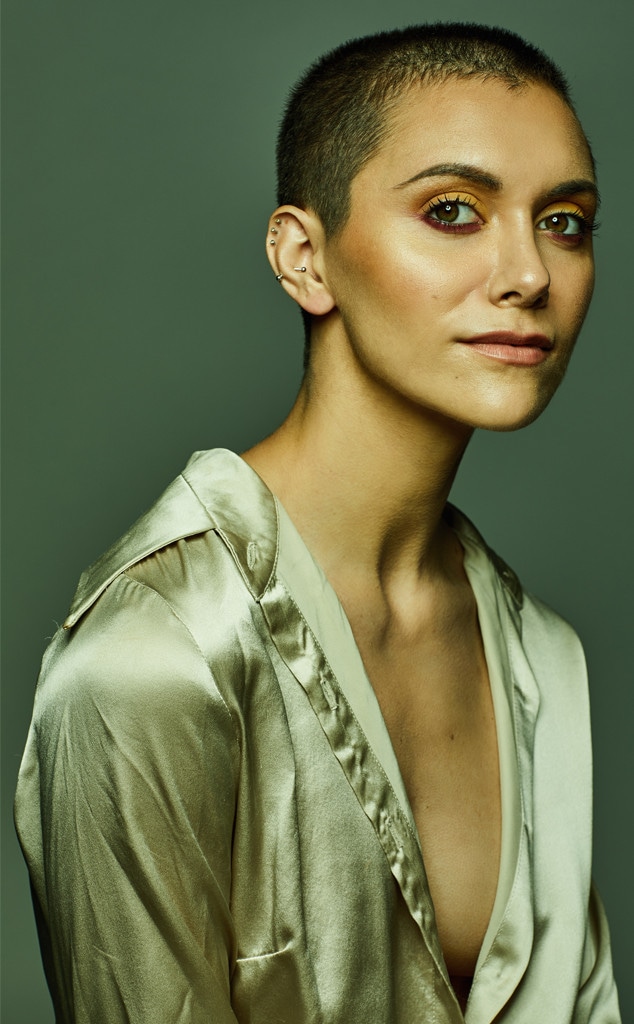 Storm Santos
Alyson Stoner revealed a new look in her powerful and poignant music video for her song "Stripped Bare."
Stoner, who people may know from her many Disney Channel roles, released the video on Wednesday but hinted up to it in a number of Instagram posts in the days leading up to today.
"Stripped Bare" begins with the 25-year-old watching a montage of home videos from when she was a young girl. She then decides to take the VCRs and her video camera and hops into her white and green VW van. She parks it in a semi-abandoned parking spot and camps out there for a bit. The singer drives off to a second location and later on decides to take a pair of scissors and chop off her long hair, which she straightens out with an electric razor. It's clear the big decision is empowering for her, hence the song lyrics "And I'm finally cutting the strings. / Cuz I'm Stripped Bare, got nothin left."
With her newly buzzed hair, Stoner takes her old tapes and burns them all in a fire pit. After recording herself doing so, Stoner puts the cassette in her pocket and throws the video camera in the fire, too.
According to her Instagram page, she shot the music video at Joshua Tree National Park. 
Stoner opened up about the song's meaning in a series of Instagram posts. On Tuesday, the Cheaper by the Dozen actress shared a snippet of video and said she was "exhausted from vulnerability" and that she "poured everything into this."
"Stripped Bare is not just a song for me. It's a line in the sand and a personal commitment to change my future direction, no matter how daunting and unclear," she wrote. "To allow old, familiar things to die and kill off the ego that keeps me fixated on the rear-view mirror, even when nothing beautiful is coming from it."
She dubs the track "an anthem" in her lyrics. "I can't believe family could be so savage. Swore to me I was free, then took advantage. / I know you thought it was a sad song, but this s--t is an anthem," she sings in the first verse. "Had me doin tricks like a sideshow. / It's clear to me now that I was your survival. All your excuses are dead on arrival."
The star opened up to People in their most recent issue and discussed the meaning behind her shaved head as well as some previous health struggles. "Shaving my head is an act of mental health and confidence, not self-destruction. I can't tell you how many beliefs and opinions and insecurities fell to the floor with every tuft of hair, and I'm leaving them there," she shared with the magazine. "I'm shedding one era and rising as a new being in real time."
Both the song and music video for "Stripped Bare" represent the beginning of an important new chapter for Stoner. She revealed she went to rehab when she was 17 for an eating disorder. According to People, she developed anorexia nervosa, exercise bulimia and binge-eating disorder. When she was younger, she also suffered from seizures and heart palpitations due to high-stress work environments.
Stoner explained that she became so skinny that casting directors would send her home at auditions. She said, "They would just tell me that I need help and [need] to go home and take care of my health because my eyes were sunken in and I was tired and lifeless."
She told the magazine she "wanted to get help for some time," but her busy schedule prevented that from happening at an earlier time. Stoner reflects on the hospitalization and subsequent rehab trip as "one of the best choices I've made for my health."
On Jan. 7, Stoner posted a photo of herself on Instagram wearing a bikini and walking down the street. In the caption, she discussed body image and her previous struggles with it. "For years I tried magazine work-outs, celebrity 'diets' and pushed myself in ways that led to stress and shame more than balance and peace," she wrote. "Ironically, when I stopped punishing myself, my body had a chance to calibrate and find its own 'ideal'. My weight goes up and down. My body gets softer and harder, wider and slimmer, but I'm not in a trap anymore."
It seems like the past year has been extremely transformative for the singer-dancer. In March 2018, Stoner composed an essay for Teen Vogue where she discussed her sexuality and falling in love with a woman—her dance instructor—for the first time. After talking about being "scared of intimacy" with men because of past abuse, she concluded, "I, Alyson, am attracted to men, women, and people who identify in other ways. I can love people of every gender identity and expression. It is the soul that captivates me. It is the love we can build and the goodness we can contribute to the world by supporting each other's best journeys."
She told E! News not long afterwards that coming out was "a little bit scary" but the risk was worth it. She said, "What matters most is that it's a really exciting, fresh time for me to feel more myself than ever."
Watch the full music video for "Stripped Bare" above.