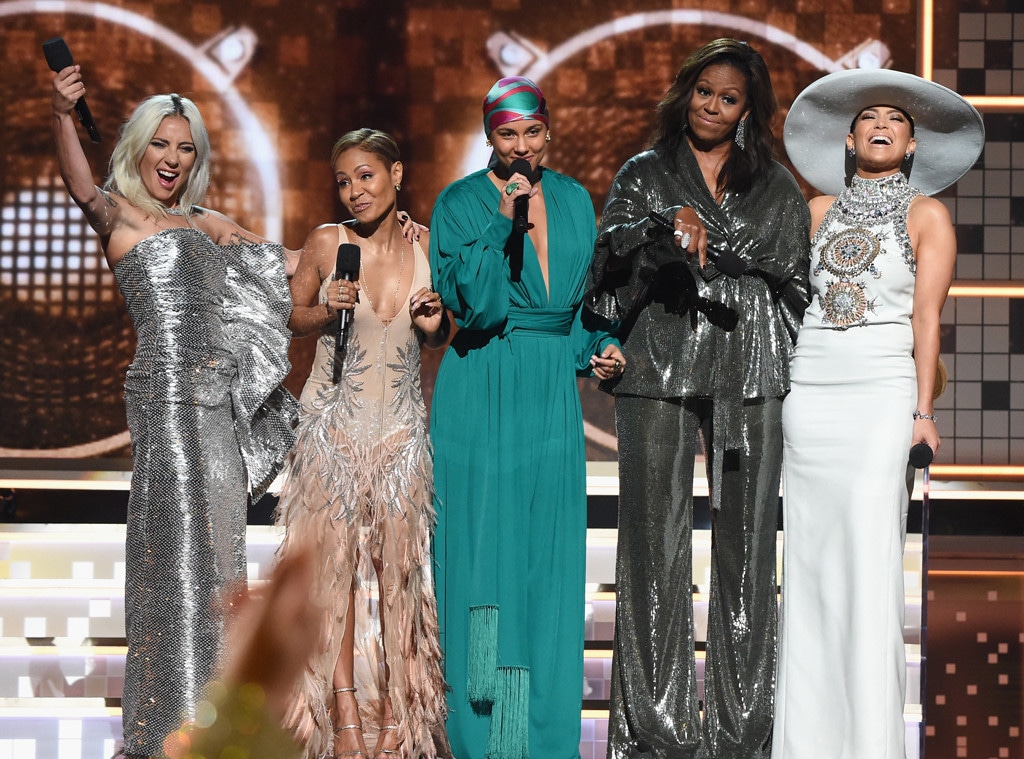 Kevin Mazur/Getty Images for The Recording Academy
Michelle Obama's mom doesn't think she's a "real" celebrity.
Just days ago, the former First Lady of the United States received a roaring round of applause when she took the stage at the 2019 Grammys alongside Alicia Keys, Jada Pinkett Smith, Jennifer Lopez and Lady Gaga. During the surprise appearance, the incredible group of women shared with viewers how music has impacted their lives.
"From the Motown records I wore out on the south side to the Who Run the World songs that fueled me through this last decade, music has always helped me tell my story and I know that's true for everybody here," Obama said. "Whether we like country or rap or rock, music helps us share ourselves: Our dignity and sorrows, our hopes and joys."
"It allows us to hear one another, to invite each other in," the Becoming author continued. "Music shows us that all of it matters, every story within every voice, every note within every song. Is that right, ladies?"
After making her appearance on the award show, Obama received a hilarious text from her mom, Marian Shields Robinson.
"I guess you were a hit at the Grammys," Robinson wrote along with a tongue out emoji. "I saw it because Gracie called me. Did you meet any of the real stars or did you run right after you were done."
"I told you I was going to be on it..." Obama replied, but her mom countered, "No you did not."
"I would have remembered that even though I don't remember much," Robinson told her daughter.
Obama replied with laughing emojis, writing, "I thought I told you. And I am a real star...by the way..."
Robinson responded with a simple, "Yeah."
Obama, who posted the hilarious text exchange on social media, captioned the post, "When your mom doesn't think you're a 'real' celebrity...Tonight in Phoenix, I shared this text thread from my mom from #Grammys night, and I just had to share it with all of you. #TextsFromMom."