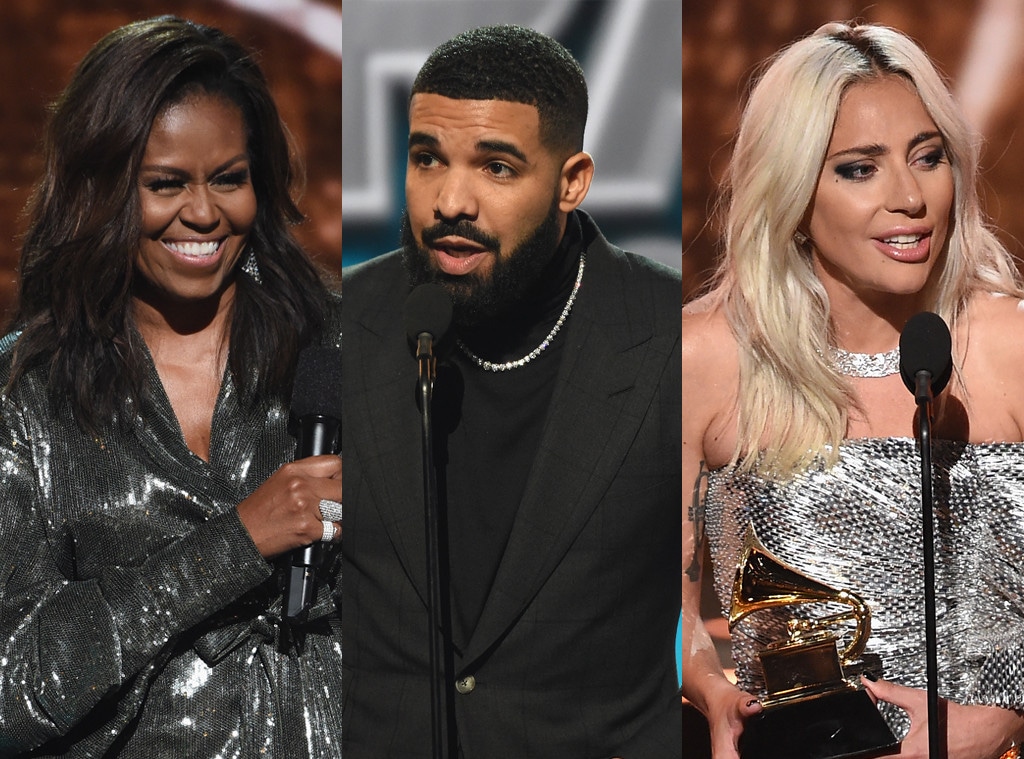 Getty Images
You never know how you're going to feel about the Grammys until you're in the thick of the nearly four-hour ceremony (not including all the awards they hand out before the telecast starts).
Music's biggest night generally makes a concerted effort to include something for everyone: The hottest young hitmakers sharing the stage in paying tribute to the legends whose work first turned them on to the whole game. Rock bands who've been together longer than some of the nominees have been alive melding their grooves with the latest artist to burst forth from SoundCloud. The members of BTS bouncing along to Dolly Parton and Miley Cyrus singing "Jolene." Kylie Jenner and Travis Scott exchanging approving glances in response to H.E.R.'s first Grammys performance.
Though the acts of selling and buying and downloading and streaming are awfully commercial, the act of listening to music is still intensely personal, and that is why the Grammys stands out as the real awards-season wild card, the show that has more potential than any of the TV and movie celebrations to hit us in the hearts.
As host Alicia Keys noted at the top of the show, "Music is what we cry to, it's what we march to, it's what we rock to, it's what we make love to…It's our shared global language and when you really want to say something, you say it with a song."
So, what were the Grammys trying to tell us this year?
1. Who Runs the World: With Keys at the helm, the first woman to host the Grammys in 14 years, there was no doubt that the evening's raison d'être would be a celebration of women and their strength, courage and perseverance, as well as their artistry. Not to mention, there was some ground to make up after last year's telecast, which was criticized for featuring only one female winner during the whole show, as well as no performance by Lorde, the sole female Album of the Year nominee.
To be sure, foresight was aplenty this year. Each of the five female Album of the Year nominees got her own moment to shine (though Janelle Monáe may have been joined by the spirit of Prince, so did she channel the late, great performer with her rendition of "Make Me Feel," from the way she held her guitar to the cooler-than-thou sex appeal radiating from head to toe).
Kevin Mazur/Getty Images for The Recording Academy
But while the performances were pre-announced, producers kept a nice, tight lid on the moment that sent the audible equivalent of a swoon coursing through the crowd. "Can I bring some of my sisters out here tonight?" Keys asked, and out walked Lady Gaga, Jada Pinkett Smith, Jennifer Lopez and Michelle Obama, who had to start her portion of the segment over again because her first attempt was drowned out by applause.
"Alright, we got a show to do," the former first lady reminded the thrilled crowd, whose enthusiasm would not be quelled so easily.
Kevin Mazur/Getty Images for The Recording Academy
2. Man With a Plan: Before Sunday, Drake was a 42-time nominee (sometimes competing against himself in one category) and three-time winner who hadn't attended the Grammys since 2013, when Take Care won Best Rap Album, having since made his issues with this particular recognition process known. So it was quite the surprise when Aubrey Graham strolled onto the stage (from backstage, all the better to make an entrance) to accept Best Rap Song for "God's Plan."
As it turned out, Drake's opinion about the process hasn't changed and he had something to say (as well as something else that those watching at home didn't get to hear because CBS cut to commercial after Drake talked for nearly two minutes).
"I want to take this opportunity while I'm up here to just talk to all the kids that are watching this, that are aspiring to do music, all my peers that make music from their heart, that do things pure and tell the truth—I want to let you know, we play in an opinion-based sport, not a factual-based sport," Drake said. "It's not the NBA where at the end of the year you're holding a trophy because you made the right decisions or won the game. This is a business where sometimes, you know, it's up to a bunch of people that might not understand what a mixed-race kid from Canada has to say or a fly Spanish girl from New York or anybody else, or a brother from Houston right there—my brother, Travis," he added, gesturing toward Travis Scott, who was still due to perform.
"But look, the point is, you've already won if you have people who are singing your songs word for word, if you're a hero in your hometown," Drake continued. "Look, if there's people who have regular jobs who are coming out in the rain and the snow, spending their hard-earned money to buy tickets to come to your shows—you don't need this right here, I promise you, you already won."
With Drake usually the reliably absent star, the part of the missing honoree was instead played tonight by Childish Gambino/Donald Glover, winner of Record and Song of the Year, as well as Best Music Video, for "This Is America." 
Rob Latour/REX/Shutterstock
3. Love and Hip-Hop: A year after performing at the Grammys for the first time and two years after bursting forth from Instagram-fame/reality-show semi-obscurity, Cardi B became the first-ever solo female artist to win Best Rap Album, for her studio debut Invasion of Privacy. (Though it's generally considered one of the only two hip-hop albums to win Album of the Year, The Miseducation of Lauryn Hill won for Best R&B Album. Hill did, however, win Best Rap Album with The Fugees in 1997.)
Accompanied by husband Offset, as well as other members of Team Cardi, to the stage, she clutched her Grammy like the precious prize it felt like (it's still fun to win, Drake) and let stunned silence take over for a second while she collected her thoughts.
"Babe, I can't breathe," Cardi—who began the night in vintage Thierry Mugler that looked as if she was being born anew on the red carpet and ended in a super-glam white gown—said at first. She then proceeded to touchingly relay how, after finding out she was pregnant, she rushed to finish her album and shoot her videos before she started to show. A fitting anecdote on a night when women were showing right and left just how much they could accomplish.
"You, husband, thank you," she added at the end. "Nah, seriously, he was like 'you gonna do this album, girl—we gonna have this baby and we gonna make this album.'"
4. "Shallow" Runs Deep: With awards season turning out to be more of an "it's an honor to be nominated" experience for A Star Is Born than early prognosticators first assumed, the film's trademark song has kept its hopes afloat—and, four months after the film's release, "Shallow" isn't getting old.
It's great with Bradley Cooper and it's still pretty great without, as Lady Gaga showed off tonight. (And, to be honest, the very Gaga-esque "ah-ah-ah-ah-ah, ah-a-ah" part of the song makes a lot more sense when it's Lady Gaga in a glittering catsuit belting those notes out alone than it does when singer-songwriter Ally is making her festival debut, but we digress.)
The Recording Academy also gave the song its due, Grammys for Best Pop/Group Performance (ironically, since she was solo tonight) and Best Song Written for Visual Media, and Gaga was a winner for Best Pop Solo Performance for "Joanne (Where Do You Think You're Goin'?").
5. Awk...ward: In her acceptance speech, Best New Artist winner Dua Lipa began, "Where I want to begin is by saying how honored I am to be nominated alongside so many incredible female artists this year." She added, with a smile, "I guess this year we've really stepped up?"
That, of course, was a direct response to outgoing Recording Academy president Neil Portnow saying last year that women needed to "step up" if they desired more representation at the Grammys.
Kevork Djansezian/Getty Images
Incidentally, Lipa delivered more than half her speech to the tune of increasingly loud play-off music, before the broadcast just went to commercial completely with a final "thank you" barely past her lips.
Wouldn't you know, after the break, it was time for the part of the show where the Academy president addresses the crowd. 
"This past year, I've been reminded that if coming face to face with an issue opens your eyes wide enough, it makes you more committed than ever to help address those issues," Portnow said to a sea of unimpressed faces and tepid applause.
ROBYN BECK/AFP/Getty Images
6. Golden Moment: Female artists hoovered up awards across the board, with Kacey Musgraves winning four, including Album of the Year and Best Country Album for Golden Hour—the first album since Taylor Swift's Fearless to pull off that particular one-two punch.
In addition to Cardi B's historic win, Brandi Carlile also went home with three Grammys, including Best Americana Album for By the Way I, I Forgive You; H.E.R. won Best R&B Album for her self-titled debut, as well as Best R&B Performance for "Best Part," with Daniel Caesar; and Ariana Grande, who decided not to perform tonight because of what she said was the show's refusal to give her creative control over her musical selection, grabbed Best Pop Vocal Album, in absentia. 
The healing power of music was still the theme of the night, minus the cut-off music epidemic, and Musgraves noted as much in the closing seconds of the show. "Life is pretty tumultuous right now for all of us, I feel like, it can be—it can feel that way. And I feel like because of that, art is really thriving and it's been really beautiful to see that."
But then play-off music began in the middle of her thank-yous, we kid you not.
Kevin Winter/Getty Images for The Recording Academy
7. Girl on Fire: In addition to helping the show get from start to finish, Alicia Keys also did something unusual, in that she managed to wrangle this sprawling telecast with unabashed positivity, never reaching for the obvious political jabs (or any jokes, really, for that matter, except for when she had no choice but to acknowledge the ever-encroaching wrap-up music) and keeping the audience captivated (for the most part—it's still a really long show) by music alone. 
Including her own, that one-woman dueling-piano medley she performed offering a whirlwind tour de force of skill and charisma.
"I feel like we're having the best night ever. Are we having the best night ever?!" Keys inquired about two-thirds of the way through the show. 
In that moment... sure, why not?