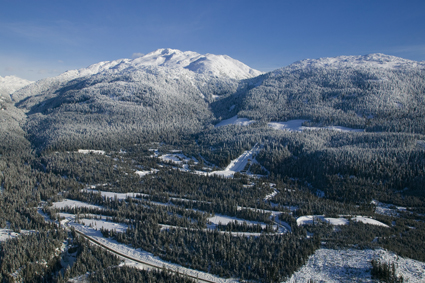 VANOC/COVAN
The first Cultural Olympiad took place in 2008. This year dances, concerts, and performing arts spectacles will pepper the clubs, theatres and live venues across the city with a variety of free and paid events. Through more than 400 events and performances Cultural Olympiad celebrates the best of international and local talent with a series of festivals leading up to the 2010 Winter Olympics in Vancouver.
"Culture is the second pillar of the Olympic Movement and has been an integral part of the Games since ancient times," said Cultural Olympiad Program Director, Robert Kerr. "The Vancouver 2010 Cultural Olympiad is bringing the "Second Pillar" alive through three annual festivals of arts and popular culture, creating a diverse and dynamic showcase of some of the finest local, national and international artists of our time."
The celebration kicked off on February 12th, when the one-year countdown to the 2010 Games began, and included concerts from Sarah McLachlan, Broken Social Scene with Tegan and Sara, and upcoming shows featuring everything from Hawksley Workman, to Bhangra and Flamenco dancers, Chinese photography, and hip hop performances.
There is also a series of partner festivals such as containR, where you can catch a free movie screening from inside a re-purposed shipping container stacked up outside the Vancouver Public Library's main branch (until March 1, 2009). A series of hockey-themed films (from Slap Shot to The Rocket) will also skate onto the big screen at the Vancity International Film Centre as a part of Hockey Nights in Film.
"We are moving well beyond borders of artistic discipline, style and genre to embrace the multi-faceted and often unpredictable nature of creativity," noted Kerr. "As this happens festivals and events are becoming more fluid and open-minded in their programming, their venues and their format. I hope the Cultural Olympiad can contribute to this process."
The MIDFORMS Festival featuring sound mixed with visual arts will take place March 5-7, 2009 as a part of the Cultural Olympiad as well as national side projects like CODE (Cultural Olympiad Digital Edition).
The Cultural Olympiad will run until March 21st and pick up again January 22, 2010.