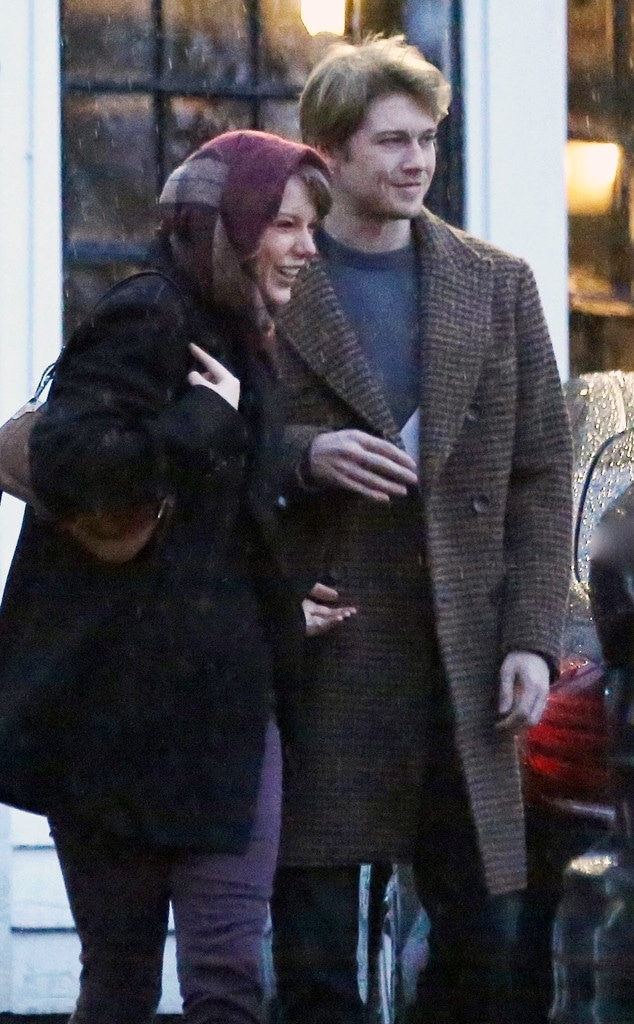 RJK / BACKGRID
Taylor Swift and Joe Alwyn are taking their romance to the pubs.
The couple recently spent the evening out together at The Spaniards Inn in London's Hampstead neighborhood and kept each other warm during a chilly evening. Alwyn wore a tweed coat, grey sweater and dark pants. Swift opted for a black coat and purple jeans. She also had a scarf on her head, perhaps as protection from the rain or as a means of trying to go incognito.
A source told E! News the reputation artist and her beau had a "lovely evening" out at the pub. "They were there for several hours on a cold and rainy night. They were in great spirits, cozied up together and gazing at each other with smiles," the insider shared. "They seem to really enjoy being at the local neighborhood pubs and frequent them often when they are in town."
According to the source, their nights out together are "their perfect way to get out and do exactly what they like to do."
Just because she's a 10-time Grammy winner (plus a plethora of other awards) and he's an actor in the hit film The Favourite, that doesn't mean they don't show respect and courtesy for the people around them.
Our insider said Alwyn and Swift were "friendly to the staff and thanked them."
While their PDA level inside the establishment is unclear, they seemed to show lots of affection for each other as they left The Spaniards Inn. Photos show Alwyn placing his arm around his girlfriend as they exited and she apparently "whispered something in his ear that got a laugh."
Talk about a love story!
This isn't the first time the couple has mingled among the rest of us at a British pub. In December, the 29-year-old singer reportedly spent £50,000 and rented out a beautiful Irish castle over Christmas for herself and Alwyn. The Sun reported at the time that they hung out at  O'Shaughnessy's Traditional Pub during their brief stay at Glin Castle.
The two of them have stayed relatively quiet in interviews about their relationship, and that's exactly how they like it. "I don't think anyone you meet on the streets would just spill their guts out to you, therefore why should I? And then that is defined as being 'strangely private'. Fine. But I don't think it is. I think it's normal," the Londoner told Mr. Porter's The Journal. 
Alwyn said something similar to Esquire in December. When asked about why people are so interested in his relationship with the singer, he responded, "I know what I feel about it. I think there's a very clear line as to what somebody should share, or feel like they have to share, and what they don't want to and shouldn't have to."
Unfortunately for Swift fans, the singer will not be in attendance at the 2019 Grammys on Sunday. She's nominated in the Best Pop Vocal Album for reputation, but E! News learned on Friday that she will be in London filming.