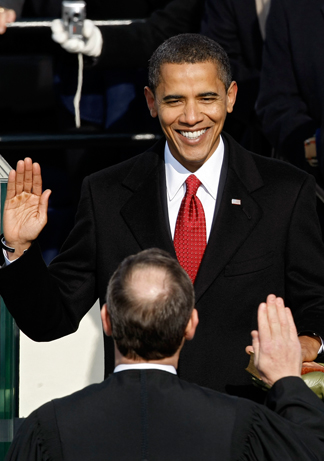 Chip Somodevilla/Getty Images
It's only a matter of time until Prez Obama's precious, way overused BlackBerry is hacked, right? Then we can bitch-text him as much as we please.
If you could text Obama right now on his BlackbBerry, what would you say?
"I'd say, Keep funding the arts. And health care. Those are my two things. I hope they keep giving money to the arts, because the arts are really struggling right now."
—Arty actress Illeana Douglas, keepin' her text sans the LOL's
"I'd say, 'Hey, number one, wassap?' Then a Secret Service guy would write back, 'Who are you, what's your address, what do you want?' "
—Breaking Bad's Emmy-winning Brian Cranston, way suspicious of the prez's privacy
"Where's my phone call, goddamnit?!"
—The Wrestler director and Rachel Weisz' hub-unit, Darren Aronofsky, on the slew of awards his Mickey Rourke comeback vehicle has won. Dar wants that congratulatory call already, Barack!