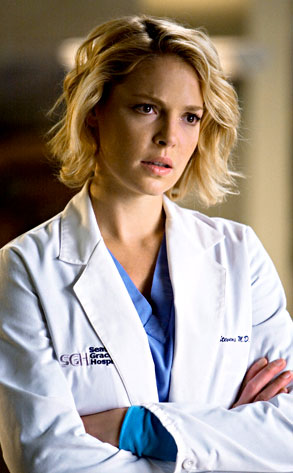 ABC/RANDY HOLMES
Oh, Grey's Anatomy. You always keep us guessing, especially when it comes to the fate of one Dr. Isobel Stevens, aka Katherine Heigl—aka the AWOL actress who is, according to inside sources, thisclose to getting ABC to sign off on her leaving the show for good.
First we heard she had a brain tumor. Then she didn't. Then maybe it was a brain aneurysm. Then maybe not. And now...a diagnosis is drawing near.
So what the bejeezus is wrong with Izzie?!
Click in for the latest on that, plus inside scoop on a life-threatening car crash on One Tree Hill, another Desperate Housewife whose life is in danger, the status of Jesse Spencer on House and much more exclusive TV scoop, courtesy of your questions...
Jamie in Arcadia, Calif.: Please tell me Fringe's Peter and Olivia are finally going to get it on!