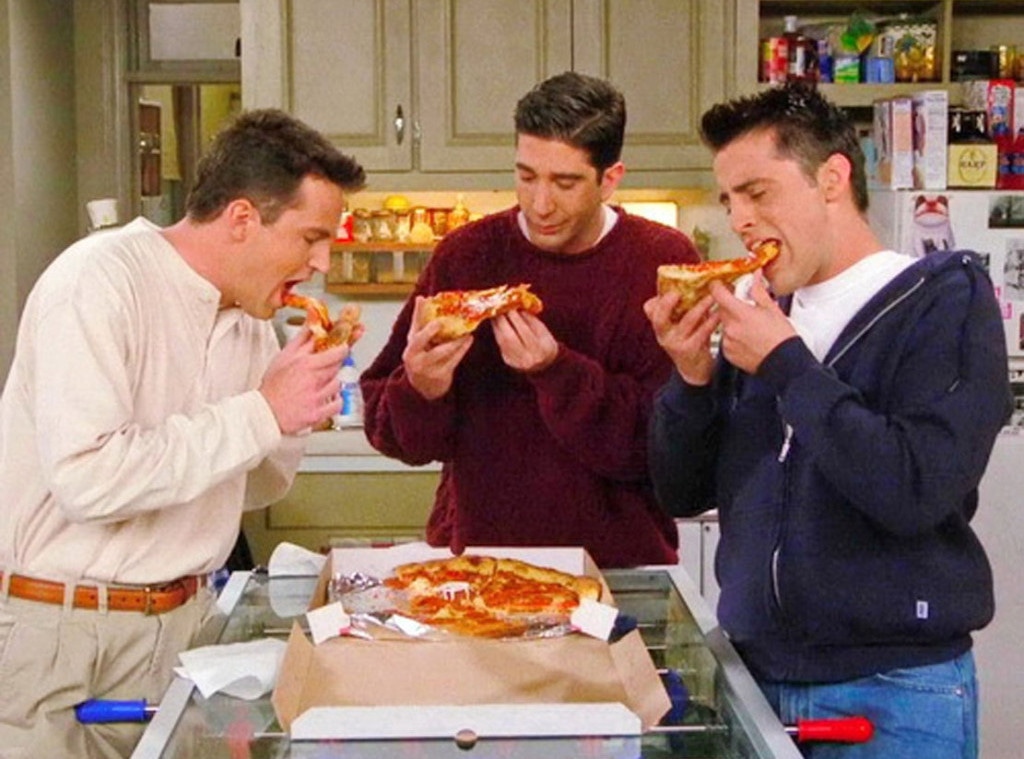 NBC
Pizza lovers, unite! Saturday is National Pizza Day and we are officially excited for the weekend to begin.
In fact, in the wise words of Mary-Kate and Ashley Olsen—from their epic film You're Invited to Mary-Kate and Ashley's Sleepover Party—all we can say is, "Gimme pizza, p-i-z-z-a!"
Over the years TV and movie characters alike have managed to grasp just how much we love pizza by eating and obsessing over it like we do, so we're very happy to report that there is a day dedicated to the tasty, cheesy, saucy goodness that is the pizza.
Once more, there are some major pizza deals that you can get in on that fictional characters including Joey Tribbiani (Matt LeBlanc) from Friends and all of the Teenage Mutant Ninja Turtles would jump up and down about if they were here.
Companies including, Domino's, Blaze, Pizza Hut, Chuck E. Cheese and even IHOP are getting into the holiday spirit and we're not mad about it.
Liz Gilbert (Julia Roberts) from Eat, Pray, Love might've said it best when she took a bite of an Italian pizza and said, "I'm in love. I'm having a relationship with my pizza," and that's why this is now our life motto. 
Thanks to this motto and our appreciation of any delicious pizza topping, we've rounded up 10 companies who have deals going on throughout the weekend or on Saturday in particular that you should probably write down.
While we know you can and should eat pizza on the regular, these deals aren't going to last forever so get to eating!
Red Baron Pizza: Want free pizza for an entire year? Of course you do! In honor of Saturday's holiday, Red Baron Pizza is giving away a year's worth of free pizza to one family. All you have to do is post a photo on your social media account with a  thank you note to pizza for making life as a parent more bearable. Tag @RedBaronPizza and use the hashtag #ThankYouPizza to qualify. For more information, click here.
Chuck E. Cheese: Grab your kids, or your BFFs and head to Chuck E. Cheese to cash in on an epic upgrade this holiday weekend. According to the company's Instagram account, you can get a free XL upgrade with any large pizza purchase through Saturday's National Pizza Day. Note: you must use the code "4860" at the register to receive your upgrade.
Pizza Hut: Pizza Hut has two major deals that you can get in on right now, so listen up. First, you can get any large two-topping pizza for $8 if you order online. Second, you can opt for the mix and match deal which means that when you try two or more items on this menu (like a medium one-topping pizza and bone-out wings) you get them for $5 each. Oh, and there is actually a third deal that gives you any large pizza for $10.99 as long as you use the promo code "THANKYOU" at checkout online.
Domino's: This week only you can get any large or pan-sized three-topping pizza at Domino's for only $7.99. The only catch is that you have to order online and pick it up in store. OK, so it's not really a catch it's just a good deal.
Toppers Pizza: The Midwest pizzeria is bringing out the big guns with their deals this year. From Feb. 3 through Feb. 9 when you pick any two pizzas, or any house pizza (or 3-topping pizza) any size, or any 'stix, any size you will only pay $9.99 each. Plus, whenever you buy into the any two items deal you will be entered for a chance to win free food for a year!
Pilot Flying J: You'll need your phone for this deal, so get it ready! To receive a free slice of pizza at Pilot Flying J this weekend (from Feb. 3 through Feb. 10) all you have to do is download their app and then save the reward and then you'll be chowing down on free pizza the way everyone wishes they could.
Little Caesar's: Pizza, pizza! After four years without its tasty Pretzel Crust Pizza, the fan-favorite pie is back at Little Caesar's and it's a killer steal when it comes to pricing right now. For a limited time you can get your hands on this pretzel-tastic pizza for $6 from 4:00 p.m. to 8 p.m. daily. It's a National Pizza Day miracle.
Blaze: Do you love ordering pizza on your computer? Is pepperoni your favorite topping? If you answered yes to both of these questions, then you're in luck! Blaze is currently running a special where you can get two pepperoni pizzas for $10 just by ordering online. What a freaking deal!
Round Table Pizza:  If you love eating your pizza and helping others at the same time then Round Table is the joint you should be visiting this Saturday. In honor of National Pizza Pie Day, Papa John's has teamed up with The Leukemia & Lymphoma Society (LLS) so that for every pizza ordered on Feb. 9 a $1 will go to helping those who are ill. In addition to feeling good about your pizza purchase going to help cure blood cancer, each customer will receive a coupon for a free personal pizza for use on a future visit.
IHOP: The pancake house is doing their own spin on everyone's favorite dish with their National Pizza Day deal. By teaming up with DoorDash, IHOP is bringing to life their very own pancake pizza called the Pancizza. On Saturday, if you live in NYC you can actually visit a pop-up shop selling these tasty Pancizzas, or if you live in Chicago, Los Angeles, New York or Dallas you can get one delivered through DoorDash (from Feb. 8-Feb. 10). Everyone else still gets a deal...free delivery on IHOP orders $10 or more using the code "IHOPDELIVERY" from Feb. 8 through Feb. 14.
Now that you've seen all the pizza perfect deals coming your way all weekend long it's time to start planning out how you can eat at all these places in only a few days.
What would Rory and Lorelai Gilmore do? They'd have a plan of attack and eat as much pizza as possible from their couch while commenting on TV shows, so we recommend you do the same!
PS: In our world, every day is National Pizza Day!