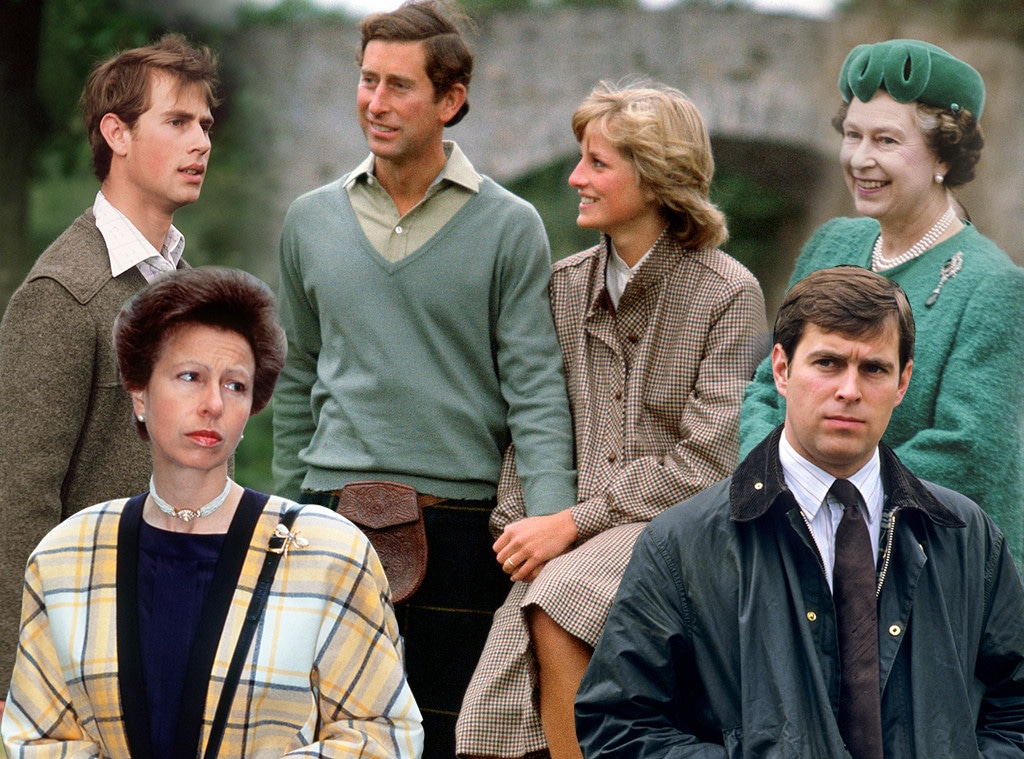 Getty Images/E! Illustration
At times it seems as though the press will not be happy until it has blamed Meghan Markle for no less than unraveling the ties that bind the royal family together, for driving a stake through the foundation upon which the centuries-old institution rests.
The obsession over whether she and Kate Middleton get along and whether that in turn has caused a rift between Prince William and Prince Harry is even washing onto our shores, as evidenced by the TLC special Kate v. Meghan: Princesses at War? and the endless speculation as to what everything that Meghan and Harry do really means.
But the family's own recent history has proven that, no matter what's going on, it's going to take more than a chatty father-in-law, two women who get along just fine but maybe aren't best friends and infinite column inches to take this family down. If the lot could survive the puzzle that was Princess Diana and her uncanny ability to connect with the people and rub almost every one of her in-laws the wrong way at one point or another, then the monarchy will be chugging along just fine for the foreseeable future.
Really, the undying fascination with Diana just goes to show that a juicy subplot is one of the key reasons why the monarchy is so enduring—the people need to find a story to connect with, after all, and what better than the story of turmoil brewing just beneath that carefully managed surface, occasionally boiling over for all to savor?
When a 20-year-old Lady Diana Spencer married Prince Charles in 1981, it sadly didn't mark the end of her anxiety-ridden period of feeling abandoned by the Prince of Wales and his family when it came to learning the royal ropes (even though numerous former palace staffers and aides who were tasked with helping the future princess remember that time differently). 
Her concerns stemmed from different unfortunate circumstances, not least of which was her correct assumption that Charles still loved his ex-girlfriend Camilla Parker-Bowles. At the same time, Charles fully intended to make a go at his marriage, but while he gave her tips on how to behave in public in her new role, his intent was never to take Diana by the hand and school her in the ways of his world. He figured that she would, more or less, figure it out.
Which she did—only it wasn't in the way Charles assumed she would.
Once they got engaged, Diana moved into a suite in Buckingham Palace, where she insisted she was dreadfully lonely—despite there technically being lots of people around just a stone's throw away. All three of Charles' younger siblings still lived there, for instance; but they all lived in their own apartments (which they still have) and kept to their own routines, with not much concern for the incoming member of the family in their midst.
Which is not to say they all turned a cold shoulder to Diana, who, coming from a rich, noble family, had grown up playing with Charles' brothers, Prince Andrew and Prince Edward, at the royal residence in Sandringham, near the Spencer home in Norfolk. (Diana's maternal grandmother, Lady Ruth Fermoy, was a friend and lady-in-waiting to the princes' grandmother Queen Elizabeth, the Queen Mother.)
And of all of Charles' siblings, it was Andrew with whom she was the closest.
Andrew was the one who introduced Diana's older sister Lady Sarah Spencer (now McCorquodale) to Charles in 1977, and they started dating. Andrew was only a year older than Diana and seemed like the likelier match for her in the beginning—in fact, tabloid reporters who gazed upon the royals and their guests, Sarah and Diana, one weekend at the queen's Sandringham estate assumed that the younger girl was there with Andrew. 
"He makes me laugh and I enjoy being with him," Sarah told The Sun about Charles. "I have two or three other boyfriends and I go out with them just as much."
The consensus was that neither Sarah nor Charles was particularly serious about the other, but because weekends in the country were just what people did, Sarah invited her casual beau to her family's Althorp estate, where he met her 16-year-old sister, Diana.
The teen, 13 years younger than Charles, set out to attract the prince's attention, if not his affections, and Diana later described him as "charm itself" that weekend. Charles and Sarah continued to see each other, and she was actually the first Spencer lass to tick off the royal family when she told two reporters after a ski holiday with the prince in 1978, "I'm not in love with Prince Charles. I'm a whirlwind sort of lady, as opposed to a person who goes in for slow-developing courtships."
If they were going to get engaged, they would have been already, she added—and if he asked, she'd turn him down.
"He doesn't want to marry anyway," Sarah concluded. "He's not ready for marriage yet...Our whole approach has always been a brotherly-sisterly one, never anything else." As for the future queen of England, "I don't think he's met her yet," she added.
Not exactly the look the royal family was going for. With his 30th birthday fast approaching, Prince Charles' apparent lack of interest in settling down wasn't news—but that wasn't for his girlfriend at the time to talk about.
It was a roundabout way of getting there, but by joining the Spencer and Windsor families in one respect, Andrew helped Diana and Charles get together. According to Tim Clayton's Diana: Story of a Princess, Andrew was also responsible for their chaste kiss on the Buckingham Palace balcony after they became husband and wife—not for it being chaste, but for it happening at all.
A source called The Sun's Harry Arnold from the palace, saying Andrew had urged his big brother to make a move, saying, "Go on, give her a kiss," to which Charles replied, "I'm not getting into that caper." "Go on, give her a kiss," Andrew insisted. The queen approved (Charles asked), and thus a new tradition was born.
In turn, Diana helped settle Andrew down by seating her brother-in-law next to her friend Sarah Ferguson at the queen's lunch during Royal Ascot in 1985, and she and Charles entertained the couple on multiple occasions leading up to Andrew's proposal in 1986.
Pool BAKALIAN-DE KEERLE/Gamma-Rapho via Getty Images
Diana felt like she understood Andrew, and it spoke to her that, in her eyes, he got short shrift as the queen's third child and one of several spare heirs.
The princess was underestimating her brother-in-law's esteemed place in the family, which had grown when he flew helicopters for the Royal Navy during the Falklands War in 1982 and received a hero's welcome back home. But Diana simply appreciated his personality—loud and charmingly rough around the edges—and they got along well. Diana was the one who wrote Andrew letters when he was at war, keeping him up to date on family news, according to the new two-part special Paxman on the Queen's Children, airing on the U.K.'s Channel 5. 
Of course, Diana's complicated relationship with sister-in-law Fergie is the stuff of tabloid legend. The two were longtime friends and the Princess of Wales was eager to bring Sarah into the royal fold, both relishing the companionship and the slight reprieve from being in the media's crosshairs 24/7.
Conversely, Diana would eventually grow annoyed by all the attention paid to the Duchess of York, and yet also gave her the cold shoulder when Sarah's press turned primarily bad, figuring she herself didn't need any more criticism via a connection with Fergie. Sarah, in turn, envied how much the press fawned over Diana, even though she herself was closer to the queen.
In 1992 the duchess would come away guessing that the princess had sabotaged her with a well-timed leak of her location when she was canoodling in the south of France with businessman John Bryan.
Jayne Fincher/Princess Diana Archive/Getty Images
In the meantime, however, Diana and Charles and Sarah and Andrew vacationed together and, once they were all parents, provided the foundation for their children to form a close bond, one that endures to this day. And, incidentally, both unions eventually imploded on a similar timeline, scandalous bookends for the royal family in 1992. Eventually Diana and Fergie re-bonded over their respectively disastrous marriages, but were once again estranged when Diana died. 
"Andrew is the best man I know," Fergie told the Daily Mail in November about her ex-husband, whom she has lived with for the past decade despite being divorced for 22 years. "What he does for Britain is incredible; no one knows how hard he works for his country." Though Fergie was not invited to William and Kate's 2011 wedding following an embarrassing tabloid snafu on her part, she was at Harry and Meghan's nuptials and she and Andrew proudly watched their younger daughter Princess Eugenie marry in October.
The Duchess of York has also been determined to remember the best of times with Diana, telling the Mail, "Diana was my best friend and the funniest person I knew. She had such timing and wit. It was a total joy to be with her because we just laughed and enjoyed life so much, and I know she would have loved the wedding."
John Shelley Collection/Avalon/Getty Images
As for Diana's other brother-in-law, the queen's youngest child, Prince Edward, they got on...fine. Only 17 when Diana married his brother, Edward liked his sister-in-law and she in turn found him rather adorable, but according to royal biographer Ingrid Seward, Edward bonded more with Fergie.
"He actually used to sometimes have lunch with Fergie, who would drive from the palace and meet him here and take him out to lunch because they were very close at one time," Seward said in Paxman on the Queen's Children. "They were very close at one time. He liked her and she liked him and she was young and fun and she was interested in what he did."
A good relationship with Edward did Fergie no favors, however, when she and Andrew, along with Princess Anne and her husband, Mark Phillips, agreed to be on It's a Royal Knockout!, a game show Edward's production company made for the BBC in 1987, resulting in a PR nightmare for the Duchess of York when she was roundly criticized for cavorting too much on camera.
Diana and Charles had declined the invitation to take part.
Anwar Hussein/Getty Images
According to royal biographer Sally Bedell Smith, when Charles and Diana's marriage started to go south, Edward basically sided with his family in feeling that Diana wasn't acting in their best interests, and that was pretty much the end of that—though as Diana was generally included as William and Harry's mother at all sorts of events, cordiality ruled the day.
Edward's relationship with Diana sounds like a microcosm of his father's feelings, Prince Philip having been perfectly charmed by his daughter-in-law in the beginning but was quick to sour on her when the press she was courting got out of hand. He's the one who advised Charles to either propose to or break up with Diana in 1980, and he may have been a little surprised when his eldest son chose the former.
At the same time, shortly before she and Charles formally separated, Philip told Diana in a letter that he couldn't believe someone would want to leave her for Camilla.
So Andrew was the warmest presence in Diana's life when it came to her in-laws, most of whom she felt were otherwise aligned against her. But also proving a sympathetic figure when it came to Diana's public trials and tribulations was the proud rebel of the family, Queen Elizabeth II's younger sister, Princess Margaret—or Margo, as Diana called her.
Anwar Hussein/Getty Images
Margaret did not marry her first big love, RAF Capt. Peter Townsend, because as a divorcé he apparently got the tacit thumbs-down from the queen—and Margaret chose not to rock the boat and ended the relationship. Then her marriage to photographer Anthony Armstrong-Jones, who snapped the cheeky picture of her in the bath wearing her wedding tiara, ended in divorce in 1978.
"Diana related to Margaret because she was an unhappy person," a friend of the princess told Sally Bedell Smith. Another friend, Roberto Devorik, recalled, "Diana sometimes said Princess Margaret should have been her mother-in-law. She admired the way Margaret had worked within a broken home. Diana knew Margaret was always in the shadow of her sister, but she was always a fighter."
David Levenson/Getty Images
Diana also got on well with Margaret's kids, David Linley and Sarah Armstrong-Jones, which the elder royal appreciated.
Charles' beloved grandmother, the Queen Mother, was so on the side of her grandson that Diana just assumed her relationship with the dowager was a lost cause.
She's "always looking at me with a sort of strange look in her eyes," Diana said. "It's not hatred. It's a sort of interest and pity mixed in one...She's sort of fascinated by me, but doesn't quite know how to unravel it."
And for all the cyber-ink spent dissecting Kate and Meghan's current relationship, even though they've looked perfectly happy with each other when they're out together, Diana reportedly did have a barely there relationship with her own sister-in-law, Princes Anne—whose dedication to the crown she admired very much but who, as a duty-bound-but-media-averse, no-nonsense outdoorswoman, was also her polar opposite. Anne, who regularly outpaces all the royals every year with the number of official engagements on her schedule, didn't even give her own children titles, wanting them to have a shot at a more normal life.
"Princess Anne, she had no time for Diana, she didn't like the way she went about her duty and the way she used the cameras and the media to promote herself in her eyes," says the Daily Mail's Richard Kay—the reporter Diana called from Paris a few hours before she was killed in a car crash on Aug. 31, 1997, to say she planned to withdraw from public life—in Paxman on the Queen's Children. "Anne had a much more traditional approach to monarchy and royal duty."
On the flip side, Kay said, "I remember Diana saying 'if Anne's there I'm off' because Anne would usually say something rather cutting to her."
Anne's "got the same quick brain as [her father] the Duke of Edinburgh and doesn't suffer fools," Lord Patrick Berseford, a friend of both, told Bedell Smith for her 2017 book Prince Charles. She's "has her butler in jeans," another member of the family quipped about Charles' glamour-eschewing sister.
Diana didn't want to "'rattle her cage'" and so primarily stayed out of Anne's way, Bedell Smith, who described Anne as a "professional and efficient princess," wrote in Diana in Search of Herself: Portrait of a Troubled Princess. At the same time, while Anne disapproved of Diana courting the press so much, she would also get miffed when something frivolous, such as Diana's neckline, would get a bigger headline than her own charitable activities or other work she was doing.
A "very, very nice girl" was what Anne called Fergie, according to Vanity Fair in 1987, while any notable praise of Diana wasn't forthcoming.
They also only lived 20 minutes apart but didn't socialize, and Anne is said to have skipped Prince Harry's christening because she wasn't named a godmother. Prince Andrew and Princess Margaret's daughter, now Lady Sarah Chatto, are among Harry's six godparents (and were two of his first visitors when he was born). For whatever reason Anne didn't go (Diana publicly denied a rift in a 1985 ITN interview), we couldn't imagine a world, barring some cataclysmic event, in which Kate and William don't attend Meghan and Harry's child's christening.
Anwar Hussein/Getty Images
But for all the diligent work that went into pitting them against each other in life, Anne and Diana, who was 10 years younger, got along...enough.
When Diana died, Princess Anne brought her children, Zara and Peter Phillips, to Windsor Castle, where the queen and Philip spent five days doing their best to occupy and protect Harry and William before returning to London to greet the mourning masses. Always finding solace in the countryside herself, Anne took Harry riding and for long walks in the woods.
And Diana would have appreciated that.