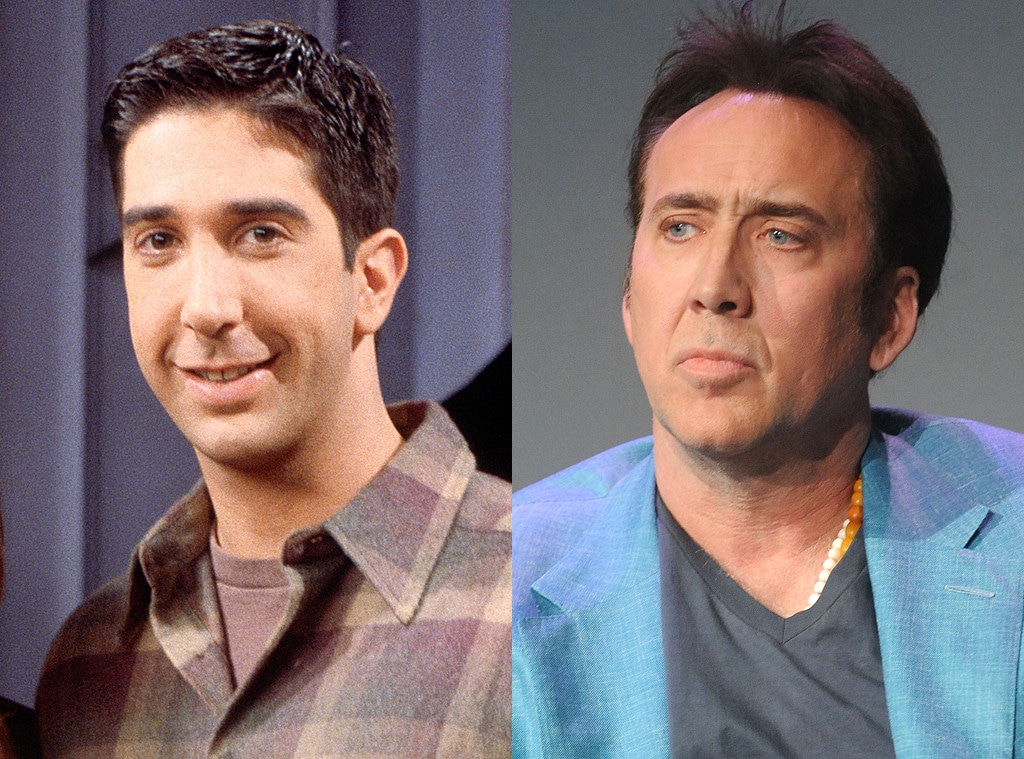 Paul Drinkwater/NBC/NBCU Photo Bank via Getty Images, Brad Barket/Getty Images
Get ready to see the biggest and best meme of 2019: Nicolas Cage as Ross from Friends—a.k.a. David Schwimmer.
Naturally, Reddit users found this gem online. On Monday, the redditor spaghetticondom911 posted an image of the Mandy actor as Ross in an episode of Friends and the face-swap of the two stars sent fans into a frenzy.
It turns out that when you morph the two actors together, they really do look similar. In fact, it's almost eerie. As one Reddit user perfectly said in the thread, "That is truly terrifying... I love it." 
Another user wrote, "I don't even know anymore who I am currently looking at." Same! 
The best comment, however, had to be from the user cwmtw, who wrote, "They should do a movie where they switch faces or something."
While it's hard to tell if that was a joke or not, it would make a for a good sequel to the 1997 movie Face/Off, which ironically starred Cage switching faces with John Travolta.
Not long after the Reddit discovery, Twitter soon went wild over the face-swap.
People started writing jokes on Twitter like, "If you put Nicolas Cage's face on Ross from Friends it just makes him look more like Ross."
Another person commented, "If we use Photoshop to put the face of Nicolas Cage to Ross, he is still Ross.
Although the Reddit post spread like wildfire, the YouTube channel, DerpFakes, actually created the masterpiece that is Cage morphed into Schwimmer.
The video features two glorious minutes of the 55-year-old star as other iconic actors and characters, including Phoebe and Chandler from Friends. Seriously!
Last year, the American Crime Story actor found himself at the center of a viral meme. 
Police in Blackpool, England searched for a man who was suspected of robbing a restaurant. The photo police issued online featured a striking resemblance to Schwimmer. 
The actor found the viral post hilarious, and took to Twitter to let the England police department know that he was innocent. In his post, he was seen wearing a similar get-up and holding similar items as the accused thief. 
"Officers, I swear it wasn't me. As you can see, I was in New York. To the hardworking Blackpool Police, good luck with the investigation."
That's why this recent meta tweet will make you cry-laugh once you read it.
"Wait, does that mean that the David schwimmer lookalike that was caught on camera shoplifting last year was actually Nick Cage?"