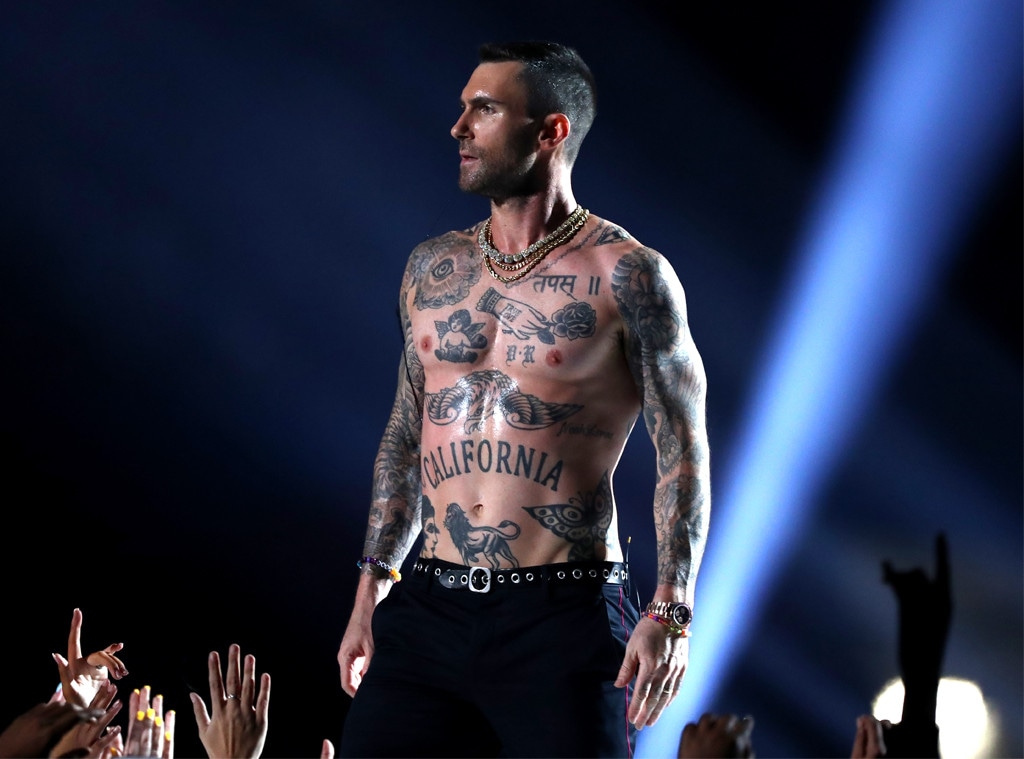 Al Bello/Getty Images
For his 2019 Super Bowl halftime show performance, Adam Levine started with a jacket on and ended up half naked. 
As any Maroon 5 fan who watched Sunday night's game knows, the Maroon 5 frontman wasn't shy about shedding his clothes during his band's big set—and fans had a lot to say. Toward the end of the show, he ditched his jacket, sporting solely a tank top with a geometric print. 
The Internet wasted no time drawing hilarious comparisons between the top and various home goods, from a Target pillow to a kitchen towel. 
The shirt didn't stay on much longer. During "Moves Like Jagger," Levine took it off, revealing his chest and torso covered in tattoos. Perhaps it was in homage to the music video, which also features the singer shirtless, or the fact that he simply likes to perform shirtless as evidenced by his many performances over the years. 
Whatever the inspiration was, some were less than thrilled as they pointed out the double standard between Levine and Janet Jackson's controversial wardrobe malfunction during the Super Bowl halftime show in 2004. 
"WHY CAN ADAM SHOW HIS NIPS BUT JANET CANT," former Bachelorette Kaitlyn Bristowe tweeted. 
"So if Janet shows us a nipple she's banned and shunned. But Adam Levine forces both nipples upon my eyes and I'm supposed to be cool with it," another viewer wrote online. 
Still, there were some who shared their support of Levine amid the online criticism. "So done with all the trolls & haters bashing #AdamLevine Get a life! You're all just jealous because he's extremely talented & hot!!! @adamlevine You keep on rocking, baby!" one fan encouraged on Twitter. 
Levine and the band seemed to address any looming controversy when they shared the same statement at the time of the show. 
"When we accepted the responsibility to perform at the SBHTS, I took out my pen and just wrote. Some of the words that came to me in that moment eventually made their way onto the incredible lanterns that flew high and low tonight," the statement read, also listing out the words. "We thank the universe for this historic opportunity to play on the world's biggest stage. We thank our fans for making our dreams possible. And we thank our critics for always pushing us to do better. One Love."
Meanwhile, Jackson has not commented.