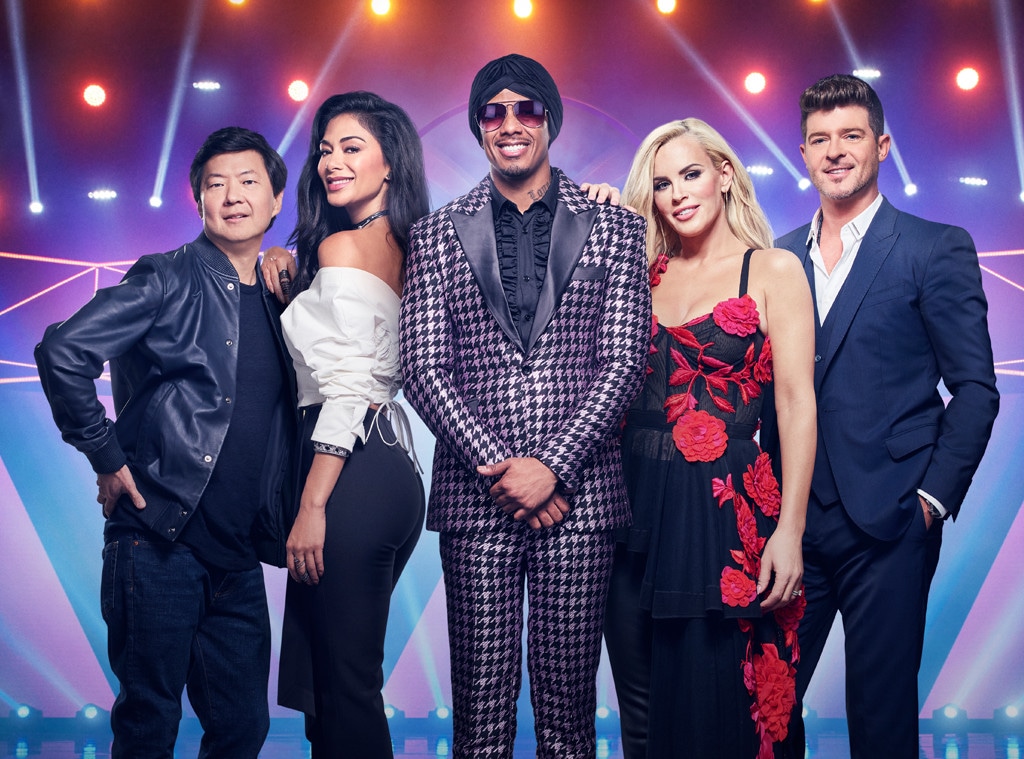 Fox
Did Jenny McCarthy spend weeks not recognizing her husband in a giant rabbit suit on The Masked Singer?
The radio host thought that might have been the case while filming as a panelist on the Fox reality hit, and while she can't confirm whether it was true or not without giving away the true identity of the Rabbit, she could give us a lot of reasons it might be husband and New Kids on the Block member Donnie Wahlberg.
"I can't say if he's the rabbit, but all the signs right now... I say, oh, mixtape, that's '80s, and those dance moves [are] very boy band-ish," McCarthy told E! News exclusively at the Sirius XM platform on Radio Row in Atlanta. "When I would Facetime him under the table during the show, he wouldn't answer. When the Rabbit was off the stage, he would answer. You'll probably see me next week going, I think this is Donnie, gosh I really think this is Donnie." 
Whether it's Donnie or other popular guess Joey Fatone of NSYNC, McCarthy promised "you're going to be surprised." 
"That could be a surprise if it's Donnie. I didn't know. That's a surprise!" 
The hit show was just renewed for a second season, and McCarthy is thrilled to be involved in such a popular show.
"You have no idea how nice it is to say I'm behind this show. It's so hard these days because there's so much out there, so the last time I was on a real bit hit was Singled Out, so to have it happen again is so fun for me," she says. "I knew it out the gate when I was with the producers. I said this show is going to be massive because you're using extra muscles to figure out who is who."
McCarthy was so convinced the show would be big that she started to bother her agent.
"My agent was like, stop saying it! But he's like I don't know about this show, and I go listen, I have a feeling about it. It's got the right elements that would make the majority want to tune in, even though it looks freaky and weird. But the 'who sung it' part makes it interesting for people, and these celebrities get to debut their voices and some of them never sang before, so it's interesting."  
McCarthy is billed as the panel's "pop culture expert," which she says is "hilarious." 
"I mispronounce everyone's names," she says. "I'm like, you know the guy that dated so and so? And that's how I get it wrong." 
For season two (assuming they don't get revealed by the end of season one), McCarthy has some pretty big dream masked singers. 
"I would love for like, Lady Gaga to blow our minds because she can alter her voice in many ways, like Celine Dion. The ones that are doing well are the ones that are tricking us, because they can go to country, to rock and roll, to old school, so I think someone with a solid talented voice like that, like Celine Dion, Lady Gaga, I would love." 
And who wouldn't? 
So far, Antonio Brown, Terry Bradshaw, Tommy Chong, Margaret Cho, and most recently Tori Spelling have been unmasked. 
The Masked Singer airs Wednesdays at 8 p.m. on Fox. 
Reporting by Amanda Williams