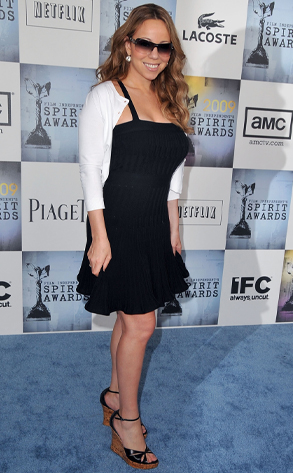 Steve Granitz/Getty Images
What on earth was Mariah Carey doing at the Independent Spirit Awards yesterday?
Believe it or not, the songbird had a very good reason to be there: She costars in Push, an upcoming indie drama directed by Lee Daniels. Not only was the flick a hit last month at Sundance, but Carey is actually getting good reviews for her work!
Also appearing at the Spirits was my fave reality TV host, Padma Lakshmi of Top Chef. She wore a white knot in support of gay marriage. "I'm trying to find a gay man to marry because I think they're perfect," Lakshmi cracked. "But seriously, I think it's very important for anyone who wants to get married to the person they love should be able to do so and get all the benefits.
I Twittered from the carpet, so keep reading for all my tweets. Find out which hottie hunk's pants were too long, what Teri Hatcher said about Nicolette Sheriden's departure from Desperate Housewives and which mega-rich superstar took home a swag-filled gift bag.