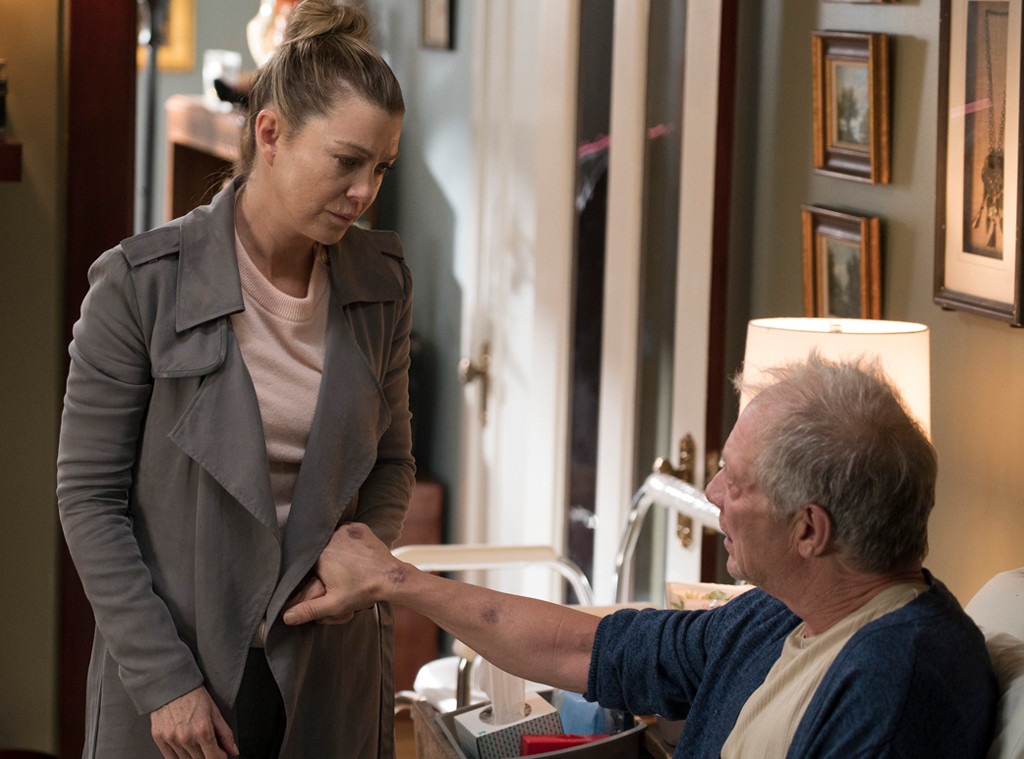 ABC
Grey's Anatomy is, surprise surprise, about to get extra emotional. 
Meredith Grey (Ellen Pompeo) has some of the most complicated parent issues of any character on TV, and her father Thatcher (Jeff Perry) has been a loose end for seasons. His last appearance on the show was 2011, back when Lexie (Chyler Leigh) was still alive. Meredith found out through Richard earlier this season that Thatcher was ill and only had a few weeks to live. He was in hospice care, and Meredith avoided going to see him until tomorrow night's episode, when she finally does.
And trust us, they've got a lot of things to talk about. 
The show tweeted a sneak peek of the episode, featuring Meredith taking a deep breath before ringing the doorbell. Of course it cuts off right after she and a very frail Thatcher say hello. 
Meredith's reunion with her father is the only other storyline in tomorrow night's episode, which is mostly about Catherine's (Debbie Allen) surgery to remove the tumor on her spine. Catherine's cancer storyline is based on the real life cancer storyline of writer Elisabeth R. Finch, who is an EP and who wrote the episode, titled "Winner Takes All." 
Catherine and Thatcher both have cancer, but their stories are wildly different, which is something Finch wanted to explore. 
"From a cancer perspective, I really wanted to show another version of it without judgment. He went through treatment, it didn't work, and he is going to die, and that's a fact," Finch tells us. "And he made a choice to stop treatment and to be in hospice care. And sometimes I think from a television movie pop culture standpoint, we use all these words like 'he fought to the bitter end, he battled it to the bitter end,' and that's not always true. Sometimes people say I'm done, it's not working, and I'm going to go home now."  
So yeah, this is going to be a hard one to get through in more ways than one. 
For our full interview with Finch, stay tuned after tomorrow night's episode.