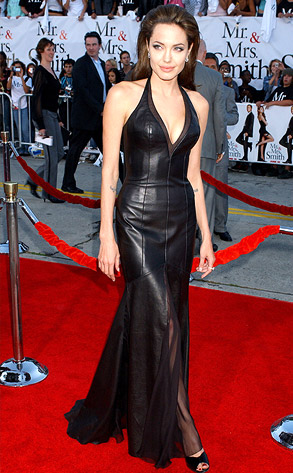 Gregg DeGuire/WireImage.com
We're excited to see what Angelina Jolie is gonna wear to the Academy Awards, but could care less if she's gonna win. Not because this is Kate Winslet's Oscar to lose, but because Angie's never gonna win another golden guy—on or off screen—by playing some woe-is-me mom.
Oscar No. 2 will more likely be for a feisty Girl, Interrupted-type role. We like that Angie far more than this faux-holy mother figure she's evolved into since seducing Pitt. She's gotten less and less steamy while Jen Aniston's gotten way more comfy showing off her totally taut bod. Is Brad a cooler or what?
See which Angelina you prefer—S&M sex kitten or withering matriarch—in our gallery of A.J.'s career-spanning red carpet role reversal.