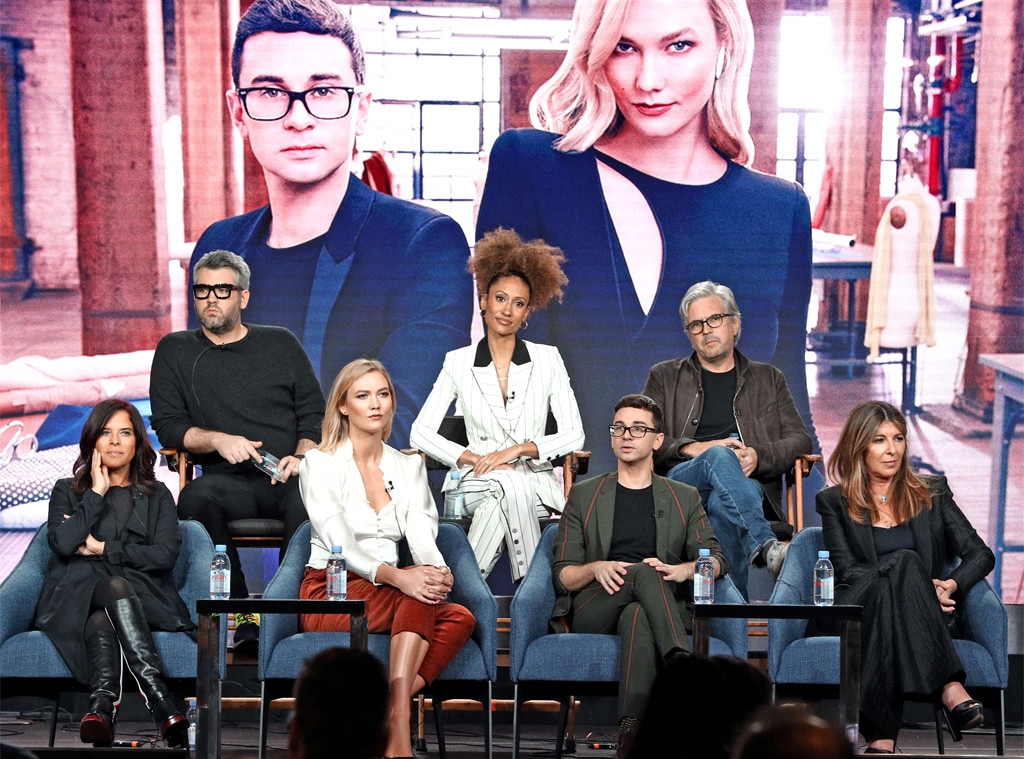 Frederick M. Brown/Getty Images
New world, new Project Runway. 
The fashion competition is returning to its original home on Bravo with a new host, a new mentors, new judges, a new workroom, a new runway, and a new attitude in 2019, and there are some changes afoot. 
Heidi Klum, Tim Gunn, and Zac Posen have all departed, and the new version will be led by supermodel Karlie Kloss, with designer and Project Runway season four winner Christian Siriano stepping in as mentor. Designer Brandon Maxwell, former Teen Vogue editor Elaine Welteroth join the judging panel, alongside the returning Nina Garcia. 
The new cast joined executive producers Jane Lipsitz and Daniel Cutforth on stage for a panel at the TV Critics' Association and spoke about some of the ways the show will be changing in its new iteration.
"A lot has changed, in the industry and in the world a lot has changed since Project Runway first became what it became," Kloss said. "It's just this incredible platform to launch designers' careers, and I think the landscape has changed so much for what that actually means for how designers have to think about creating their businesses today."  
A few of the biggest changes are outlined below. 
A New Kind of Mentor
Christian Siriano was Tim and Heidi's suggestion for who should take over the mentor role from Tim, and producers revealed they had already been talking to him, and producers said he was the "perfect person" for the job. 
"Obviously I'm very close with Tim and very close with Heidi, and they're amazing and so talented, but for the first time the mentor for the designers gets to be a designer," Siriano said. "Tim was never a designer, he never worked in the industry. He was a teacher."
He went on to explain means he can hand out "real fashion industry feedback" that can only help them. 
"Tim was an amazing...I think he did alright with me, I guess, and now I'm here, and that's great, but I think that what's really special for the designers to be successful going forward is to have a real designer giving them advice," Siriano said. He will also help designers build a brand after they leave the show. 
Diversity Across the Board
Similar to the last couple seasons of Lifetime's Project Runway, the new version will feature models of all sizes and backgrounds, including the show's first transgender model. 
"This is the most inclusive iteration of Project Runway that the world has ever seen, and I mean that across the board," said Welteroth. "It is the most diverse cast, but it's also the most diverse cast of designers. From an age perspective, there's a 20 year age difference that you'll see. People are coming from all over the world from Samoa, India, all over the country." 
"Really, it feels inclusive from start to finish," added Garcia. 
The show has come under fire in the past for the way designers have reacted to having to dress women who aren't the size of a typical model, and Siriano said the models this year are a range of sizes. 
"I actually think they embraced it so amazingly. Almost sometimes they would want a girl who was a different size because they felt like that was their brand," he explained. "Which I think is different than maybe when I was on, because we weren't thinking about building a brand. I mean, we just didn't think that way. We just wanted to make clothes and get it done... I think if anything, it's the most real, inclusive thought to it that I've ever seen. 
Double the Prize
The prize money of $100,000 has been doubled to $200,000, which is designed to help the designers more with building their brand after the show is over. The CFDA is also involved in a new way this season. 
Audiences Can Vote and Buy
After each episode, the audience will be able to vote for their favorite look, and that look will go on sale, along with the judges' favorite look. 
Project Runway aired on Bravo from 2004 to 2008, then went to Lifetime until 2017 before now returning to Bravo on Thursday, March 14 at 8 p.m. 
E! and Bravo are both part of the NBC Universal family.