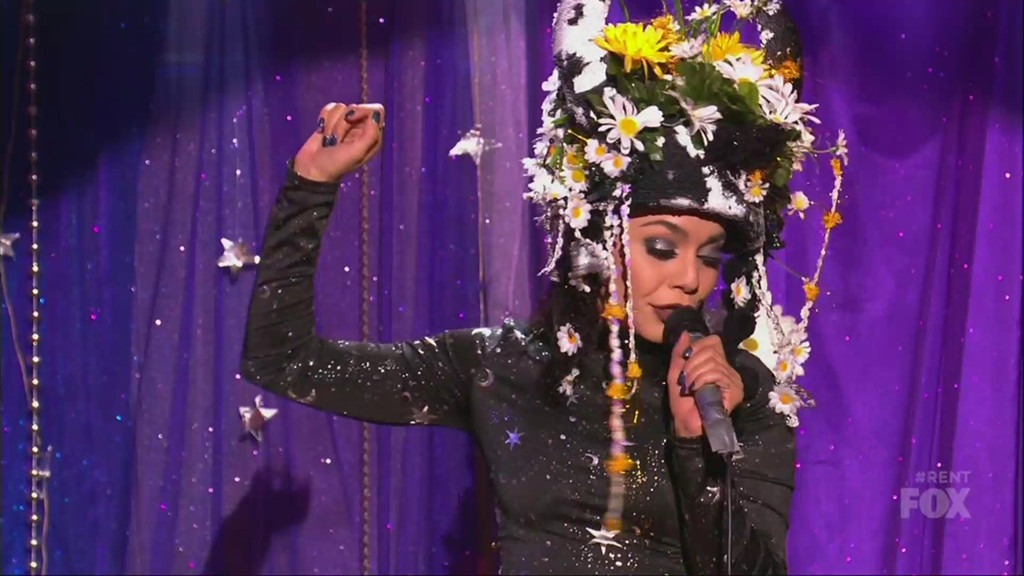 Fox
Fox's Rent Live might have really suffered after one of its stars got injured and it was forced to rely on a pre-recorded rehearsal, but that didn't mean we weren't still totally over the moon. 
Vanessa Hudgens made her debut as Maureen Johnson over an hour into the show, and every moment she was on that stage was instantly the best part of the show so far. From her grand motorcycle entrance to her incredibly strange one-woman show to the absolutely incredible performance of "Take Me or Leave Me," Hudgens was the show's brightest star. 
We chronicled a few of her best moments in GIF form below, for your enjoyment (and ours). 
Her Entrance 
You can't arrive on a motorcycle in all leather and then lick your lips like that and expect everyone to just be OK with it. 
Holy Cow
Maureen's performance art never makes much sense in any Rent production, and it didn't exactly make sense here either, but it was incredibly entertaining. 
Latex + Chips
Let us all aspire to be the kind of person who could hang out in a latex suit while also eating chips. 
Those Dance Moves
This is the energy with which we would like to continue into 2019. 
And These Dance Moves
The audience's thrilled reaction to this moment was the same reaction happening in our brain. 
Take Me or Leave Me
In a production that felt like exactly the thing it was, a rehearsal, Vanessa Hudgens and Kiersy Clemons' rendition of the best song from the entire show (don't fight us) felt like the most alive. There was nothing rehearsal-esque about that, and both of their vocals were absolutely on fire. 
Maureen Meets Maureen
The real shame of this is that we only got a split second Vanessa and original Maureen Idina Menzel singing into each other's faces. We need a whole number of this! A whole show! Give it to us now! 
Anyway, Vanessa Hudgens should be cast in every live or not live or half live musical from now on, thank you very much. 
Rent Live aired on Fox.