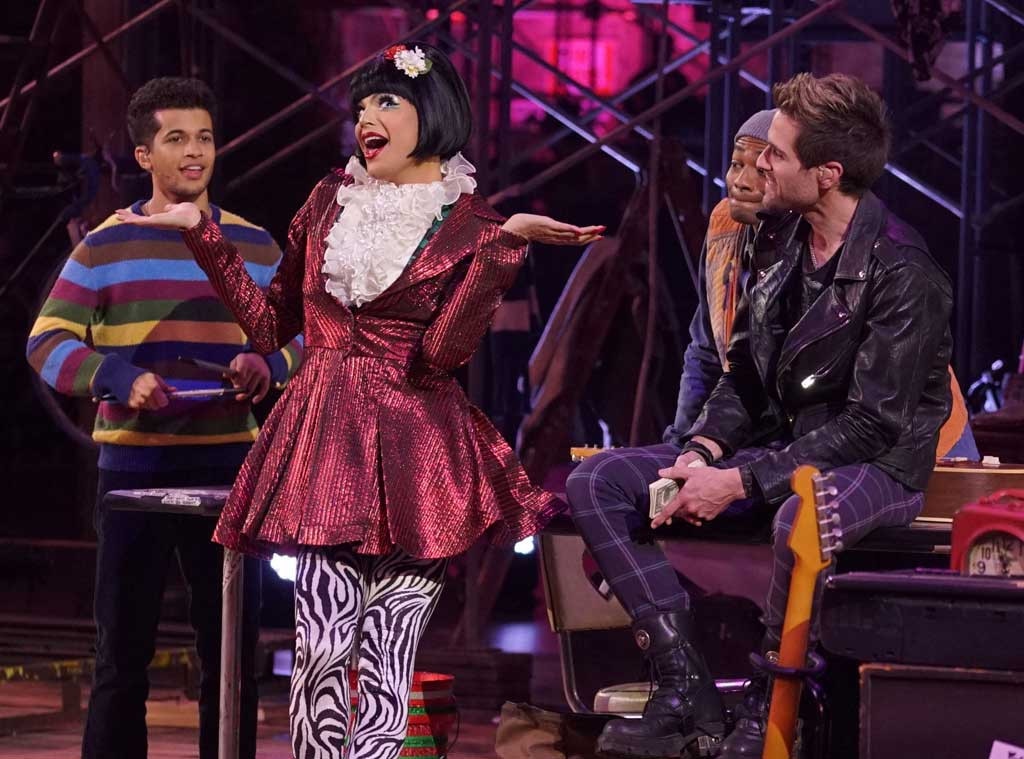 Fox
So that was more like Rent Half-Live. 
After leading cast member Brennin Hunt, who plays Roger, broke his foot during yesterday's rehearsal of what was supposed to be a live production, a whole lot of changes had to be made, including making most of the production not live.
About 20 minutes into the show, after a few scenes labeled as "previously recorded," the entire cast gathered on stage to explain what had happened.
"Last night during our performance in front of a live audience, one of our cast members sustained an injury," Vanessa Hudgens, who plays Maureen, said. "A visit to the hospital confirmed that Brennin Hunt, our Roger, had broken his foot and will be unable to perform tonight." 
"But Rent has always been about community, resiliency and bouncing back, so the show must go on," said Valentina, who plays Angel. 
"Most of what you'll see tonight will come from last night's performance, but we have all rallied together to rework the final act so that all of us, including Brennin and the original Broadway cast of Rent can perform it for you live," explained Jordan Fisher, or Mark. "In the words of [Rent creator] Jonathan Larson, no day but today." 
Idina Menzel had previously tweeted that she was attending the rehearsal, alongside the entire original cast including Taye Diggs, Adam Pascal (the original Roger), Anthony Rapp, Jesse L. Martin, and more. 
Hunt posted an Instagram story before the show of a costumer fitting his customized Roger pants around a very large plaster cast. 
"Breaking my foot last night was not fun, but it's been great being back on set with everybody," he said in the video. "I love these people so much. They've showered me with love and kindness, which is the essence of this musical, and I am just truly honored and blessed to be a part of this Rent family, and I hope you guys enjoy tonight." 
Fox had previously released a statement on the injury, saying "Last night during a live performance of FOX's production of Rent, one of the actors, Brennin Hunt, was injured. But in the spirit of Rent, everyone—producers and cast, original and current—is dedicated to ensuring that tonight's broadcast must, and will, go on." 
Rent Live airs on Fox.