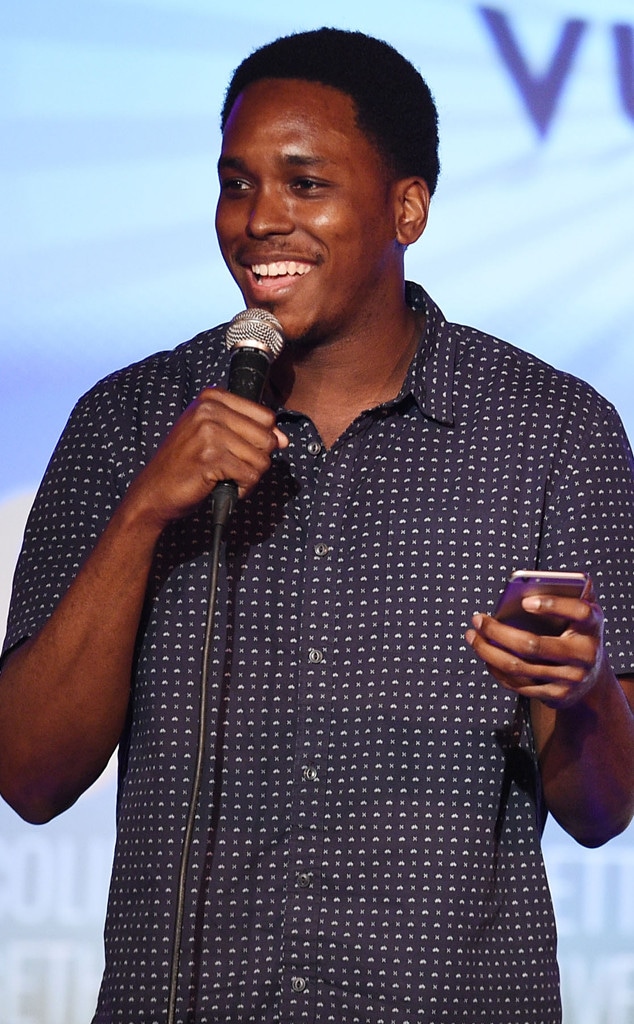 Bryan Bedder/Getty Images for New York Magazine
Comedian and writer Kevin Barnett has passed away. The Rel co-creator was 32.
Although Barnett's cause of death is not immediately known, his Instagram page shows he was in Mexico just a few days ago. He posted a photo of himself on the street and captioned it, "In mexico. Bought myself a sweater. Been accused of appropriation several times. In my head I just gave a lady some money so I ain't cold. Either way. Swag heavy. Mixtape comin."
Twentieth Century Fox Television and Fox Entertainment told E! News in a statement, "Our hearts are broken, as are those of everyone at REL, at the news of Kevin Barnett's passing. He was an incredibly funny, wildly talented man who had so much more to do and so many more stories to tell. We send our thoughts and prayers to his friends and family during this difficult time."
Barnett wrote and contributed to a number of television shows and movies, including Broad City, The Carmichael Show and The Heartbreak Kid. Barnett's most recent show Rel premiered just a few months ago in September and stars Get Out actor and comedian Lil Rel Howery and Sinbad. He had a few movies in the works as well, including one called The Wrong Missy. David Spade is so far the only actor attached to it.
Many comedians have voiced their sadness and grief on social media about Barnett's death.
Brooklyn Nine-Nine star Chelsea Peretti retweeted The Stand NYC's post about his passing. "I am so sad," she wrote.
Comedy Central also paid tribute to Barnett. "Kevin Barnett was an incredible comedian and writer, contributing to Broad City, the stand-up community and beyond," the channel tweeted. "He'll be greatly missed." 
Simpsons and Parks and Recreation producer Mike Scully worked on The Carmichael Show, too, and wrote about Barnett on social media. "Kevin Barnett was a great standup, but I knew him as a smart, funny, talented TV writer and just a really sweet guy who made the insanity of the late nights more fun," he typed. "Condolences to his family and friends. Can't believe I'm writing this."
Comedian and podcast host Ben Kissel  announced the tragic news on Twitter. "Dear Last Podcast family, It's with a heavy heart we inform you of the passing of Kevin Barnett," he said. "The joy he brought to our lives is the greatest gift we have ever received. Remind your friends you love them because you never know when you're see them again. We love you KB."
Brooks Wheelan dubbed Barnett the "nicest/funniest/meanest/best friend a person could ever hope to have."
Pete Davidson wrote a statement about Barnett that was posted to his friend Marcus Russell Price's Instagram Story. Price, also a comedian, said he was "f--king crushed" about the news.
"The world lost a great one today. One of our comedy family members Kevin Barnett has tragically passed. I love Kevin. I've known him for nearly 10 years and he's always been the sweetest and funniest," Davidson's note said. "Always had a smile on his face. Was one of the few that treated me like a comic even when I was just 16 years old. He always made me feel part of the group."
He concluded, "Thank you Kevin for being in my life and blessing us with your talents and positive energy. This one really f--ked me up. You will be missed."
Our thoughts go out to Barnett's loved ones at this time.