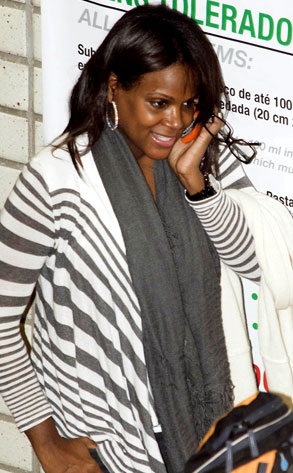 INFphoto.com
Tameka Raymond is back in the U.S.
The wife of R&B superstar Usher left Brazil Wednesday on a flight home, a day after being discharged from a São Paulo hospital where she spent the past 11 days recovering from a heart attack that occurred during a liposuction operation gone way wrong.
Raymond, 38, made her way through São Paulo-Guarulhos International Airport, chatting on her cell phone and seemingly in good mood despite her health scare.
Instead of a routine nip/tuck, Raymond suffered cardiac arrest while she was being put under general anesthesia. Doctors managed to revive her, and she was placed in an induced coma for 24 hours to avoid "unnecessary complications." After being stabilized, Raymond was transferred to another hospital to convalesce.