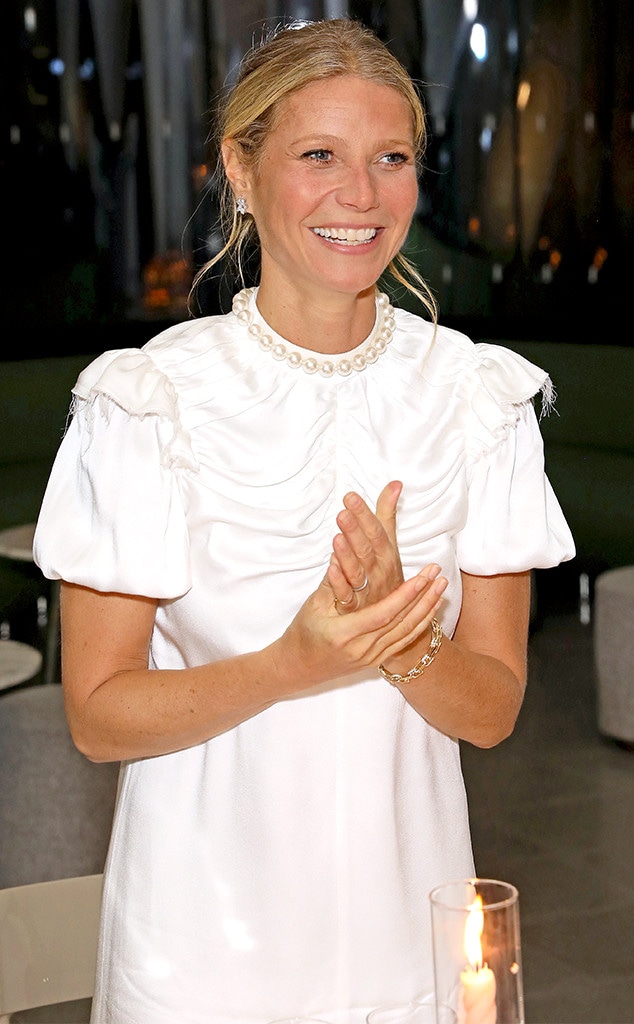 Darren Gerrish/goop
Believe it or not, but Goop founder and wellness pro Gwyneth Paltrow may be one of the funniest people on the internet.
Yes, the woman who has made some rather unpopular comments like claiming she popularized yoga and encouraging women to steam their vaginas is a low-key meme queen.
Paltrow herself isn't posting meme after meme on her profile. Instead, we just get vacation envy and meal ideas. Her hilarity and best comments exist in the comments section. She's sly like that.
A lot of the Iron Man star's humor is self-deprecating and pokes fun at the absurdity of the meme itself. Here are five times Paltrow proved herself to be one of the funniest people to slide into the comments section.
1. Single-track mind: For starters, let's take the time when one meme used a photo of her smiling with a martini class in front of her. "Me at happy hour pretending to listen to my friends but really thinking about dick," it said.
She commented, "Ain't that the damn truth."
Paltrow wrote that about a month before her star-studded and romantic wedding to Brad Falchuk in the Hamptons. The two of them tied the knot on Sept. 29 in front of guests including Robert Downey Jr., Rob Lowe, Cameron Diaz, Steven Spielberg and more.
Jemal Countess/Getty Images
2. Cutting remarks: Around Christmas, Paltrow poked fun at her close friend Kate Hudson. Just days earlier, Hudson announced she would join Oprah Winfrey be a new global ambassador for WW. In a photo shoot to run alongside the big news, Hudson posed in her kitchen with her new daughter Rani Rose and it quickly became apparent that she owns a lot of cutting boards.
A viral tweet shared that image of the Bride Wars star in her kitchen and said, "Just a note to anyone shopping for Kate Hudson this holiday season. She doesn't need any more cutting boards."
Paltrow chimed in, "Maybe they're BDSM paddles."
3. When in doubt: Paltrow kept up with her NSFW comments in yet another meme in November. One popular account posted a painting of a woman who was pretty much baring all in the artwork. "When you realize you were wrong mid-argument so you whip out a t-tty  to distract him," it said.
The Glee star commented, "I literally slayed with this tactic this morning." Falchuk, care to comment?
4. Mirror, mirror on the wall: A photo series found its way across the internet recently that Brad Pitt somehow always looks like his current girlfriend at that moment in time. It's pretty jarring how similar the length and color can be depending on the relationship. Man Repeller founder Leandra Cohen posted a photo of the 2006 Daily Express page that showed the similarities. The headline read, "Brad: The man who likes to look like his girlfriends." 
Paltrow commented on Cohen's post, "Or we like to look like him, let's face it."
5. Does TMI exist?: We all know that Justin Bieber and Hailey Baldwin are no strangers to PDA, especially when it comes to social media. Biebs tends to leave steamy comments on many of his wife's pictures, which some people find endearing and others, not so much. In November, the "Sorry" singer commented "U turn me on" and "Ur just too much" on one of Baldwin's photos.
Paltrow chimed in, "TMI."
If anything has been made clear, it's that Paltrow isn't afraid to go a little PG-13 in the comments section.