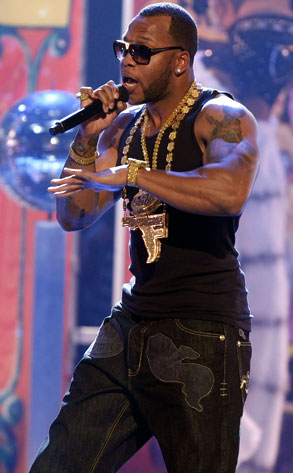 Kevin Winter/Getty Images
Flo Rida is in a definite sunshine state of mind after taking down Eminem.
For the second time in just over a year, Flo Rida has set a new record for digital downloads, as his new single, "Right Round," was downloaded a whopping 636, 000 times last week, per Nielsen SoundScan.The rapper topped his own record. His 2008 track "Low" held the previous mark with 467,000 downloads.
"Right Round" also set a new record for a digital debut, topping Eminem, 50 Cent and Dr. Dre's "Crack the Bottle," which scored 418,000 downloads just last week. Likewise, Flo Rida's new track displaced Em & Co.'s single at No. 1 on Billboard's Hot 100 singles chart.
"Right Round," built around a sample of Dead or Alive's 1985 chart-topper "You Spin Me Round (Like a Record)," is the lead single from Flo Rida's forthcoming R.O.O.T.S., due out March 31.